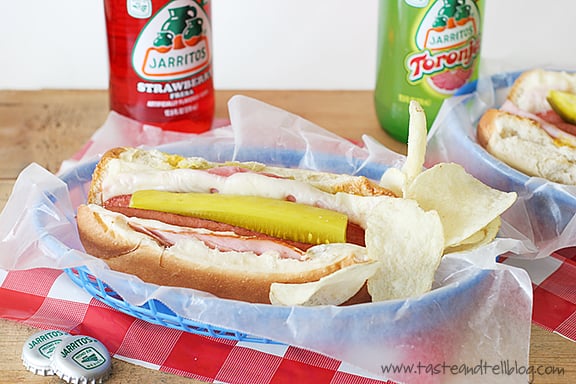 I love hot dogs. I know it's probably not the "cool" thing to like hot dogs, but I do. I really do. There is something about a hot dog that just makes you happy. Just think about when you eat hot dogs. Camping = fun. Backyard barbecues = fun. Baseball games = fun. Tell me that I get to have a hot dog for dinner, and I'm one happy girl.
I also love Cuban sandwiches. Have you ever had one? Typically, they are made with ham, roasted pork, Swiss cheese, mustard and pickles. Those flavors are just magic together for me. (Remember these Cuban Quesadillas? Yum!)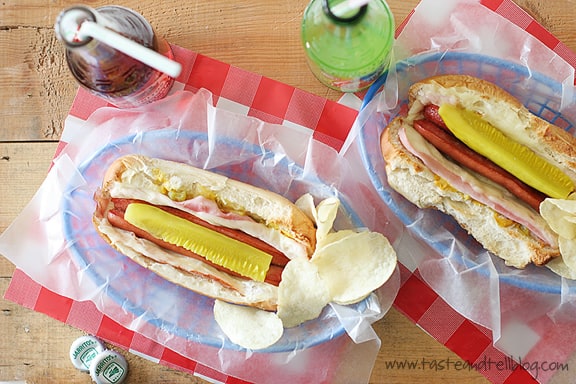 So what do you get when you combine a hot dog with a Cuban sandwich? One delicious dinner!! When I saw Rachael Ray make these on her talk show, they immediately went onto my "to make" list. I'm just sad that I waited so long to make them, because these really were spectacular. And dinner in 15 minutes doesn't hurt, either!!
Hot dogs – do you love them or hate them?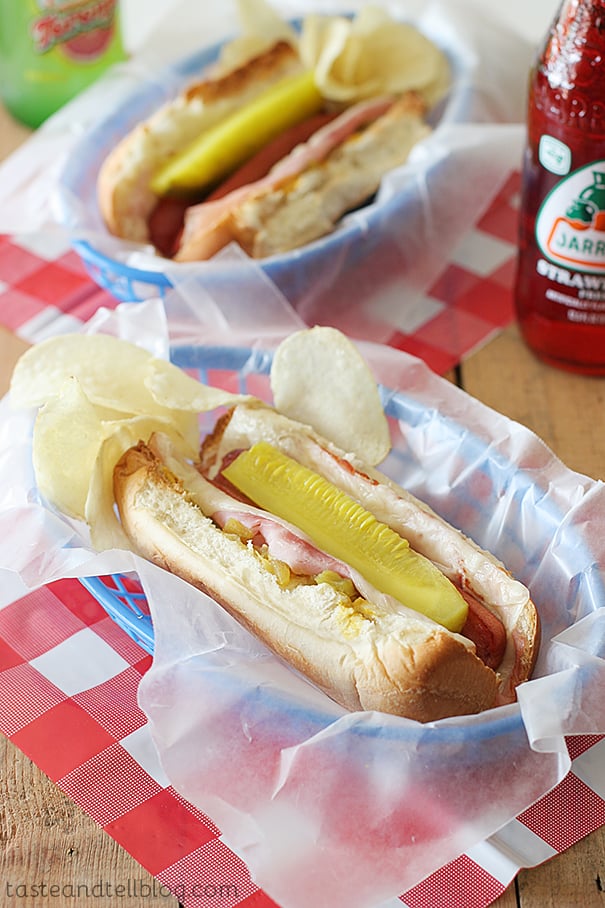 Cubano Hot Dogs
Recipe for hot dogs with a Cuban flair! Hot dogs with mustard, green chilies, ham, Swiss and a pickle spear.
Ingredients
8 pork or beef hot dogs
8 good quality hot dog rolls, split
yellow mustard
1 4-ounce can diced green chilies, drained
8 slices mild deli ham
8 thin slices of good quality Swiss cheese
8 pickle spears
Instructions
Preheat the broiler.
Heat a griddle pan or skillet over medium-high heat. Cut the hot dogs open lengthwise and open them up like a book. Grill them until crispy on both sides.
Arrange the hot dog buns on a baking sheet. Top the rolls with lots of mustard, the green chilies, ham and cheese. Place under the broiler until the cheese is melted.
Put the hot dogs on top of the melted cheese and fill the crevice with a pickle spear.
------------------
From The Rachael Ray Show
——————————
What goes better with a hot dog than a delicious soda? Want to win a case of delicious Jarritos sodas? Click HERE to enter to win!
——————————
Saturdays with Rachael Ray rules:
* You can link any blog post, present or past, as long as it is a Rachael Ray recipe.
* Your blog post must link back to this post, mentioning Saturdays with Rachael Ray.
That's it!! Simple, simple. Just make sure the recipe is a Rachael Ray recipe – it doesn't matter if it comes from her talk show, 30-Minute Meals, her magazine, or one of her cookbooks. But it must be from Rachael Ray. Any posts that don't follow these two rules will be deleted from the linky.
I can't wait to see what you've made!