Perfect for game day, these Sweet and Spicy Wings are coated with a finger-licking good sweet and spicy sauce.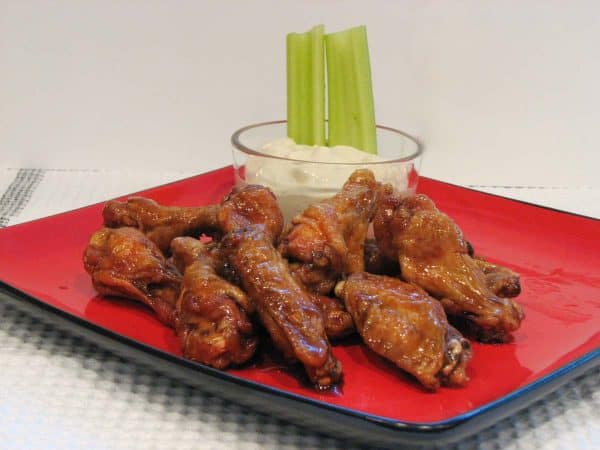 I have been doing doing some organizing at home, and found a stack of recipes that I have not blogged about yet. I might be doing a lot of posting this week, because I have already started to forget some of the details about these recipes!!
One night, not too long ago, I couldn't sleep so I turned on the tv. Throwdown with Bobby Flay was on, and I find the show very entertaining. That day, it was all about a Buffalo wing challenge. I don't even remember who won the challenge, but after watching, I had a huge craving for wings! I have never made wings before. Actually, up until about 3 years ago, it was rare to find me eating any kind of meat on the bone – it used to gross me out. Now I love it, and realize how much more flavor bone-in meats have.
There is a diner/restaurant that makes the best wings I have ever had. It's all about the sauce. It is more sweet than hot, but still has a nice kick to it. The restaurant, Wingers, calls their sauce "Amazing Sauce" and amazing it is. The sauce finds its way into many of their menu items. I crave their "Sticky Fingers" often – they are basically boneless chicken tenders fried and soaked in the Amazing Sauce. When my craving for wings hit, I knew I wanted to try to recreate this sauce. Although my sauce did not turn out like that Amazing Sauce, it was still really good. I have some other things I want to try to recreate the Amazing Sauce, but this recipe is still worthy of a little bit of attention!! Usually, my husband quickly forgets about many of the things I make (I do too, that's why I started this blog!) but a few weeks later, he still comments to me about how much he liked these wings. I'm gonna have to make this again soon!
I also made a homemade Blue Cheese dressing to go with these. I don't usually make homemade Blue Cheese dressing because there is a brand here that I really like, but I had some blue cheese in the fridge that needed to be used. I really liked the flavor of this dressing the night we had the wings, but it does not last very long. 2 days later, I had to throw out all of the extra – it had already gone bad. So only make as much of the dressing as you are going to use that day. The recipe does say to refrigerate it for 24 hours before serving, but I liked the consistency much better on the day of. I did substitute the full fat ingredients with low-fat, so that might be why mine did not last long….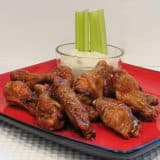 Sweet & Spicy Wings
---
Author:
Prep Time: 10 mins
Cook Time: 12 mins
Total Time: 22 minutes
Category: Main Dish
Method: Deep Fry
Cuisine: American
Description
Perfect for game day, these Sweet and Spicy Wings are coated with a finger-licking good sweet and spicy sauce.
---
Scale
Ingredients
Sauce:
1/3 c. brown sugar
1/3 c. Worcestershire sauce
1/4 c. ketchup
1 T. honey
2 t. hot sauce (like Tabasco)
2 t. apple cider vinegar
Wings:
oil for frying
chicken wings (I can't remember how much we used)
For Serving:
---
Instructions
For the Sauce:
Mix all ingredients in a pot over medium heat. Cook, stirring frequently, until sugar has dissolved and sauce thickens up a bit.
For the Wings:
Heat oil in a deep-fryer. Drop the wings into the deep-fryer in batches. The amount you drop at a time will depend on the size of the fryer. Don't drop too many as the temperature of the oil will drop too much. Fry until golden brown. I think mine took about 12 minutes.
Put the wings and the sauce in a large bowl with a lid. Shake until wings are coated in the sauce. Serve with blue cheese dressing and celery stalks.