Cordon bleu doesn't have to mean fancy – these Cordon Bleu Hot Dogs have hot dogs wrapped in ham and then topped with a creamy Dijon cheese sauce.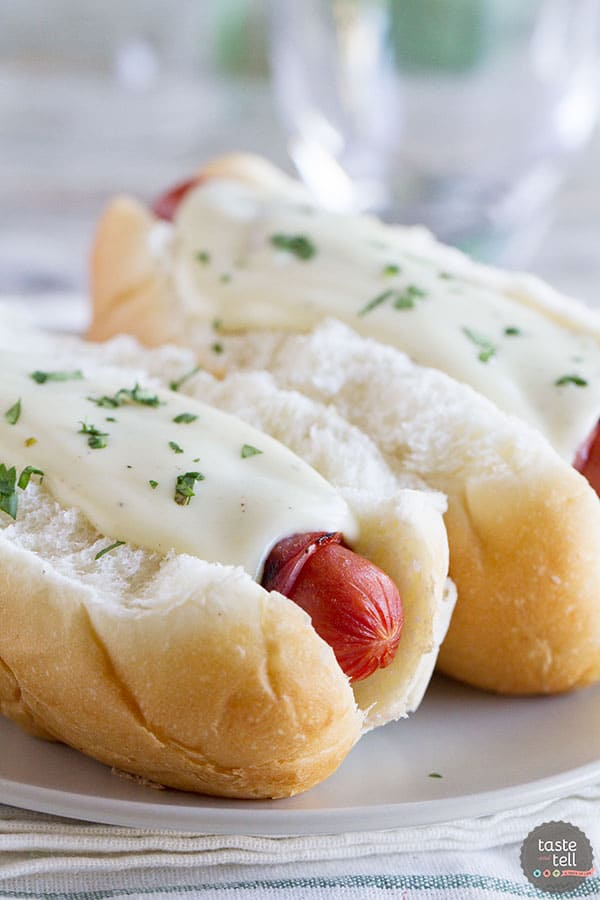 While my boys are pretty close in age, just over 19 months apart, it always amazes me just how different they actually are.
Easton – 4 years old – was never big on actually talking when he first started talking. It wasn't that he couldn't talk – he just chose not to. Today, he's pretty much the same. While he definitely talks more than he did 2 years ago, he's not one to go up to a stranger and start a conversation.
Camden – 2 years old – is the complete opposite. Sometimes, you would never guess that he is only 2 years old by how much he talks. I will lay with him at night sometimes and he will just talk and talk, full sentences, full stories. He'll start a conversation with anyone anywhere and always likes to join in the conversation when others are talking.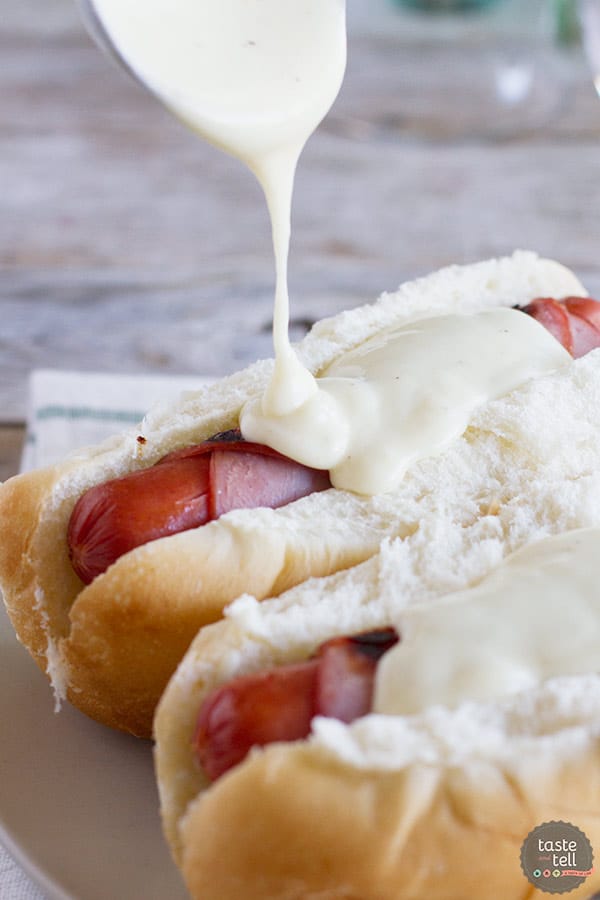 Easton likes his mommy's help, and his mommy's attention. He wants me standing outside of the bathroom when he needs to go. He wants me standing beside the sink when he needs to wash his hands. He wants me waiting inside his bedroom with him when he has to make his bed. He wants help, and encouragement, as he gets dressed.
Camden, on the other hand, is Mr. Independent. He'll ask me to leave the room while he gets tasks done. I'll go upstairs to find him in his room, clothes pulled out and already dressed. (Most of the time in dirty clothes, mind you, but he is getting dressed completely by himself!) He wants to walk down the stairs by himself and get into his car seat by himself. He definitely has his moments when he just wants mom to carry him and baby him, but for the most part, he wants to do it himself.
Most of the time, I'm amazed that these two boys come from the same parents – they really are so different.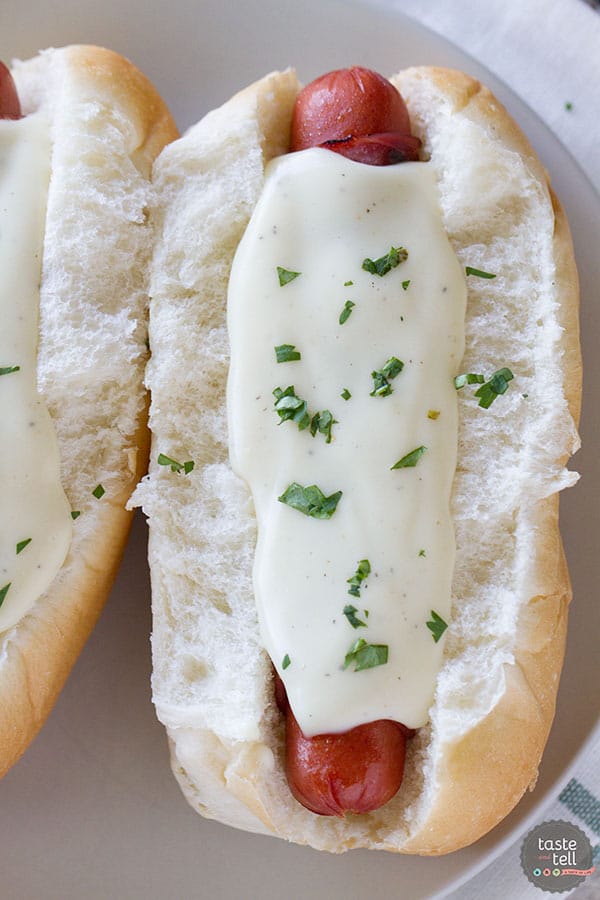 But one thing they can both agree on are hot dogs.
While both of my boys like their dogs plain with just a little bit of ketchup, I knew it was high time that I brought you all a new hot dog recipe. Can you believe it's been a whole year since my last hot dog recipe here on Taste and Tell? Such a shame!!
I had actually been toying around with the idea for this hot dog for some time. And then a couple of weeks ago, we had a family dinner, and I was in charge of hot dogs and hamburgers. Well, I was a little overzealous with the hot dogs and ended up buying a million at Costco. So after our family dinner, I still had (actually still have) a ton of extra hot dogs that I needed to use.
These hot dogs are a riff of of the ever so popular chicken cordon bleu. I love the traditional combination of chicken, ham and swiss cheese and a creamy mustard sauce. With these dogs, you are subbing in a beef hot dog for the chicken. You could totally use a chicken hot dog, but like I said, I had a surplus of beef hot dogs on hand. The hot dog gets wrapped with a slice of deli ham, and then grilled. Put your dog in the bun and top it with a creamy Dijon and cheese sauce. It's totally simple, and totally delicious.
This is a dog I can totally get behind!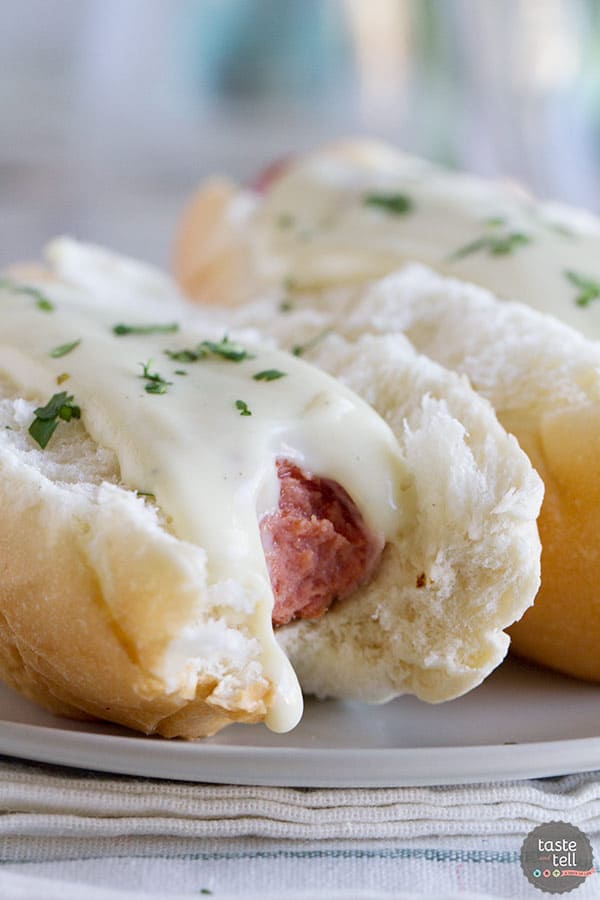 More Hot Dog Recipes
Coney Island Hot Dogs
Green Chile Hot Dogs
Taco Dogs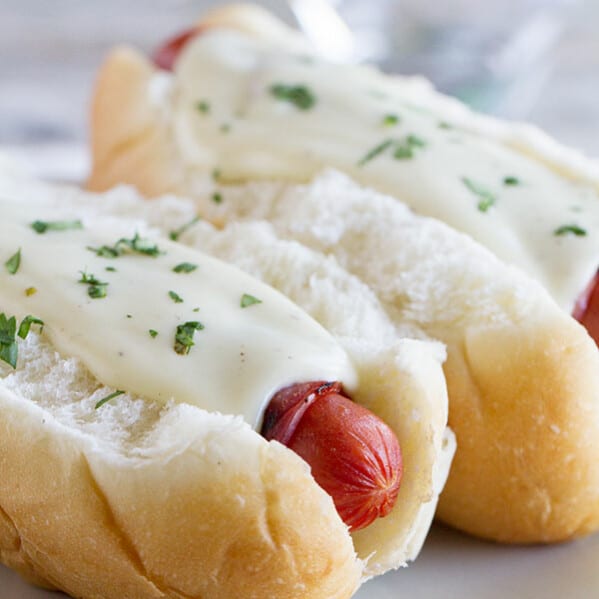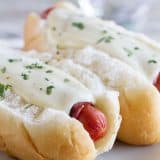 Cordon Bleu Hot Dogs
---
Author:
Prep Time: 5 minutes
Cook Time: 20 minutes
Total Time: 25 minutes
Yield: 8 hot dogs 1x
Category: Main Dish
Method: Stove Top
Cuisine: American
Description
Cordon bleu doesn't have to mean fancy – these Cordon Bleu dogs have hot dogs wrapped in ham and then topped with a creamy Dijon cheese sauce.
---
Scale
Ingredients
2 tablespoons butter
2 tablespoons flour
1 tablespoon Dijon mustard
1 1/4 cups milk
4 oz shredded Swiss or Gruyere
salt and pepper
8 hot dogs
8 slices of deli-sliced ham
8 hot dog buns
---
Instructions
Melt the butter in a medium sized pan or skillet over medium heat. Add the flour and whisk in for a minute or two. Whisk in the mustard. Slowly pour in the milk, whisking constantly to avoid lumps. Continue to cook and whisk until the mixture starts to bubble and thicken. Stir in the cheese until melted. Taste and season with pepper and salt, if desired.
Meanwhile, heat an outdoor grill or indoor grill pan over medium heat. Wrap one slice of ham around each hot dog and place on the grill. Grill until heated through.
Place a hot dog in each bun and then top with some of the cheese sauce. Serve immediately.
Keywords: cordon bleu, cordon bleu hot dogs