Fudge doesn't have to be complicated or intimidating! This easy Creamy Cranberry Pistachio Fudge only takes minutes of hands on time, no candy thermometer, and only has 6 ingredients!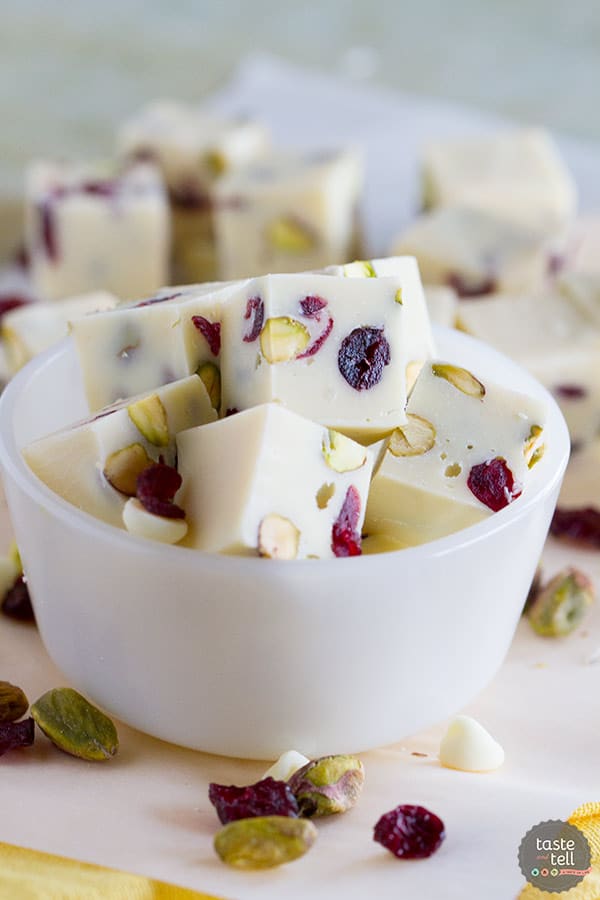 There was a time when I was totally obsessed with candy making. I wanted to learn how to make them all – from fondants to caramels to buttercreams. And I made quite a few. I never did get to that point where I felt like an "expert", but it was fun to learn something so new and different.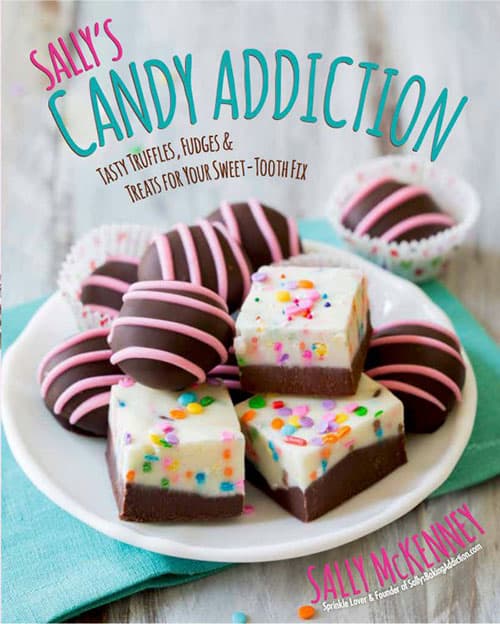 So you can bet I jumped all over the chance to cook from today's cookbook review – Sally's Candy Addiction. This book, from fellow blogger Sally McKenney of Sally's Baking Addiction, is filled with all kinds of candy recipes. Truffles, fudges, barks – even a full chapter dedicated to baking recipes with candy in them.
I know that candy making can be intimidating. I'm still intimidated by many candy recipes, and I am in the kitchen pretty much every day. But what I love about this book is that everything is very approachable. I didn't get that feeling of overwhelm while reading through the book. It feels like a book that everyone could pick up – newbies or veterans – and find something that would work for them.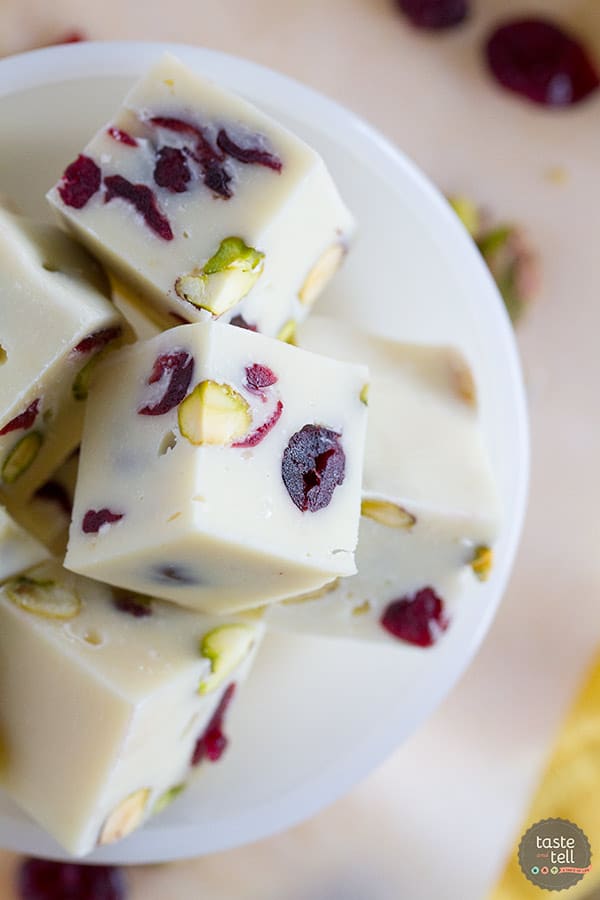 Here are the details:
Number of Photos: Lots. Full page photos of every recipe in Sally's signature photo style. There are also a few bonus step recipes throughout the book.
Difficulty Level of Recipes: Easy to Hard. There really is a wide range in this book. There is the super simple (like the recipe I've made for you below) to the more difficult – like some of the recipes that call for dipping the candy, or having to use a candy thermometer. But I have always thought that Sally is a master of clear directions, and she is so good at making a beginner feel like they can do anything. This book is no exception to that.
Availability of Ingredients: Easy. Most ingredients in the book are basic baking ingredients and should be easily found in any grocery store.
Other Recipes I Want to Try:
Marshmallows
Saltwater Taffy
Southern-Style Pecan Pralines
Strawberry Buttercreams
Chocolate Coconut Candy Bars
Chocolate Chip Cookie Bark
Nutella Truffles
Pumpkin Spice Toffee
Fluffernutter Swirl Fudge
The Great Milky Way Cake
Buy Sally's Candy Addiction on Amazon.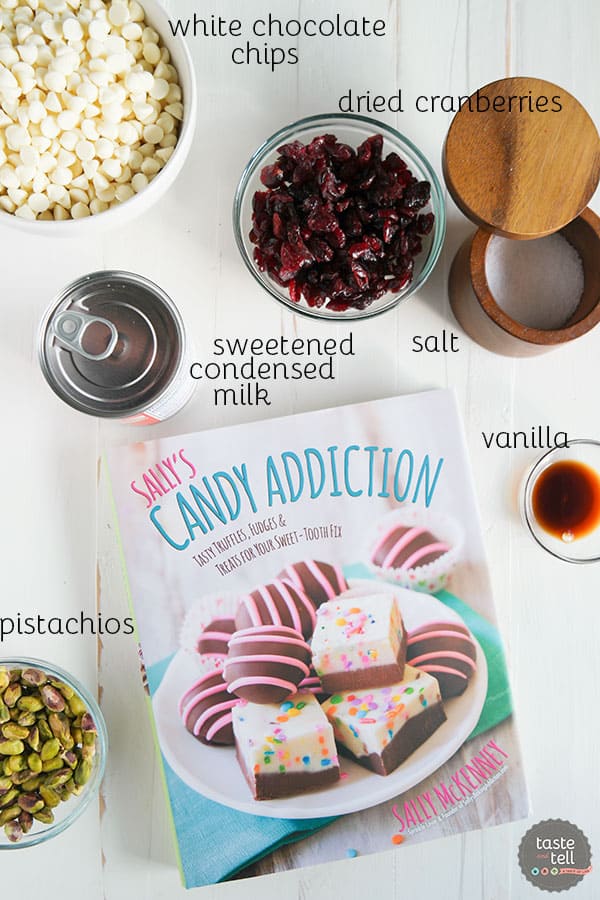 I know I'm jumping ahead to the winter holidays just a little bit by making this Creamy Cranberry Pistachio Fudge, but I couldn't resist. Not only do I love these flavors together, but the recipe couldn't be any easier. You see, I have a very temperamental candy thermometer. I know this, and I know I need a new one, but I decided to go against my better judgement (and Sally's instructions) to try a different fudge recipe that required a precise temperature. Needless to say, that didn't quite work out (I swear I should learn my lesson by now).
But all was not lost, because when I went back to the book, this fudge jumped out at me. And while I usually associate cranberries and pistachios with Christmas, I knew that this could be enjoyed any time of year.
This seriously doesn't get any easier. 6 ingredients and about 5 minutes of hands on time. You do have to wait several hours for the fudge to set up, but that's it. And the fudge is creamy and sweet and so delicious. I seriously wanted to eat the whole batch, and ended up taking the majority of it to a neighbor's house so that I'd stop snacking on it.
Whether you are a beginner or expert, I think you'll be pleased with this cookbook!!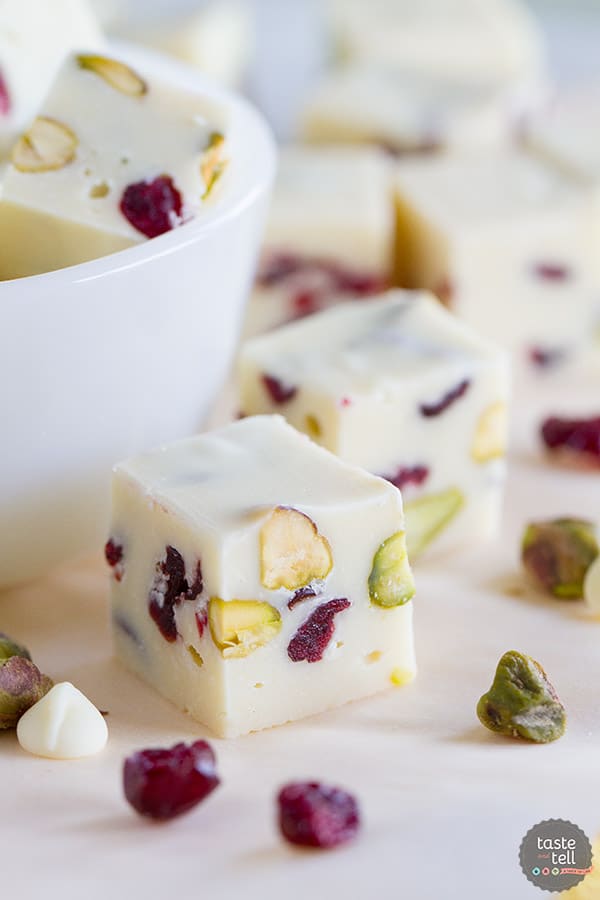 Like what you see here? Make sure you are following Taste and Tell for more recipes and ideas!
Facebook | Pinterest | Instagram | Twitter | Google+ | Weekly Newsletter | Feedly | Bloglovin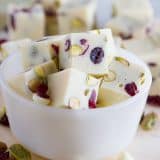 Creamy Cranberry Pistachio Fudge
---
Prep Time: 4 hours 15 mins
Cook Time: 5 mins
Total Time: 4 hours 20 mins
Yield: 64 squares 1x
Description
Fudge doesn't have to be complicated or intimidating! This easy Creamy Cranberry Pistachio Fudge only takes minutes of hands on time, no candy thermometer, and only has 6 ingredients!
---
Scale
Ingredients
1 (14 oz) can sweetened condensed milk
3 cups (546g) white chocolate chips
1 teaspoon vanilla extract
1/8 teaspoon salt
1 cup (120g) dried cranberries
3/4 cup (92g) shelled salted pistachios
---
Instructions
Line an 8-inch square baking dish with foil, leaving enough overhang on the sides to easily pull the fudge out once it is set. Set aside.
Combine the sweetened condensed milk and white chocolate chips in a medium saucepan over medium heat. Stirring constantly, cook until the white chocolate has melted completely and the mixture is smooth. It will be quite thick. Once smooth, remove from the heat and stir in the vanilla and salt. Then stir in the cranberries and pistachios until evenly combined. Pour into the prepared dish and smooth the surface with a rubber spatula.
Cover the fudge with foil and refrigerate for 4 hours, or leave at room temperature overnight. Once set, lift the fudge out of the dish using the foil overhang. Turn the fudge upside down to remove the foil, then turn right side up on a cutting board. Cut the fudge into 1-inch squares.
Recipe Notes:
*The fudge may be a bit hard after refrigerating for 4 hours. If it's too hard to cut, let it sit out at room temperature until it is easier to cut.
Recipe from Sally's Candy Addiction
Don't miss a thing! Follow me on Pinterest to see what I'm pinning!
Visit Taste and Tell's profile on Pinterest.



**I was given a copy of this cookbook for review purposes, but all opinions are my own. This post contains affiliate links. If you purchase an item from Amazon from the link Taste and Tell receives a small commission. Thank you for supporting Taste and Tell through your purchases!**