White chocolate truffles are infused with the flavors of eggnog. Perfect for Christmas gifts!
Sometimes, sitting back with a couple of eggnog truffles is all you need…
My daughter is funny.  I'm guessing she's like most kids her age, but she will get really into something, and all of a sudden, everything she does is all about whatever it is that she is into at the moment.  This week, it's Power Rangers.  Yeah, you read that right.  My barbie/princess/pink loving daughter all of a sudden wants to be a ninja.  Or an "inga", like she says.  It's kind of hilarious because she'll get dressed up and do these acrobatic-type tricks all over the house.  And she wants everyone to be a monster so she can fight the monster and win.
I say it's funny, but thanks to Netflix – after the 5th time of watching the Power Rangers Christmas episode yesterday, I was so Power Ranger-ed out.  And I'm cursing the fact that I have been walking around singing "go, go Power Rangers" nonstop.
I am so grateful that I get to be a work-at-home mom, but it's moments like that when you wish you could lock yourself in the bathroom, take a long bubble bath, and snack on a bowl full of Eggnog Truffles while you soak.  Anything to get you away from those Power Rangers!!
I love chocolates.  And I love truffles.  And seeing that this is eggnog recipe #2 of 3 for this week, it's apparent that I love eggnog.  When I saw these little guys, I was immediately smitten and knew I had to make them.
The truffle mixture itself is very easy to make.  But I do have to warn you – it is a bit soft and dipping them proved to be a little harder than I was expecting.  They aren't the smoothest truffles by any means, but I still thought they turned out fantastic, and tasted even better.  They are pretty sweet, so a little goes a long way, but that's the way it usually is with truffles for me.  I think these would make a great neighbor gift or homemade gift for that someone special this holiday season.  What is better than a box full of homemade truffles?  They are even  good enough to erase your mind of all things Power Rangers – if even for a few minutes!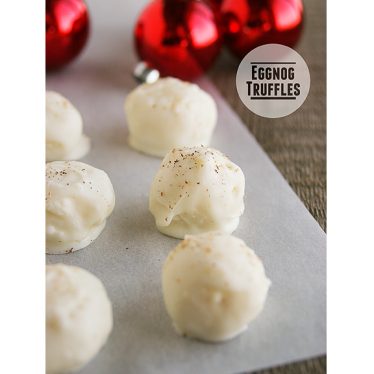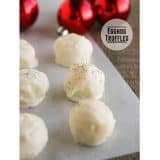 Eggnog Truffles
---
Prep Time: 25 minutes
Total Time: 5 hours 30 minutes
Yield: 24 truffles 1x
Description
White chocolate truffles are infused with the flavors of eggnog. Perfect for Christmas gifts!
---
Scale
Ingredients
1 pound white baking chocolate, divided
4 ounces (1/2 package) cream cheese, softened
1/4 cup confectioners' sugar
1/4 teaspoon McCormick® Nutmeg, Ground
1/4 teaspoon McCormick® Imitation Rum Extract
Additional McCormick® Nutmeg, Ground for sprinkling
---
Instructions
Melt 8 oz of the white chocolate according to the package directions. In a small bowl, beat together the cream cheese, confectioners' sugar, nutmeg and rum. Add in the melted chocolate and beat until smooth. Cover and refrigerate until firm, at least 4 hours.
Shape the mixture into 24 balls. Place on a tray lined with waxed paper and refrigerate.
Working with 12 truffles at a time, melt the remaining white chocolate according to package directions. Using a fork, dip each truffle into the chocolate. Tap to remove any excess chocolate, then return to the waxed paper lined tray. Sprinkle with nutmeg. Repeat with the remaining truffles until all are coated.
Refrigerate truffles for 1 hour or until the chocolate is set. Store the truffles in the refrigerator for up to 1 week.
—————-
recipe from McCormick.com
*I am in a working partnership with McCormick, but all opinions are my own.**