A soft cherry fondant is encased with chocolate and chopped pecans in these festive Cherry Nut Chocolates.
This post has been created in partnership with Diamond Nuts.
When I was younger, Christmas time always meant homemade chocolates.
Our neighborhood was small, but everyone was into giving neighbor gifts. My mom's thing was her homemade chocolates. As far as I remember, that was the only time of year that she would make them. She would start weeks in advance, making centers and freezing them. I still remember sneaking into the freezer in the garage and stealing Martha Washington centers.
There were always peanut butter cups and homemade Andes mints. There were sometimes caramels. And divinity. But I always loved my mom's dipped chocolates.
And one of my favorites was her cherry chocolates.

Now – I will admit that I have a terrible memory, and I don't always remember things correctly, but when I asked my mom for her recipe for her cherry chocolates, the recipe that she gave me originally came from a high school fried of my sister. But I'm pretty sure I remember my mom making them well before our high school days. And maybe she used a different recipe when I was younger, and then moved to this recipe. I don't know, but no matter how long she's been using it, this recipe reminds me of my childhood. And of Christmas. And of giving. Every year I tell myself that I'm going to carry on my mom's tradition of gifting chocolates to the neighbors, and one of these years, it is going to actually happen!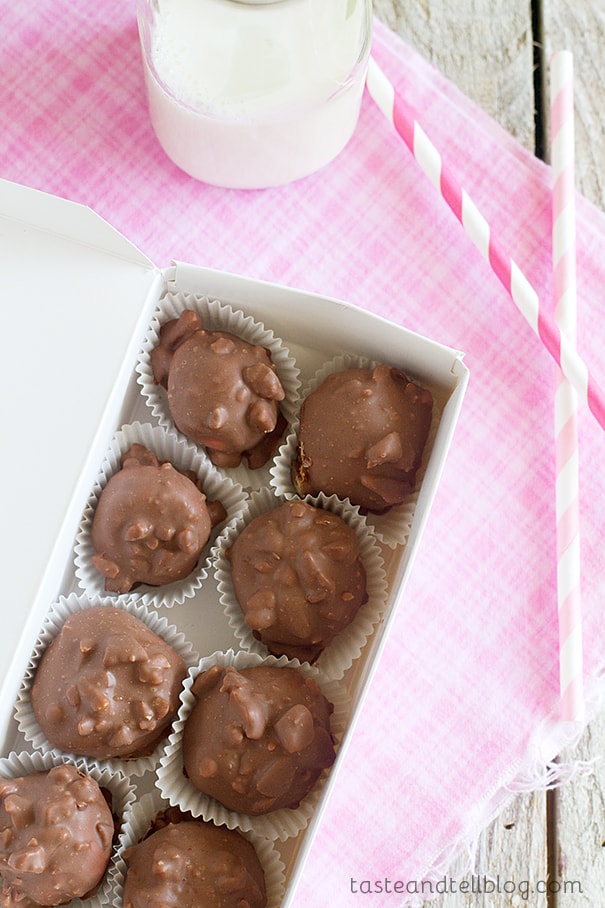 Diamond Nuts has been creating quality products for over 100 years, so I thought this would be the perfect time to make a "heritage" recipe from my family that included Diamond Nuts. Not 100 years of heritage, but maybe one day my daughter will teach her daughter, who in turn will teach her daughter. And before you know it, it will be a 100-year heritage! 😉
These chocolates aren't my normal "quick and easy" type of recipe, but they are worth it. There is one big thing that you need to know with this recipe – and with most candy making recipes for that matter. Use a candy thermometer. One that works. And test your thermometer every time. Yep – even if you used it last week and it was spot on, test it before you use it again. Mel has typed up a beautiful description of how to test your thermometer. After multiple batches of over cooked and under cooked candy testing over the last couple months, I am a religious tester!!
After you've cooked the center filling, and after it has cooled a bit, you start stirring. And stirring, and stirring and stirring. This is when it helps to have a 4 year old that likes to help in the kitchen. 🙂 My first batch, I totally undercooked, and after an hour (yikes!) of stirring, the mixture was still soft and sticky. Sadly, it went into the trash. The second batch, I think I just overcooked it, so I only stirred for probably 10 minutes before it lost it's shine, and all of a sudden, it became very crumbly. If this happens to you, use your hands and roll it into a ball. If it comes together, you are totally good. I have seen tutorials that tell you this is supposed to happen, and some where it doesn't happen, but I just go by if it will come together into a ball or not. If you get the temperature right the first time around, it will take you anywhere from 15 minutes to 45 minutes of stirring to get to the right consistency. If you aren't sure you are there yet, keep stirring. When it does change, it happens quickly, and all of the shine will be lost and it will be thick. You will be able to roll the mixture into balls easily.
My mom's recipe always had chopped peanuts, but I opted for pecans because, well – because I love pecans. And I think they worked perfectly!
Do you have any holiday traditional recipes that have been passed down to you?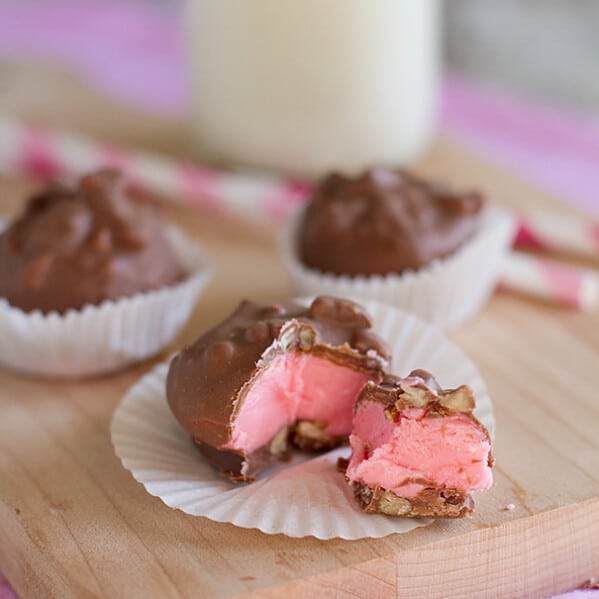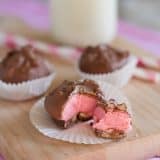 Cherry Nut Chocolates
---
Prep Time: 1 hour
Cook Time: 10 minutes
Total Time: 2 hours
Yield: about 40 chocolates 1x
Description
A soft cherry fondant is encased with chocolate and chopped pecans in these festive Cherry Nut Chocolates.
---
Scale
Ingredients
4 1/2 cups sugar
1 cup whipping cream
1/2 cup milk
1/2 cup light corn syrup
1/4 teaspoon salt
1/2 teaspoon cherry oil flavoring
1/2 teaspoon red food coloring
1 pound dipping chocolate
1 8–oz bag (2 cups) Diamond Chopped Pecans, finely chopped
---
Instructions
In a 4 quart saucepan, combine the sugar, whipping cream, milk, corn syrup and salt. Stir to combine then cook over medium heat, not stirring, until it reaches 240F on a candy thermometer.
Pour the mixture into an ungreased 9×13-inch baking dish. Do not scrape the saucepan! Allow the mixture to cool until the bottom of the dish is just barely warm. Add the cherry oil and the food coloring, and using a wooden spoon, start to stir the mixture. It will be easy to stir at first, then the mixture will start to become creamy and harder to stir. Continue to stir until the mixture loses it's shine. It will start to resemble a thick frosting. This will take anywhere from 15 minutes to 45 minutes.
Using your hands, for m the mixture into 1-inch balls. Place on a lined baking sheet. With your fingers, lightly press down on the top of the balls. (This will make them easier to dip).
Melt the chocolate according to the package directions. Stir in the chopped pecans, then dip each of the centers into the chocolate/nut mixture. (I find that using my hands and a fork is the easiest way to do this.) Transfer to a waxed paper lined baking sheet to allow the chocolate to set up.
Recipe Notes:
The fondant centers can be made well ahead of time. They can be stored in the refrigerator for several weeks or in the freezer for several months.
Other Favorite Candy Recipes: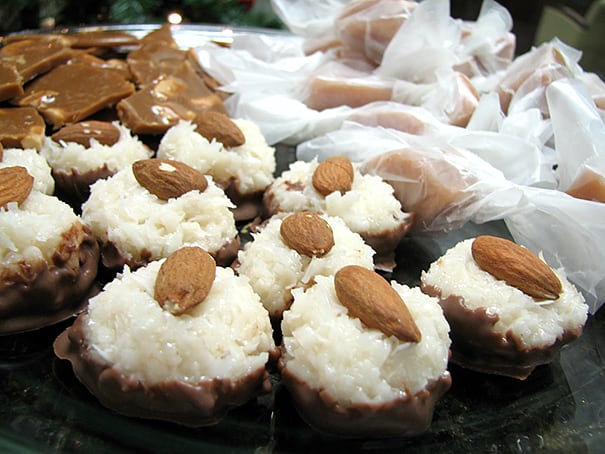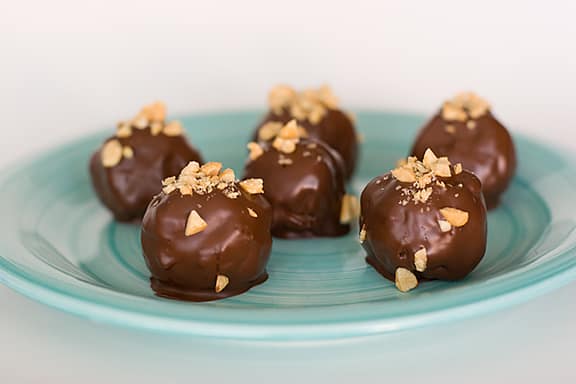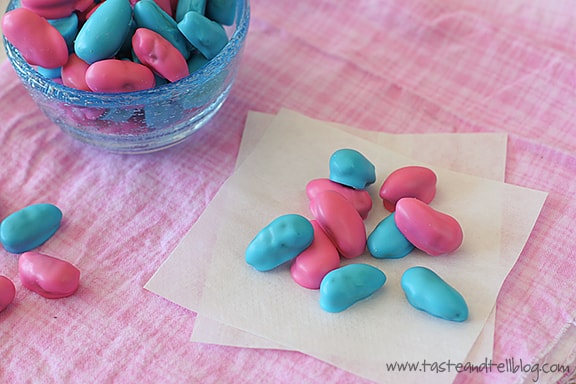 Around the Web:
Divinity from Bell'alimento
Coconut Almond Toffee from Food Babbles
Brown Sugar Fudge from Completely Delicious
**Thank you to Diamond Nuts for sponsoring this post. Because of sponsors like Diamond Nuts, I am able to bring you all of the recipes I feature here.**