Keep dishes to a minimum with this easy one pan pasta with the flavors of a Hawaiian pizza – ham, bacon, pineapple and gooey cheese.
My family loves food. Whenever we get together, it's all about the food. I love it, because I think they are all amazing cooks, so our meals together are something not to be missed. I also love it because most of them are a lot like me – they love finding and trying new recipes.
But while there are always a few new recipes on our holiday tables, for the most part, we like to stick to tradition. Meaning turkey on Thanksgiving and ham for Christmas.
I won't lie – I do like the Thanksgiving turkey, but I really look forward to that Christmas ham. I always count down the days until that Christmas ham.

Well, this year, I got started a little bit early. 🙂 I have a pretty cool job, and as part of my job, I worked with Jones Dairy Farm to create a few new ham glaze recipes. 3 new recipes, to be exact. (And really – you should check out the recipes on the Jones site: Sweet Chipotle Glazed Ham, Cranberry Orange Glazed Ham and Apricot Honey Glazed Ham.)
It was fun to come up with these new ham glaze recipes, but I do have to say – that was a lot of ham for my little family of 5. It's a good thing we love ham. And it's a good thing I was able to get creative with that leftover ham!
So creative, in fact, that I have a whole slew of recipes now that are great for using up that leftover ham. And today, I'm already getting you excited for those Christmas ham leftovers with this Hawaiian One Pan Pasta.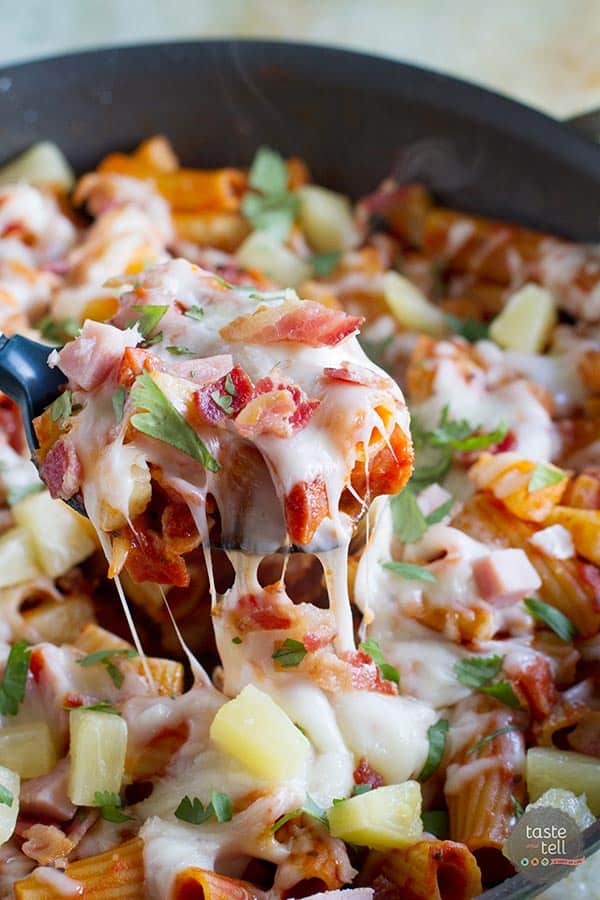 When I am planning my weekly dinner menu, there are a few things that I look for. Recipes that don't have a lot of ingredients, don't have a lot of steps, and are fairly straightforward and easy. And fast. This recipe has all of those covered.
First of all, and maybe most important – only one pan!! Ever since I posted my Skillet Pasta with Sausage, I've kind of been obsessed with the whole one pan pasta idea. I mean, why boil your pasta separately and get another pan dirty when you don't have to? Plus, I love that the pasta is cooked in something besides water (tomato sauce and chicken broth in this instance) because it gives the pasta so much flavor. Plus, it's all done in 30 minutes!
One pan + 30 minutes = win!
Hawaiian pizza is one of our favorite pizza flavors, so I couldn't resist giving this a Hawaiian pizza twist. Not only do I use that leftover Jones Dairy Farm Ham, but I throw in some of my favorite bacon from Jones Dairy Farm, because everything is better with bacon. A little bit of sweet from the pineapple, and melty mozzarella cheese on top puts this one pan pasta as one of my very favorites. We seriously loved this so much that I made it twice in one week!
And happy day! If you are looking to order your Christmas ham, you can get 20% off your online ham purchase from Jones Dairy Farm from now until December 31st. But you need to be quick – for guaranteed delivery by Christmas, you have to order by the December 17th. Just head to http://www.jonesdairyfarm.com/shopping and use the promo code JONES20 to get your discount. And I'm telling you – Jones Dairy Farm has my favorite hams, hands down. And you want the best for Christmas!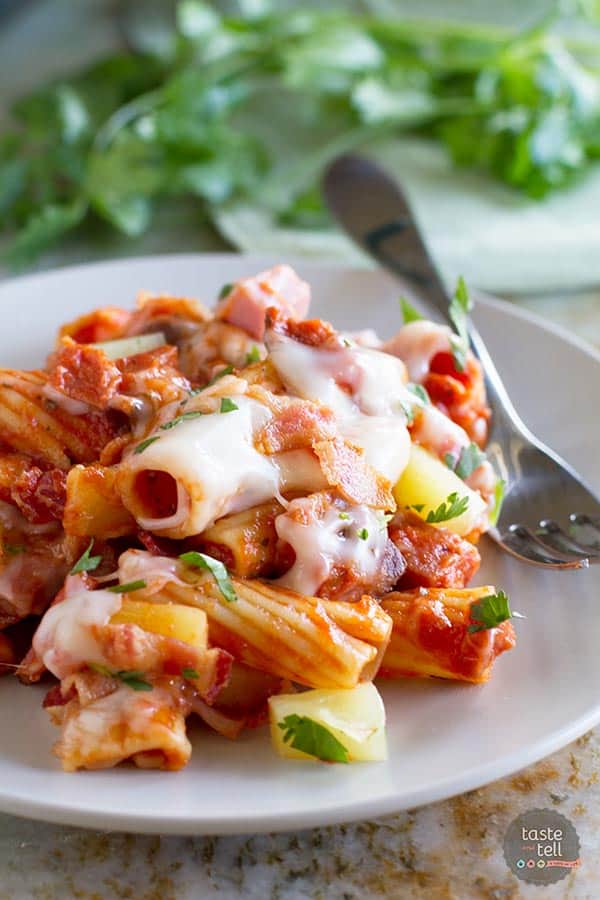 Like what you see here? Make sure you are following Taste and Tell for more great recipes and ideas!!

Facebook ** Pinterest ** Twitter ** Instagram ** Google+
or you can subscribe to my newsletter or Feedly or Bloglovin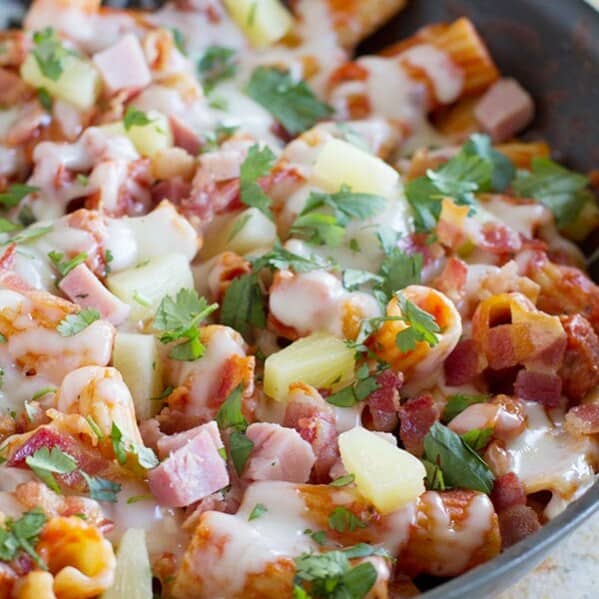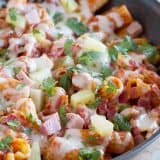 Hawaiian One Pan Pasta
---
Author:
Prep Time: 10 mins
Cook Time: 20 mins
Total Time: 30 mins
Yield: 4 servings 1x
Description
Keep dishes to a minimum with this easy one pan pasta with the flavors of a Hawaiian pizza – ham, bacon, pineapple and gooey cheese.
---
Scale
Ingredients
8 oz leftover Jones Dairy Farm Ham, cut into 1/2-inch cubes
1 (15 oz) can tomato sauce
2 cups chicken broth
1/2 teaspoon onion powder
1/2 teaspoon dried basil
1/4 teaspoon pepper
8 oz dry rigatoni pasta
8 oz pineapple tidbits, drained
1 cup mozzarella cheese
chopped cilantro
---
Instructions
Dice the bacon into small pieces. Heat a large skillet over medium heat and add the bacon. Cook until crisp. Remove the bacon with a slotted spoon to a paper towel lined plate to drain. Discard all but 1 tablespoon of the bacon grease.
Add the cubed ham to the skillet. Cook, stirring frequently, until the ham is browned. Add the tomato sauce, chicken broth, onion powder, basil, and pepper to the ham. Stir to combine, then add the pasta and stir again. Bring the mixture to a boil, then cover and cook until the pasta is tender, about 15 minutes. (I like to stir this one or two times during the cook time to make sure all of the pasta gets cooked evenly.) Stir in the pineapple and reserved bacon, then remove from the heat.
Sprinkle the top of the pasta with the mozzarella and cover again. Let the dish sit until the mozzarella is melted. Sprinkle with cilantro before serving.
Recipe Notes:
A few people have commented that there was too much salt, so I have removed the salt from the recipe. Feel free to taste as you go and add salt to your preference.
I am in a working relationship with Jones Dairy Farm, and this post has been sponsored. I'm so glad to be able to work with companies and organizations that I truly believe in. Thank you for supporting them, too.