You would never guess that a can of tomato soup is the secret ingredient in this retro cake! A recipe that has been around for decades, this Tomato Soup Spice Cake Recipe with Cream Cheese Frosting is so simple yet a total crowd favorite.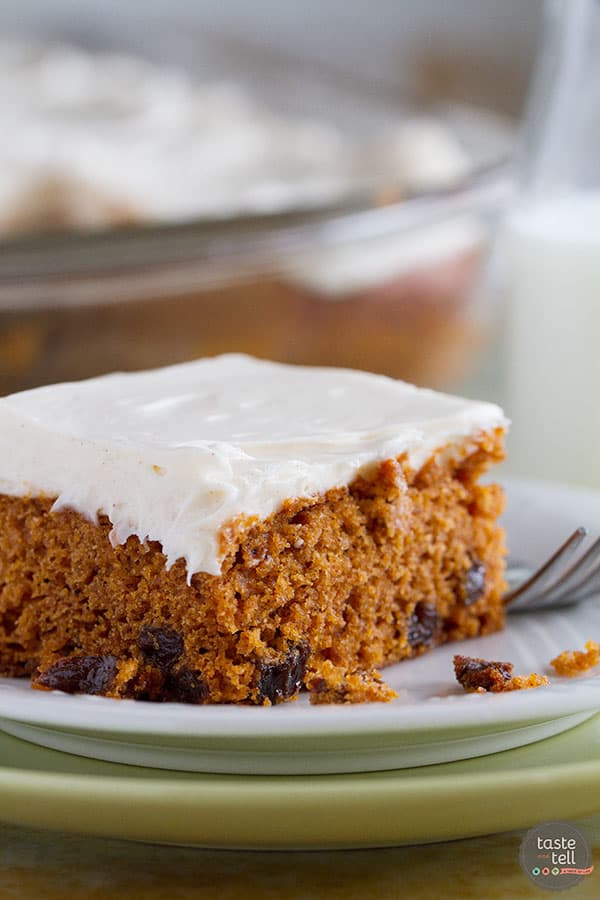 At the beginning of 2015, I made one goal for this blog. To review 52 cookbooks.
I thought it was totally doable – 1 a week. No big deal. But here we are, already into November, and I'm a little behind. This review today is review number 35. Which means to hit my goal, I'd have to do 17 more in the next 2 months.
Since I am not one to give up on a goal, I have decided to keep my nose to the grindstone and accomplish my goal. Plus, since the holiday season is upon us, maybe I can give you all a few ideas for gifts, or what to add to your own list. 🙂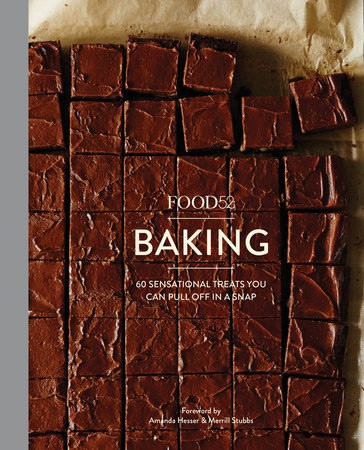 Today's cookbook review is a book that would be perfect for any home baker. Baking, from the editors of Food52, is filled with 60 recipes that are easy enough for a weeknight. I love the premise of this book – skip the store-bought treats and make something homemade instead. I have plenty of cookbooks that are filled with gorgeous or over the top or decadent treats – this one is filled with more of what I call Sunday night desserts. You know – those deserts that may not look like much, but really are a home run. Or the recipes that you can whip up from what you already have in the pantry and fridge.
You have some very normal recipes, like Brown Sugar Shortbread, but then there are recipes with more of a twist to keep things interesting, like Spiced Parsnip Cake. There is even a chapter of savory treats for when you aren't looking for dessert.
Here are the details:
Number of Photos: lots. One full page photo for each recipe – yay!
Difficulty Level of Recipes: Medium. If you bake regularly, this book will be a breeze. The recipes are not overly complicated or involved. But I always hesitate to call baking books "easy" simply because baking is not always comfortable for everyone that doesn't regularly bake.
Availability of Ingredients: Easy to Medium. By and large, the ingredients are very accessible. But there are a few recipes thrown in that have ingredients that may be harder to come by – like black sesame or lavender.
Overall thoughts: I love the variety of recipes in this book, and I can totally see myself pulling this book out on a weekend – on one of those days when you just feel like baking. Just about every recipe looks appealing, so I know I could have some fun with this book!
Other recipes I want to try:
Featherweight Blueberry Scones
Brown Sugar Shortbread
Peach Tart
Lemon Sponge Cups
Cold-Oven Pound Cake
Banana Cake with Penuche Frosting
Savory Galette with Greens and Gruyere
Buy Food52 Baking on Amazon.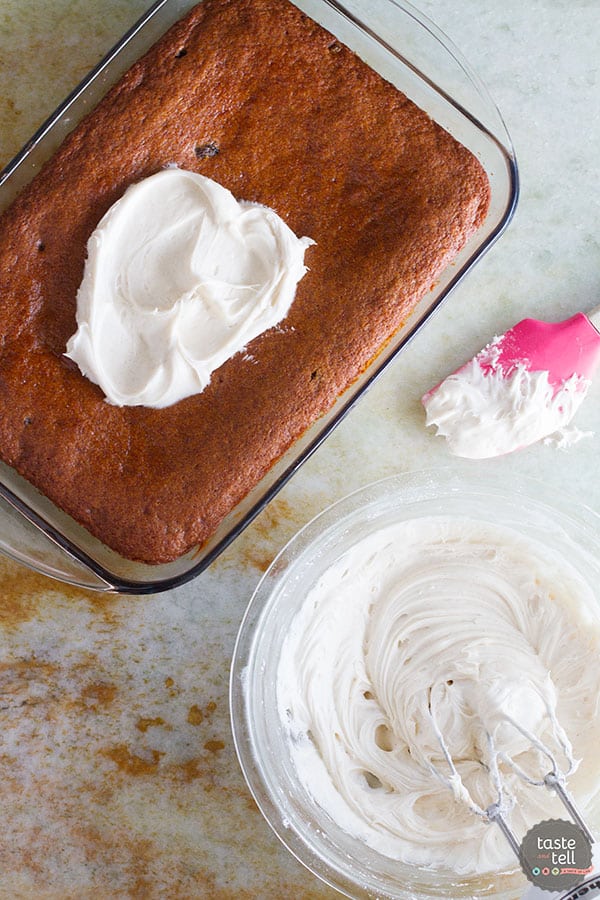 The recipe I chose to make out of this book might seem a little out there at first glance. Tomato Soup Spice Cake Recipe with Cream Cheese Frosting. I know what you're thinking – did she just say tomato soup and spice cake in the same sentence?
I first heard about a tomato soup cake quite awhile ago, but I had never had the opportunity to make one or try one. So when I passed this recipe in the cookbook, I had to try it. I was intrigued.
The heading for this cake says that it came from former editor Marian Bull's late grandmother. I actually think this is one of those recipes that many or grandmothers made back in the day. I did a little bit of research and couldn't figure out the exact origins of this recipe, but some say it was first published in a cookbook in the 1920's, but made popular by Campbell's soup by including a version of it in a cookbook in the 1940's. The book says that the recipe was developed by Irish immigrants who were looking for an alternate to work with.
Regardless of where it comes from, the true test is in the flavor, right? Despite the color of the cake, it doesn't not taste like tomato soup. At all. It tastes like a wonderful, rich spice cake. And I know that people are pretty passionately for or against raisins, but I definitely think they worked here. I am a raisin fan, though. Feel free to leave them out if you are not. But whatever you do, don't skip out on the cream cheese frosting. It's an absolute must on this cake. I added in a little bit of cinnamon for a little something extra, and I think I just may be adding a bit of cinnamon to every cream cheese frosting from now on.
The book has this cake as a 2 layer cake. But the only way I could imagine my grandma making this cake is simply – in a 9×13-inch pan with a thick layer of frosting on top. I'm so glad I took it this direction. This cake is such a simple cake, and I it worked perfectly as a one layer, one baking dish cake.
This Tomato Soup Spice Cake Recipe was a hit, and not one of my taste testers guessed that tomato soup was the secret ingredient. I can't wait to bake more from this book!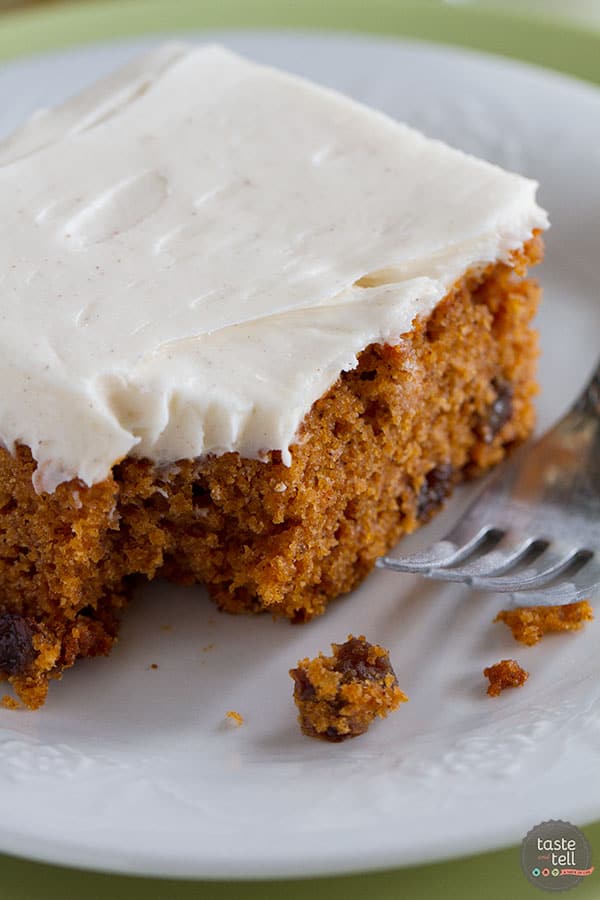 Like what you see here? Make sure you are following Taste and Tell for more recipes and ideas!
Facebook | Pinterest | Instagram | Twitter | Google+ | Weekly Newsletter | Feedly | Bloglovin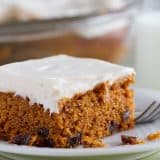 Tomato Soup Spice Cake Recipe with Cream Cheese Frosting
---
Prep Time: 15 mins
Cook Time: 35 mins
Total Time: 50 mins
Yield: 12-15 servings 1x
Description
You would never guess that a can of tomato soup is the secret ingredient in this retro cake! A recipe that has been around for decades, this Tomato Soup Spice Cake Recipe with Cream Cheese Frosting is so simple yet a total crowd favorite.
---
Scale
Ingredients
Cake
2 cups all-purpose flour
1 1/3 cups sugar
4 teaspoons baking powder
1 teaspoon baking soda
1 1/2 teaspoons ground allspice
1 teaspoon ground cinnamon
1/2 teaspoon ground cloves
1 (10 3/4 oz) can condensed tomato soup
1/2 cup unsalted butter, melted
2 eggs
1/4 cup water
1 cup raisins
Cream Cheese Frosting
8 oz cream cheese, at room temperature
1/2 cup unsalted butter, at room temperature
2 to 3 cups sifted confectioners' sugar
1/4 teaspoon ground cinnamon
---
Instructions
Preheat the oven to 350ºF. Grease a 9×13-inch baking dish.
In a large bowl, whisk together the flour, sugar, baking powder, baking soda, allspice, cinnamon and cloves. Add the soup, butter, eggs, and water and, using an electric mixer, beat until smooth. Fold in the raisins. Pour the batter into the prepared pan.
Bake the cake until a tester inserted in the center comes out clean, 30-35 minutes. Let the cake cool completely.
To make the frosting, beat the cream cheese until smooth and light. Add the butter and beat into the cream cheese. Add 2 cups of the confectioners' sugar and beat until combined. Continue to add confectioners' sugar until you have your desired consistency. Beat in the cinnamon.
Spread the frosting on top of the cooled cake. Cut into slices to serve.
Don't miss a thing! Follow me on Pinterest to see what I'm pinning!
Visit Taste and Tell's profile on Pinterest.


I received this book from Blogging for Books for this review, but all opinions are my own. This post contains affiliate links. If you purchase an item from Amazon from the link Taste and Tell receives a small commission. Thank you for supporting Taste and Tell through your purchases!