I am so happy to welcome Sandy from Everyday Southwest here today for a guest post. I've known Sandy for a little while now, but when we were roommates at EVO this past summer, she jumped right in and volunteered to write a guest post here for me to ease some of my workload when the baby came. I'm so happy to kick off the holiday baking with her post today. And I can't wait to make these cookies!! Make sure you visit Sandy's blog for some great southwest recipes. You can also find her on Facebook and Twitter. Thanks so much, Sandy!!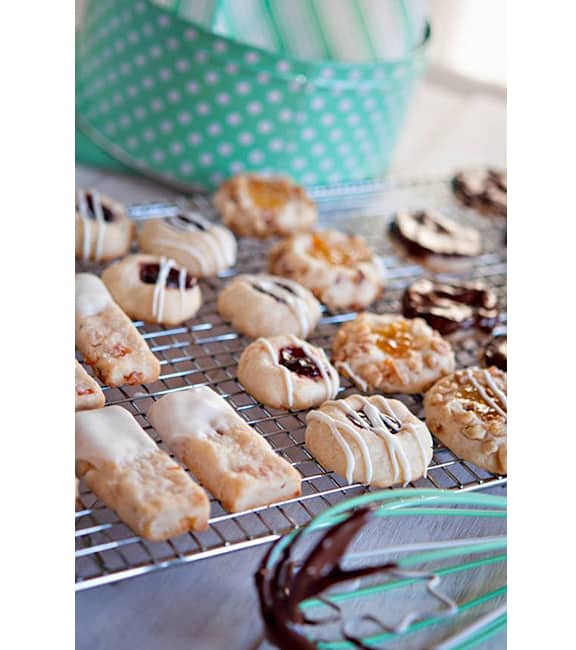 Holiday Cream Cheese Cookies Recipe—Four Ways!
Hi, I'm Sandy! I'm so glad to be able to help Deborah out a tiny bit while she is snuggling her newest little one. Isn't he a doll? There is something I need to tell you about myself, tho'…
I love doing the dishes after Thanksgiving dinner! And, in our family, that's a lot of dishes. Why? Because once the very last dish with the very last cranberry is washed, it's baking time! Until then, I must restrain myself and think only of pumpkin pie and mom's famous crescent rolls. But, as soon as the steam from the dishwasher fills the house, I take the gloves off and go into high production baking mode.
There is not a minute to lose if I'm to take full advantage of the only month in the year when I can shamelessly, and with out excuses, bake mountains of cookies, candies and cakes of every kind. Not for myself… you know… for gifts and stuff.
The truth is, I usually make all kinds of plans for the cookie recipes I have spent the year cutting out of magazines and sticking into every cookbook in the house. But, as the holidays fill up with the kid's concerts, the holiday shopping and finding a dress for the dreaded corporate Christmas party, I start to run out of time and have to scale things way back. I just don't like the thought of people knowing I have scaled back.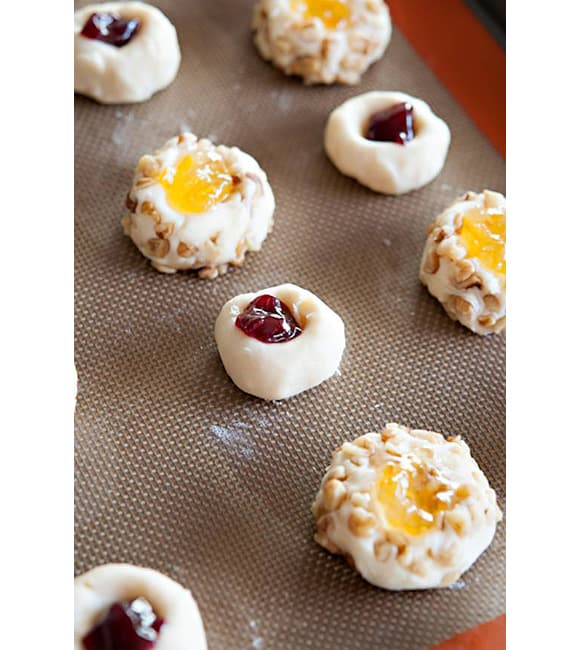 That's why I have come up with my "super secret holiday cookie" making method… a whole plate of assorted cookies from just one recipe! Instead of spending the time that I do have shopping for lots of ingredients and measuring out different recipes, I just triple the recipe for my favorite cream cheese cookie dough recipe and have fun by adding delicious touches to make the cookies different. Then, when I arrange them on the plate for my friends, the simple plate of cookies looks very special.
The recipe I like to use is a traditional rugelach dough that is flaky and light and holds up well to holiday flavors. But, you can use any of your favorite cookie dough recipes for this. Sugar cookies work really well. Just double or triple the recipe and divide it into sections. Each section can be cut out into a different shape and flavored with different goodies like orange peel and nuts and chocolate. Just think of your favorite holiday flavors and either add them to the dough or dip the cookie into it after it has cooled. The sky is the limit on the combinations.


This year I have decided to start out the cookie baking season with my favorite Southwest flavor combination—chocolate and orange! I've included a double recipe of my cream cheese cookie dough along with the directions to make these shapes.
Use your imagination to come up with shapes and flavors to make these cookies your own… that's the real fun of baking. And, whether you give these plates of cookies away for gifts or leave them out for Santa, you will have lots of time left over to enjoy the holidays this year.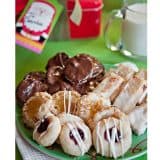 Holiday Cream Cheese Cookies – 4 Ways
---
Yield: 4-6 dozen cookies 1x
Description
Take the stress out of holiday cookie baking by using one dough to make 4 different cookies!
---
Scale
Ingredients
2 packages (8 ounces each) regular cream cheese, room temperature
16 ounces unsalted butter, room temperature
½ cup granulated sugar
2 teaspoons vanilla (or any flavoring you wish, I used spiced rum with the citrus)
4 cups flour, sifted
1/2teaspoon salt
1/2 cup finely chopped macadamia nuts (or nuts of your choice)
1/2 cup finely chopped candied orange peel (optional, may use dried currents or chopped, dried cranberries)
1/2 cup orange marmalade (or jam of your choice)
1/2 cup seedless raspberry jam
12 ounces semi-sweet chocolate candy melts
12 ounces white chocolate candy melts
---
Instructions
Preheat oven to 350 degrees.
In a large mixing bowl, beat the cream cheese and the butter together until fluffy. Add the sugar beat another minute. Add the vanilla and mix well.
Measure the flour by spooning it into a measuring cup and level off the top with the back of a butter knife. Sift the flour and add to the cream cheese mixture a little at a time while mixing on low speed.
Divide the dough into 3 sections. Remove one third of the dough and form into a disk. Wrap with plastic wrap and refrigerate. Add the citrus peel and macadamia nuts to the other two sections as desired. Shape those sections of dough into separate disks, wrap in plastic wrap and refrigerate 30 to 40 minutes.
Roll out each disk on a lightly floured cutting board to about ¼ inch thick. Cut into shapes. Cut one disk into 1 ½ to 2 inch circles and one into 1 inch by 2 ½ inch rectangles. Shape the remaining disk into small 1 ½ inch balls and press your thumb into the middle of each ball to make "thumbprint" cookies.
Roll the sides of some of the thumbprints in chopped nuts. Spoon a tiny bit of jam or marmalade into the center of the thumbprint.
Bake the different shapes on separate pans so that they will cook evenly.
Bake for 15 to 17 minutes depending on the size or thickness of the cookies. Start checking the dough after 12 minutes. Remove when lightly brown and cool on wire racks.
Melt the chocolate candy melts in separate bowls.
Dip the circle cookies into the dark chocolate and the rectangles into the white chocolate.
Place the remaining chocolates into separate plastic zip bags and place a tiny whole in one corner of each bag. Use the chocolate in the bags to drizzle over the thumbprint cookies. Let the chocolate "set up" then arrange on plates to give as gifts or set out for your family.