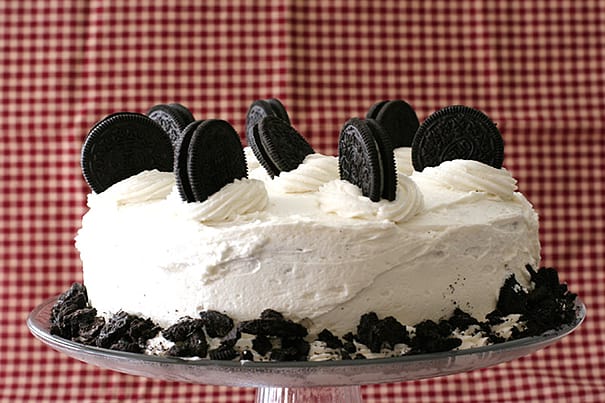 When you make a recipe from an online source where people can leave reviews of the recipe, do you usually read them?? I love to skim through them for some helpful tips – especially if adding one thing or changing another thing make the recipe better. But sometimes I just really like to read through them because they make me laugh. Like when someone bashes on a recipe, but then says all of the changes they made to the recipe, which basically completely changed it. Or when an important ingredient is substituted – like using brown sugar instead of white sugar, which totally changes the recipe.
Well, when you read the title for this recipe – Cookies 'n Cream Cake, and see that one of the ingredients is chocolate sandwich cookies – aka Oreos – wouldn't you have some sort of an idea that this cake just may taste like Oreos?? I had to laugh when one reviewer complained because it tasted like the middle of an Oreo cookie. Not quite sure what they were expecting!!
That being said – this icing does taste a lot like the filling of an Oreo cookie. I found it a bit too sweet for my taste, but I often feel like that about frostings. But this was a huge hit with the kids I served this to, and it was a beautiful cake!! Do be aware, though, that the frosting does have raw egg whites in it, so if you are paranoid about that, you may want to skip this frosting recipe.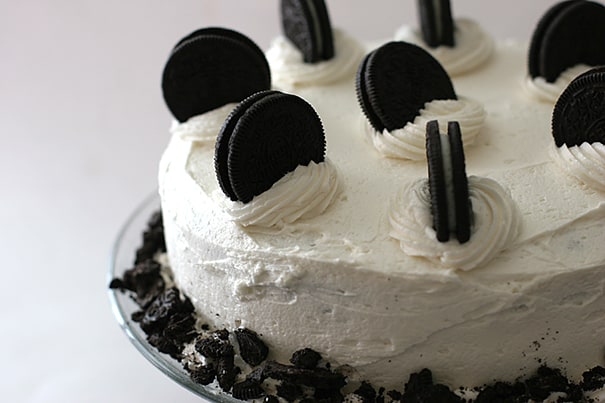 Cookies 'n Cream Cake
adapted from allrecipes.com
Makes 1 9-inch layer cake
1 (18.25 ounce) package white cake mix
1 1/4 cups water
1/3 cup vegetable oil
3 egg whites
2 cups chocolate sandwich cookie crumbs
3 cups confectioners' sugar
3/4 cup shortening
1 teaspoon vanilla extract
2 egg whites
12 chocolate sandwich cookies
Preheat oven to 350F. Grease and flour two 9-inch round cake pans.
In a large bowl, mix the cake mix, water, oil and 3 egg whites with an electric mixer on high speed for 2 minutes. Gently stir in crushed cookies. Pour batter into the prepared pans.
Bake for 25 to 35 minutes, or until a knife inserted in the middle of the cake comes out clean. Cool 10 minutes in pans. Remove from pans, and completely cool on racks.
To make frosting: In a small bowl, thoroughly blend the 1/2 cup confectioners sugar, shortening, vanilla, and 2 egg whites. Beat in remaining confectioners sugar until creamy. Frost the cake and garnish with the remaining cookies.