Thai Pork with Noodles – ground pork is combined with chiles and noodles in these Asian style lettuce wraps.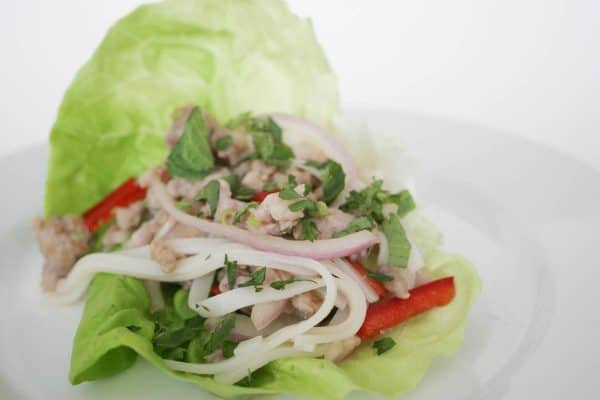 I had 2 recipes chosen from this month's Cookbook of the Month that I was deciding between for this week's recipe. And the funny part was that I realized that one had mint in it, and the other had sage. If you've been reading my blog for the past few weeks, you'll know that those are 2 of the herbs from my garden this year that I have been looking for recipes for!!
It was a win-win situation, but I am horrible at making decisions. My husband texted me at work yesterday, saying that I didn't need to worry about dinner for him because he just wanted cereal. (This happens on a weekly basis, so I'm used to it!) Every time that happens, I jokingly make a comment about how he doesn't like my cooking. I know that he does, but it is all in fun.
Since I would be cooking for one, I decided to make a recipe for pasta in a brown butter and sage sauce, since I knew this wouldn't be something my husband would be crazy about. But just before I left work, I got another text, this time saying that he had decided that he did want "real" food for dinner, so he would be eating with me. I knew this pork dish would go over better with him, so a stop at the grocery store was made.
These are the times I wish we had a good Asian grocer in the neighborhood. I had never used lemongrass before, but I had seen pictures of it online. All that my grocery store had was what looked like the stalks of the lemongrass? It was labeled as lemongrass, so I decided to go with it. And the recipe in the book calls for mung bean vermicelli noodles, but my selection of Asian noodles is slim to none, so I settled for some rice vermicelli noodles.
Everything went together quite easily except for one step that I should have accounted for. In the recipe, it says the noodles will take about 5 minutes in the boiling water to be done. Well, the rice noodles that I purchased were still very hard after 5 minutes. Then I decided to look on the package, and these particular noodles are supposed to soak for 30-45 minutes! So dinner took a little longer than anticipated, but it all came together in the end.
I thought this recipe was delicious. It was a bit salty for my tastes, probably because I'm guessing my grocer added salt into the pork, and the fish sauce is quite salty. I'd probably cut down on the quantity of fish sauce if I were to make it again. But I loved that I got to use 2 ingredients that I had never used before – lemongrass and rice noodles. Overall, it was a hit!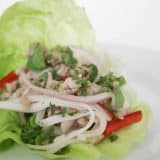 Thai Pork with Noodles
---
Author:
Yield: 4 servings 1x
Category: Main Dish
Method: Stove Top
Cuisine: Asian
Description
Thai Pork with Noodles – ground pork is combined with chiles and noodles in these Asian style lettuce wraps.
---
Scale
Ingredients
1 1/2 pounds ground pork
2 tablespoons finely chopped lemongrass
1–2 red chilies, seeded and chopped
1/2 cup red onion, thinly sliced
5 ounces mung bean vermicelli noodles or rice vermicelli noodles
3 tablespoons fish sauce
1/4 cup fresh lime juice
1 1/2 tablespoons brown sugar
1/3 cup mint leaves
lettuce, for serving
---
Instructions
Break noodles into short lengths and place into a heat proof bowl. Prepare according to package directions. Drain noodles.
Heat a large sauté pan over medium-high heat. Add ground pork and cook until cooked through. Turn off heat and add lemongrass, chili and onion.
Mix the fish sauce with the lime juice and sugar until well combined. Pour over the pork mixture. Mix in the noodles and the mint. Serve with the lettuce leaves.