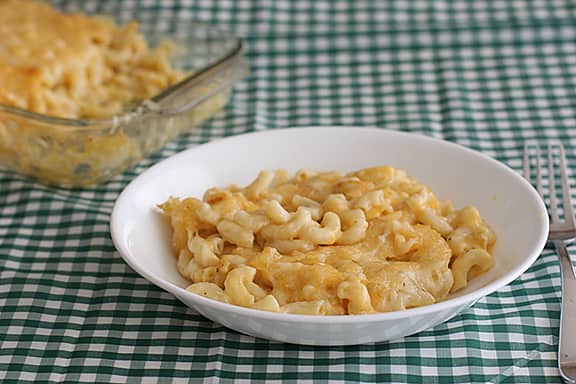 When I think of southern food, one of the first things I think of is Macaroni and Cheese. I don't know why, but that is what pops into my head. So of course, when I saw that this month's Cookbook of the Month cookbook had a mac and cheese recipe, I wanted to try it out.
The problem is, I'm pretty picky about homemade macaroni and cheese. Most of them are too dry to me. I have made quite a few versions on this blog, and while most of them have been good, I think that I am still waiting for that recipe that just blows me away.
Was this it? Unfortunately, no. It was good – nice and cheesy and not dry, but it felt like it was missing something – like it was really one-dimensional. Dare I say kind of boring?? But as I was eating some leftovers, I do have to say that Paula Deen and her fried macaroni and cheese popped into my mind. This would be the perfect macaroni and cheese to fry up the leftovers because the leftovers stick together so well. I really need to try that some day…
Recipe Rating: 3.75 out of 5
Macaroni and Cheese
from The Lee Bros. Southern Cookbook
serves 12
total time: 1 hour
1 tablespoon plus 1 teaspoon kosher salt, plus more to taste
1 pound elbow macaroni
3 tablespoons unsalted butter
3 tablespoons all-purpose flour3 cups milk
3 bay leaves6 cups coarsely grated extra-sharp cheddar cheese (about 1 pound)
1/2 teaspoon freshly ground pepper, plus more to taste1 pound Gruyere or Swiss cheese, cut into 1/4-inch slices
Preheat the oven to 350F.
Fill a large pasta pot with water. Bring the water to a boil and add 1 tablespoon salt. Add the macaroni and cook until al dente. Drain and return to the pasta pot.In a medium saucepan, melt the butter. Add the flour and stir together until smooth. Stir for 3 minutes. Add the milk, bay leaves, and 1 teaspoon salt and stir until the sauce is thick enough to coat the back of a spoon, about 10 minutes. Add half of the cheddar cheese and stir until it is melted. Turn off the heat and season to taste with salt and pepper.
Pour the cheese sauce over the cooked pasta and stir until the sauce is distributed evenly in the pasta. Spread half of the macaroni and cheese in the bottom of a 3-quart casserole dish and flatten into an even layer. Sprinkle half of the remaining cheddar on top, then cover with half of the Gruyere. Add the rest of the pasta, flattening into an even layer, then cover with the remaining cheddar then the remaining Gruyere.
Bake in the middle of the preheated oven until hot and bubbly, about 30 minutes. If desired, transfer to the top rack during the last 5 minutes to brown the top.
Serve immediately.
And since so many of you commented about the Balloon Festival when I mentioned it the other day, I thought I'd share a few photos with you. You can see them all HERE (but beware – there are a ton of photos!)