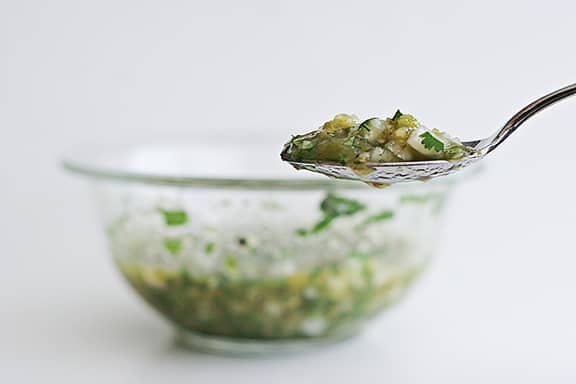 This title should have really been "Cookbook of the Month Recipes – Essential Roasted Tomatillo-Serrano Salsa and Scrambled Eggs with Mushrooms and Spicy Tomatillo." But really, that was WAY too long!! Regardless, you're getting 2 for the price of 1 this week!
Have you ever noticed how un-educated some of the checkers at the grocery store are about produce? I went to the store to buy the ingredients for these recipes, and when I was looking at my receipt after leaving the store, I realized that the checker had charged me for jalepenos instead of serranos. And I remember noticing on his name badge that he was a manager!! I'm guessing they were probably close the the same price, so that didn't really bother me. But shouldn't a checker know the difference between a jalepeno and a serrano? I can't tell you how many times I have had the checker ask me what a certain item is. I can understand if they are new – there is so much to learn – or if it is an item that is not common, but really!
I guess it really doesn't matter – a jalepeno or a serrano, because I'm sure both would be good in this recipe. We start off with a delicious green salsa, made from tomatillos and serranos. I have to admit, my gut told me to take the seeds out of the serranos, but I didn't. The end result was a very spicy salsa! I didn't mind, though, because I like the heat, but my husband passed because he's not a lover. But when the salsa was combined in the scrambled eggs, the heat really mellowed out.
I have to say – I loved both of these recipes! The salsa was not only delicious in the eggs, but it was delicious as a chip dip as well. And I love breakfast for dinner, so this made quite the dinner for me. I'll admit that I chose these recipes because I needed something fast and easy this week, so I was surprised at how much I ended up liking them. They are both keepers!
Salsa Rating: 4.5 out of 5
Scrambled Eggs Rating: 4.5 out of 5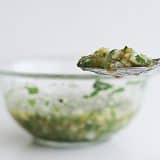 Essential Roasted Tomatillo-Serrano Salsa
---
Prep Time: 5 minutes
Cook Time: 20 minutes
Total Time: 45 minutes
Yield: about 2 1/2 cups 1x
Description
Tomatillos and serrano peppers come together for a delicious roasted salsa.
---
Scale
Ingredients
1 pound (10 to 12 medium) tomatillos, husked and rinsed
fresh serrano chiles to taste (roughly 5, about 1 ounce total)
2 large garlic cloves, unpeeled1 small white onion, finely chopped
1/4 cup loosely packed, roughly chopped cilantro
salt, about 1 generous teaspoon
sugar, about 1 scant teaspoon (if needed)
---
Instructions
Lay tomatillos on a baking sheet and place 4 inches below a very hot broiler. When the tomatillos blister, blacken and soften on one side, about 5 minutes, turn them over and roast the other side. Cool.
Roast the chiles and garlic in a heavy skillet over medium heat, turning occasionally, until blackened in spots and soft, 5 to 10 minutes for the chiles, about 15 for the garlic. Cool, then pull the stems from the chiles and peel the garlic.
Combine the tomatillos, chiles and garlic in a food processor. Process to a coarse puree. Transfer to a medium-size bowl. Scoop the onion into a strainer, rinse under cold water, shake off excess and stir into the tomatillo mixture along with the cilantro.
————————
Scrambled Eggs with Mushrooms and Spicy Tomatillo Salsa
4 servings
8 eggs
3 tablespoons cream
generous teaspoon of salt
2 tablespoons olive oil
2 cups sliced mushrooms
⅔ cup of the Essential Roasted Tomatillo-Serrano Salsa, plus more for serving
chopped cilantro, for serving
crumbled Queso Fresco, for serving
Beat the eggs with the cream and the salt. Heat the olive oil in a large skillet over medium high heat, then add the mushrooms. Stir-fry until thoroughly wilted, then stir in the salsa. Continue to stir until the salsa is reduced and thick. Stir in the eggs, then stir every 10 to 15 seconds until the eggs are done to your liking. Divide onto warm plates, spoon a little more salsa and sprinkle with the cilantro and queso fresco.