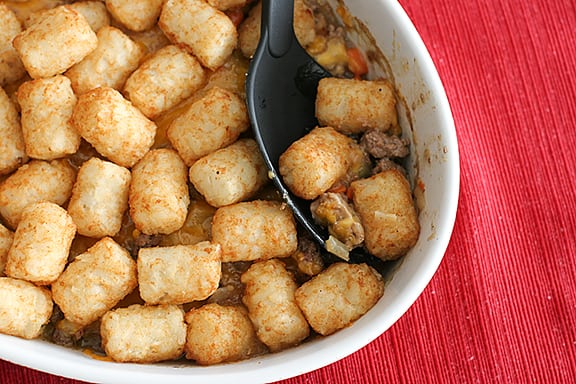 I was so proud of myself for being so prepared before this baby came. I have a ton of recipes made and photographed – all ready so that I can take a little break from the kitchen. I guess I should have prepared a little more and had them all written up and prepared to post – I wasn't really planning on having those post-less days! But I'm sure you'll all forgive me! 🙂
But I do have a lot of tasty recipes coming your way. And this is definitely one of them. When I saw this recipe on Rachael Ray's talk show, I knew it was one that I'd have to try because my daughter loves tater tots. And what an easy twist on Shepherd's Pie!! The only complaint I had with this recipe is that the gravy and meat sauce never really thickened up like I wanted it to. But it was still really good – and the leftovers were great as well!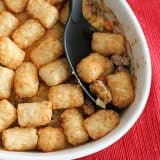 Potato Tot-Topped Shepherd's Pie
---
Prep Time: 15 minutes
Cook Time: 30 minutes
Total Time: 45 minutes
Yield: 4-6 servings 1x
Description
An updated shepherd's pie – instead of mashed potatoes, the beef and vegetable mixture is topped with tater tots!
---
Scale
Ingredients
2 tablespoons olive or vegetable oil
2 pounds ground beef
2 medium carrots, chopped
2 medium onions, chopped
2 ribs celery, chopped
4 cloves garlic, chopped
2 bay leaves
salt and pepper
1/4 cup Worcestershire sauce
3 tablespoons butter
2 rounded tablespoons flour
2 1/2 cups beef broth
1 1/2 to 2 cups shredded sharp cheddar cheese
1 bag frozen tater tots
---
Instructions
Preheat oven to 400°F.
Heat a large, deep skillet or Dutch oven over medium-high to high heat with oil, 2 turns of the pan. When oil ripples, add meat and brown well, stirring occasionally. Add onions, carrots, celery, garlic, bay leaves and season with salt and pepper. Cook to soften vegetables, 10-12 minutes. Stir in Worcestershire sauce and reduce heat to simmer.
In a small skillet, melt butter over medium heat. Whisk in flour, cook 1 minute then whisk in 1/2 cup of the beef broth. Reduce by half then whisk in the rest of the broth and thicken to a loose gravy.
Place meat and vegetables in a casserole dish and stir in gravy. Top with cheddar and tots, and bake until tots are golden and crispy on top.
—————-
slightly adapted from The Rachael Ray Show