A rich dough is made into a crust that is topped with lots of streusel in this Crumb Buns. Plus a review of A Jewish Baker's Pasty Secrets.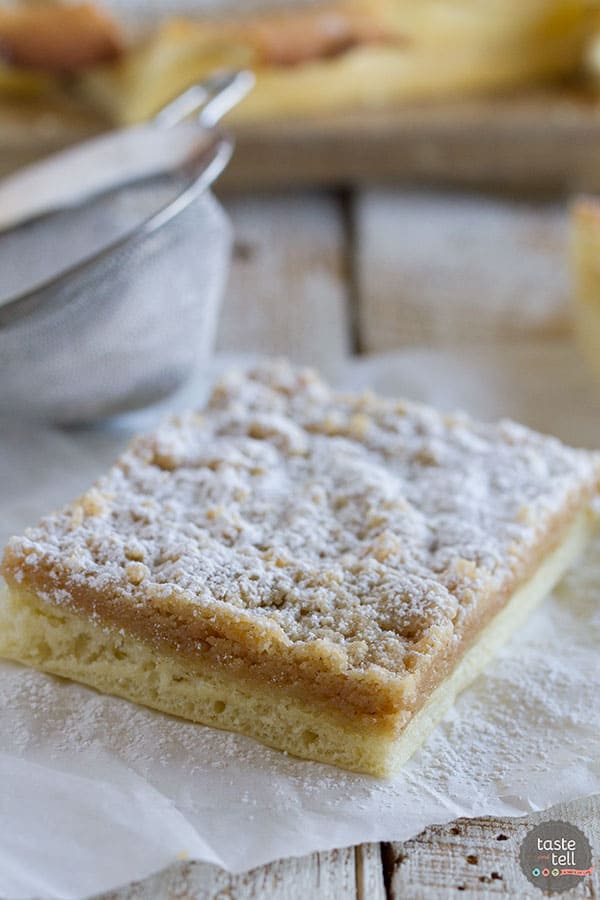 90% of the time when I cook and bake, I will choose something easy and fast. But every once in awhile, I need something harder, something a little more challenging.
I remember when I decided to do my very first cookbook review back in 2007. I choose a bread book. And while I was into the easy and fast recipes back then, too, I loved the chance I had to sit down with this new book and challenge myself. It was almost refreshing to spend some time in the kitchen, working with recipes that were a little bit out of my comfort zone.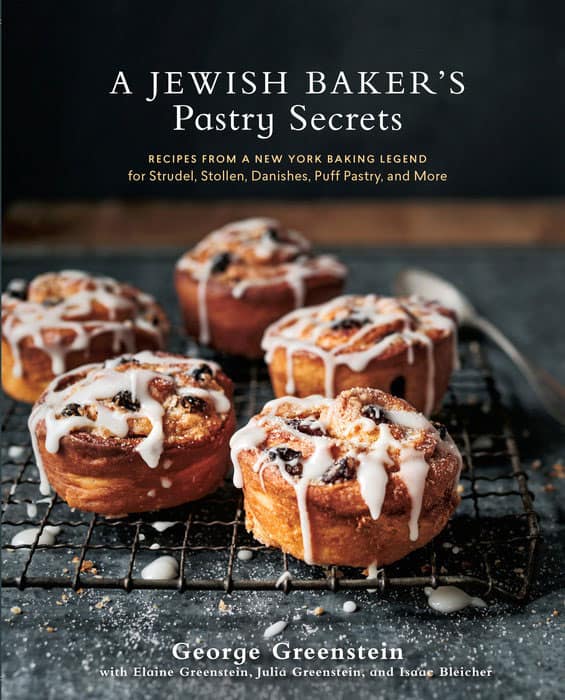 With today's cookbook review- A Jewish Baker's Pastry Secrets, I had a little flash back to woking on that cookbook all of those years ago. Because this cookbook is not quick and easy – the recipes are a labor of love.
This book is the second book from George Greenstein, who was a third generation baker who ran and owned a Jewish bakery in Long Island. George had been working on this book on and off for over 10 years before his death in 2012. Upon the discovery of the manuscript after his death, his daughters, Julia and Elaine, as well as his grandson Isaac, made a pact to get the book published. I think that, in and of itself, makes this book pretty special. It was a way for them to mourn and a way for them to show their respect for all that he had taught them.
This book is packed full of information. If you ever wanted to get serious about Jewish baking, this would definitely be the text book that you would need.
Here are the details:
Number of Photos: none. Yep – the one major drawback to this book. There are no photos at all. While I normally think that the photos just make a book more appealing, in this case, I really wish there were photos because I'm not familiar with the majority of the recipes. I don't know what the final product should look like, and photos really would have come in handy. I found myself doing a lot of googling while I was trying to decide what to make.
Difficulty Level of Recipes: Hard. This is a baking book, so don't expect super easy recipes. In fact, expect the opposite. I consider myself a fairly decent baker, but even then, some of the recipes look somewhat intimidating. That being said, I do think the instructions are easy to follow.
Availability of Ingredients: Easy. The recipes take your typical baking ingredients that are very easy to find.
Overall thoughts: While it is a bummer that there aren't any photos, I'm really loving this book. I will admit that most of the recipes are fairly involved and take multiple recipes to get to the final product, but I love being challenged every once in awhile. And every single recipe sounds delicious. This is a great book to have on hand for when I just feel like baking.
Other recipes I want to try:
Cheese Buns
Babka with Three Chocolates
Cherry Strudel
Portuguese Sweet Bread
Classic-Method Puff Pastry Dough
Cinnamon Danish
Buy A Jewish Baker's Pastry Secrets on Amazon.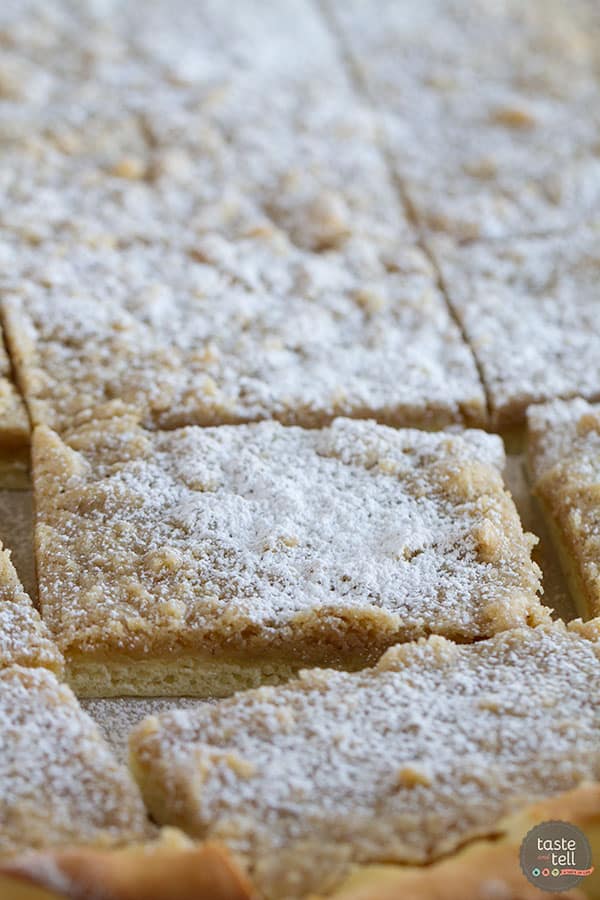 There are a lot of recipes in this book that I want to try. And I actually went back and forth on a few of those recipes, and thought that I had decided on a different recipe, but at the last minute, I switched to these Crumb Buns. Mainly because it was one of the easier recipes in the book. That being said, it still has a few different steps, so it does take some time.
But ladies and gentlemen, the time and effort are worth it. These Crumb Buns were so good. So good, in fact, that I had my daughter take the majority of them to a neighbor after I had sampled them. I knew that if they were in the house, I was going to be eating them!!
This recipe starts with a sweet yeast dough. It actually reminds me of a brioche dough, with lots of eggs and butter. I ended up making the dough one night, and then not making the buns until the next day.
While there are a lot of steps, these are not as difficult as they may seem. In the book, it said that the dough would be cut into pieces and then topped and baked, but the version in the cookbook is the easier version, baking it as a whole and then cutting it into pieces. I definitely don't mind the easy version!
I can't wait to dive deeper into this book (I have always wanted to make puff pastry – this is the push I needed!) I think it will be a fun one to have on my shelf!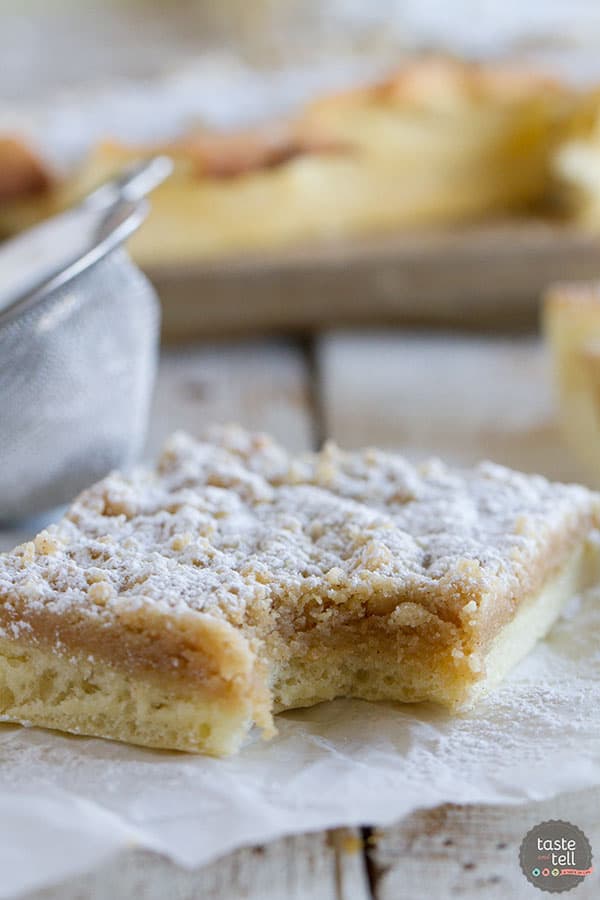 Like what you see here? Make sure you are following Taste and Tell for more recipes and ideas!
Facebook | Pinterest | Instagram | Twitter | Google+ | Weekly Newsletter | Feedly | Bloglovin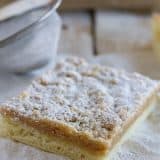 Crumb Buns
---
Author:
Prep Time: 1 hour 15 mins
Cook Time: 35 mins
Total Time: 1 hour 50 mins
Yield: 18 servings 1x
Description
A rich dough is made into a crust that is topped with lots of streusel in these Crumb Buns. Plus a review of A Jewish Baker's Pasty Secrets.
---
Scale
Ingredients
Bundt Dough
1/2 cup (4 fluid ounces) warm water
2 1/2 tablespoons (21 grams) active dry yeast
1 cup (8 fluid ounces) milk, at room temperature
3/4 cup (5.25 ounces) sugar
3/4 cup (6 ounces) unsalted butter, diced
3 eggs
6 cups (29 ounces) bread flour or unbleached all-purpose flour
1/4 cup (1 ounce) nonfat dry milk
2 1/4 teaspoons kosher salt
2 teaspoons vanilla extract
1/4 teaspoon ground cardamom
Butter Streusel
1/2 cup (3.9 ounces) packed brown sugar
1/2 cup (3/5 ounces) granulated sugar
1 cup (8 oz) unsalted butter, cubed
2 to 2 1/2 cups (8.5 – 10.5 oz) unbleached all-purpose flour
1/8 teaspoon kosher salt
1 teaspoon ground cinnamon
1/8 teaspoon ground nutmeg
1 teaspoon vanilla extract
Crumb Buns
1 1/2 lb portion of the Bundt Dough
full recipe of the Butter Streusel
1/4 cup unsalted butter, melted
powdered sugar, for topping
---
Instructions
For the bundt dough:
In the bowl of a stand mixer (or in a large bowl) sprinkle the yeast over the warm water to soften. Let it sit for a few minutes. Add the milk, sugar, butter, eggs, flour, dry milk, salt, vanilla and cardamom. Gently pulse the mixer on and off a few times to combine the ingredients, then mix until all of the ingredients come together. Switch to the dough hook and continue to beat together until the dough starts to come away from the sides of the bowl. Knead until the dough is silky and elastic, 8-10 minutes.
Oil a large bowl and add the dough. Turn to coat, then cover the bowl and allow the mixture to rise until it has doubled in volume, about 45 minutes.
Turn the dough out onto a floured work surface. Cut off a 1 1/2 lb portion of the dough, and save the rest of the dough for another use.
For the Butter Streusel:
Using a stand mixer fitted with the paddle attachment or using a food processor, mix together the brown sugar, granulated sugar, butter, 2 cups of the flour, salt, cinnamon, nutmeg and vanilla. Pulse the mixer only until combined – you don't want to cream the butter, but just combine the ingredients. Begin to add the remaining flour to the mixture, 1 tablespoon at a time, until the mixture comes together when you pinch it between your fingers. (This can be refrigerated if covered for up to 4 weeks.)
Make the crumb buns:
Line a half-sheet pan with parchment paper. Roll the dough out one inch larger than the sheet pan. If the dough shrinks back, allow it to sit for 5 minted then try rolling it again. Fold the dough in half width-wise, and then in half again lengthwise. Gently pick up the dough and transfer it to the sheet pan. Open the dough and fit it into the pan. If the dough has shrunk, gently use your fingers to stretch the dough to the edges.
Brush the dough with the melted butter. Use your fingers to squeeze the streusel into large clumps. Sprinkle the streusel over the melted butter.
Let the pan sit until the dough doubles in volume, about 45 minutes.
Preheat the oven to 350ºF. Bake the dough until browned, 25-35 minutes. Cool on a rack for 10 to 15 minutes, then remove from the pan.
When cooled, cut into three rows across and six rows down to make 18 pieces. Sift powdered sugar over the top.
Don't miss a thing! Follow me on Pinterest to see what I'm pinning!
Visit Taste and Tell's profile on Pinterest.



I received this book from Blogging for Books for this review, but all opinions are my own. This post contains affiliate links. If you purchase an item from Amazon from the link Taste and Tell receives a small commission. Thank you for supporting Taste and Tell through your purchases!