Great for a sweet breakfast or treat, these Chocolate Chip Biscuits with Raspberry Cream are light and tender biscuits, studded with chocolate chips and filled with a raspberry cream. The chocolate drizzle takes them over the top!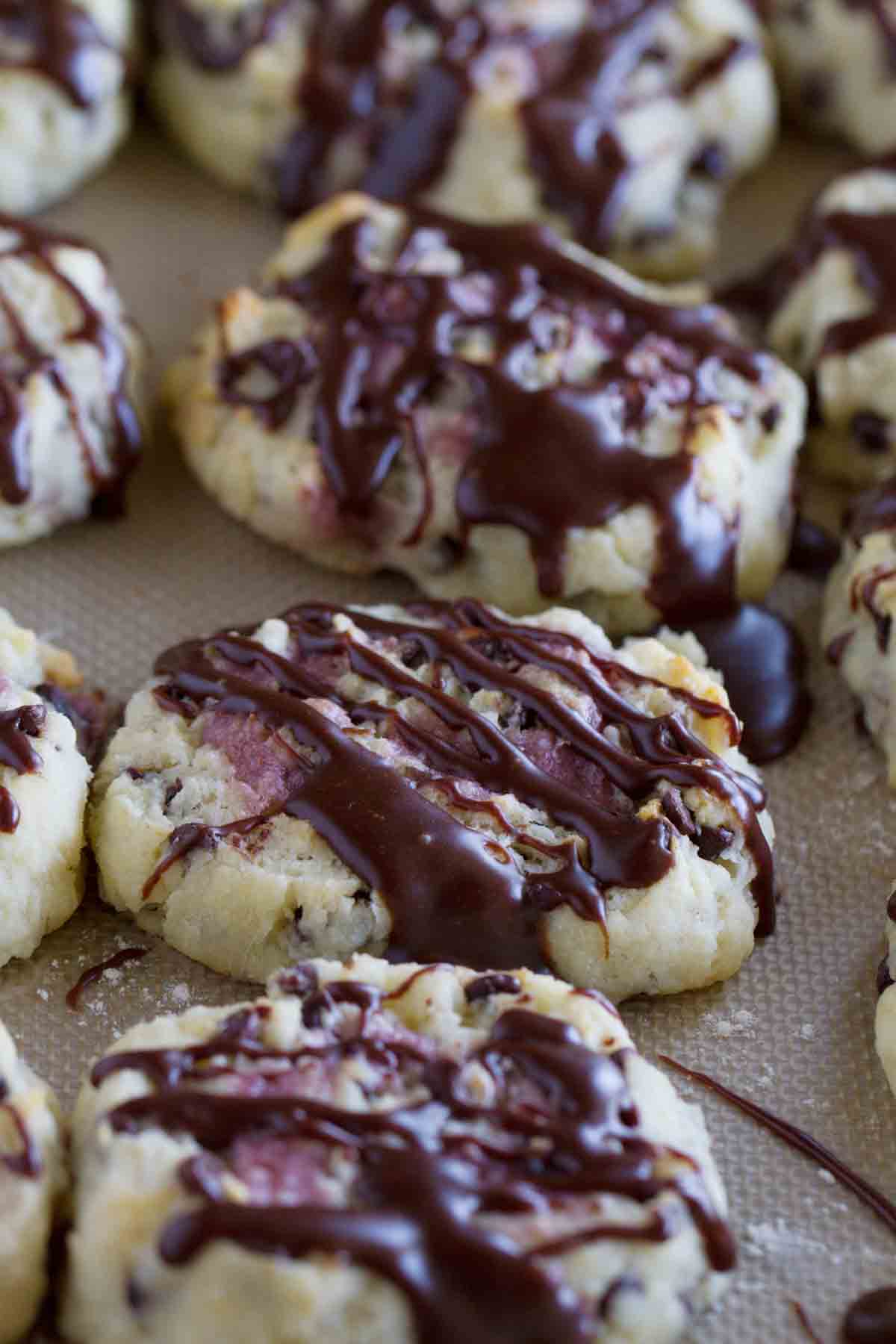 I have always been smitten with all things southern. Back when I used to have time to read 🙂 I would love to read books that were set in the south – especially back in the 40s and 50s. There is just something charming about the southern lifestyle to me. And southern cooking? Don't even get me started!!
I think that's one reason I was excited to bake from today's cookbook review: Biscuits – Sweet and Savory Southern Recipes for the All-American Kitchen by Jackie Garvin. A whole book devoted to biscuits? Count me in!!
While a great biscuit recipe is definitely a given, the book does not stop there. You get everything from the Classic Buttermilk Biscuit to Mashed Potato Biscuits and Strawberries and Cream Biscuits, but then you get more recipes using biscuits that are a little more untraditional, like Barbecue Country-Style Rib Fried Hand Pies or Homemade Tomato Soup with Cheddar Cheese Thyme Biscuit Croutons. I love that the recipes in this book go beyond the typical biscuit.
Here are the details:
Number of Photos: Lots While they aren't all full-page, there is a photo included with every recipe.
Difficulty Level of Recipes: Medium If you are comfortable baking, the recipes should be fairly easy for you, but if you are a beginner, they may be a little more difficult. I think that you need some confidence with baking for these recipes, as the directions aren't super detailed.
Availability of Ingredients: Medium In the intro to the book, the author says that light, flaky tender biscuits need soft winter wheat flour – and she only uses White Lily. Unfortunately, not everyone can get While Lily flour, including me. She even says that she won't guarantee that you will get the same results with a different kind of flour. But at the same time, while I'm sure the flour does make a difference, I do think that you can make the recipes work without White Lily if necessary.
Other recipes I want to try:
Buttermilk Biscuits
Rosemary Focaccia Biscuit Bread
Maple Cinnamon Rolls with Buttermilk Maple Icing
Ham, Egg, and Cheddar Cheese Biscuit Cupcakes
Pigs in a Biscuit Blanket
Breakfast Garden Skillet with Biscuit Crust
Buy Biscuits on Amazon.
I felt like baking the other day, so I pulled out this cookbook, hoping to have all of the ingredients on hand for one of the recipes. I came across the recipe for Chocolate Chip Biscuits with Strawberry Cream Cheese Filling, and I figured I could do a few adaptations to make it work for me. I didn't have any strawberry jam, but I did have raspberry. So the strawberry filling became raspberry!
These chocolate chip biscuits came together pretty easily. The only complaints that I had with the recipe were that the filling on the original recipe made way to much (I only used half, the recipe below reflects this change) and while the recipe says to roll the dough into a rectangle 1/2″ thick, it doesn't say how big that rectangle should be. So I measured mine and included the dimensions below. I did use mini chocolate chips in the biscuits (and decreased the amount), and I had to change the glaze a bit because the original amount didn't quite work for me and made way too much.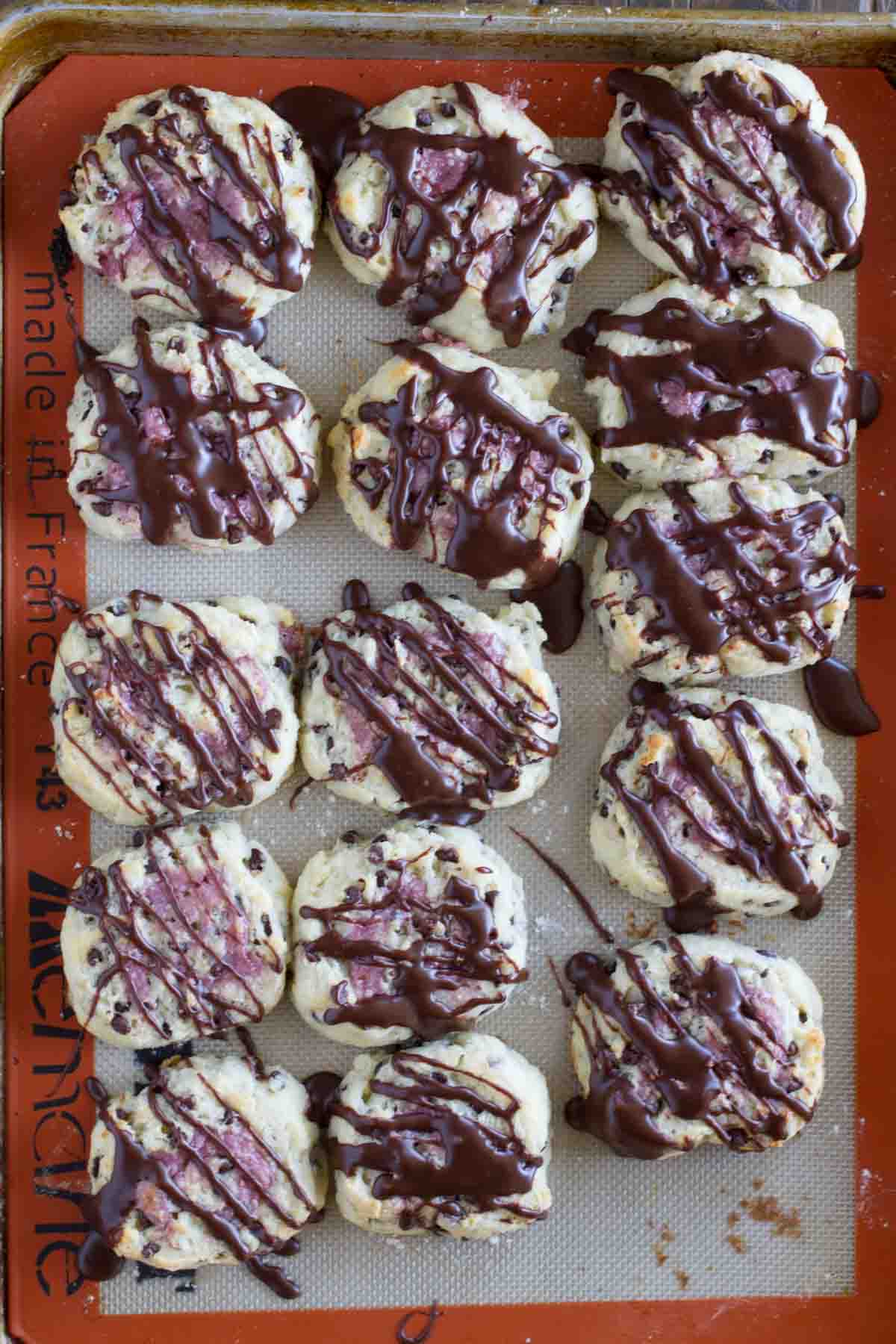 But the end result? We loved these. In fact, I had to send a plate full of them with my daughter to a friend's house because I kept going back for little nibbles. I could totally see these biscuits as part of a breakfast spread, or even as a dessert. I think they are very versatile as well – I'm sure you could use whatever jam you have on hand.
Now I can't wait to try more biscuits!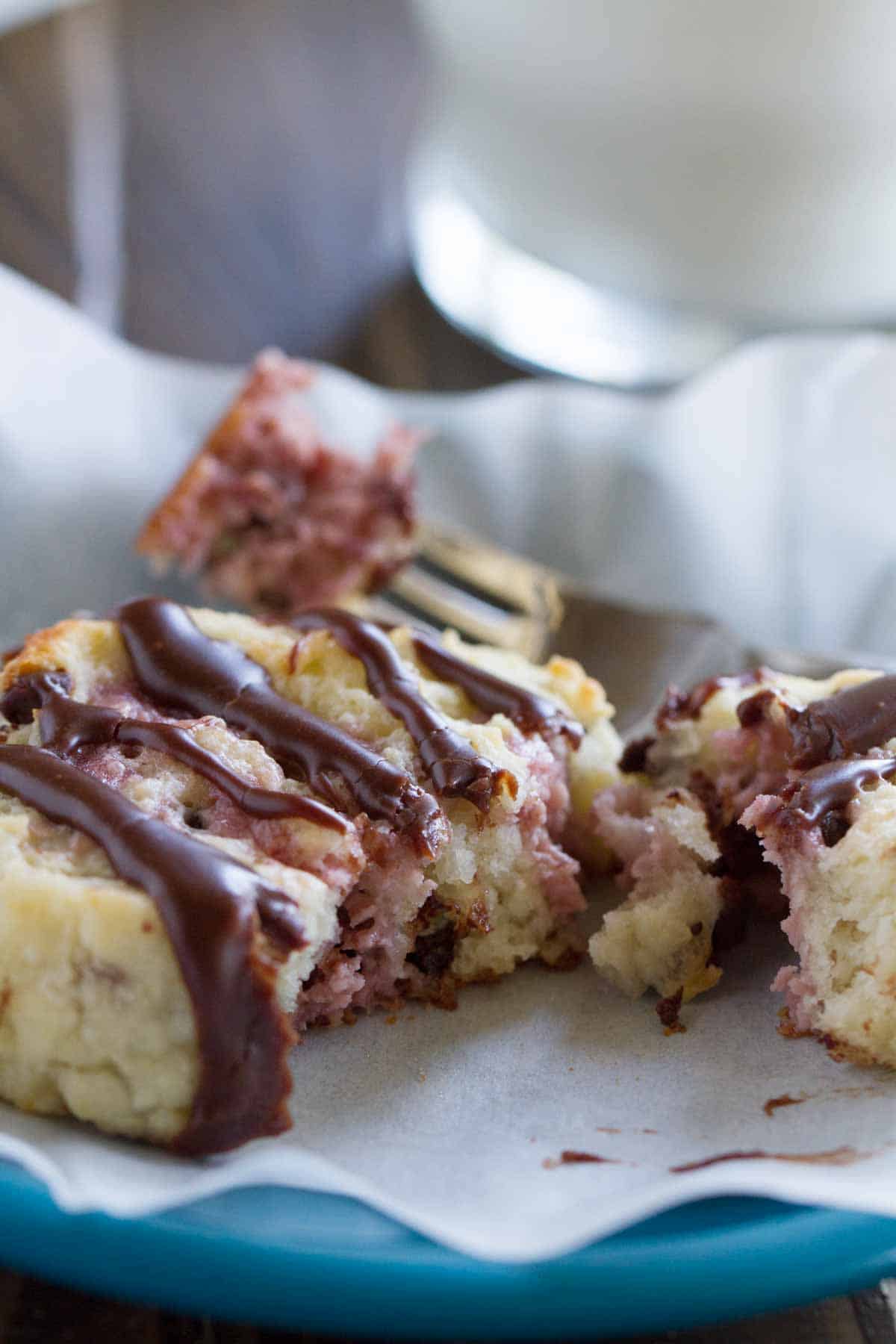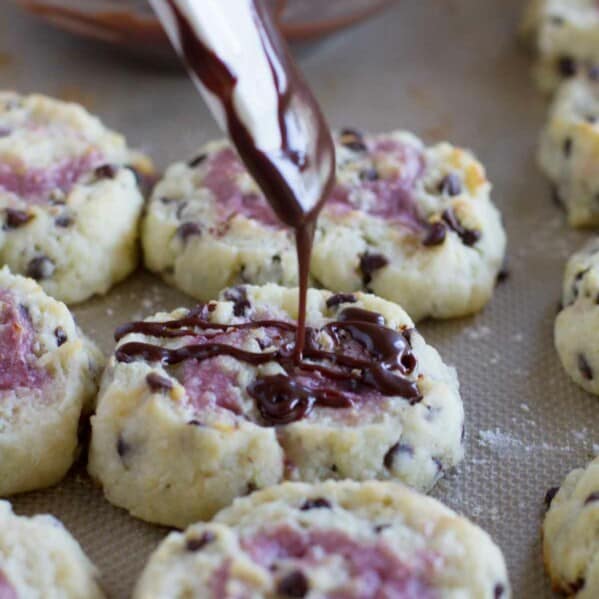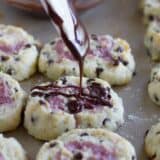 Chocolate Chip Biscuits with Raspberry Cream
---
Author:
Prep Time: 20 mins
Cook Time: 15 mins
Total Time: 35 mins
Yield: 16 1x
Category: Breakfast
Method: Baked
Cuisine: American
Description
Great for a sweet breakfast or treat, these Chocolate Chip Biscuits with Raspberry Cream are light and tender biscuits, studded with chocolate chips and filled with a raspberry cream. The chocolate drizzle takes them over the top!
---
Scale
Ingredients
Filling:
4 oz cream cheese
1/4 cup raspberry jam
Biscuits
2 cups all-purpose flour
3 teaspoons baking powder
1 teaspoon salt
1/2 cup unsalted butter, cut into cubes and chilled
3/4 cup mini chocolate chips
1 cup buttermilk
Glaze
1/2 cup milk chocolate chips
1 tablespoon heavy cream
1/2 tablespoon milk
---
Instructions
Preheat the oven to 450ºF. Spray a large baking sheet with nonstick cooking spray or use a silpat liner.
In a small bowl, beat the cream cheese until smooth. Add the raspberry jam and continue to beat until completely combined. Set aside.
In another bowl, combine the flour, baking powder and salt. Add the butter and cut in until it resembles coarse crumbs. Stir in the mini chocolate chips. Add the buttermilk and stir just until all of the ingredients are combined.
Turn the dough out onto a floured surface. Sprinkle the top with flour, and work it just until it is no longer sticky. Pat the dough out into a 12×8" rectangle, about 1/2" thick.
Spread the filling over the dough. Starting with the long edge furthest away from you, start to roll the dough jelly roll style, ending with the seam side down. Use a bench scraper if necessary to help roll the dough. Even out the thickness of the roll with your hands.
Cut the dough into 16 equal-sized pieces. Place on the prepared baking sheet, cut sides up.
Bake in the preheated oven until lightly brown, about 15 minutes. Remove and allow the biscuits to cool.
To make the glaze, combine the chocolate chips, cream and milk in a small microwave safe bowl and microwave on half power in 30-second increments, stirring frequently, until the chocolate chips are soft. Stir until smooth. Alternately, use a double boiler to melt the chocolate.
Drizzle the biscuits with the chocolate glaze.
Keywords: chocolate chip biscuits, biscuits, sweet breakfast
**This post contains affiliate links. If you purchase an item from Amazon from the link Taste and Tell receives a small commission. Thank you for supporting Taste and Tell through your purchases!**