An easy Mexican dinner at home, these Chicken Tostadas with Poblano Cream Sauce have tons of flavor and are perfect for a weeknight.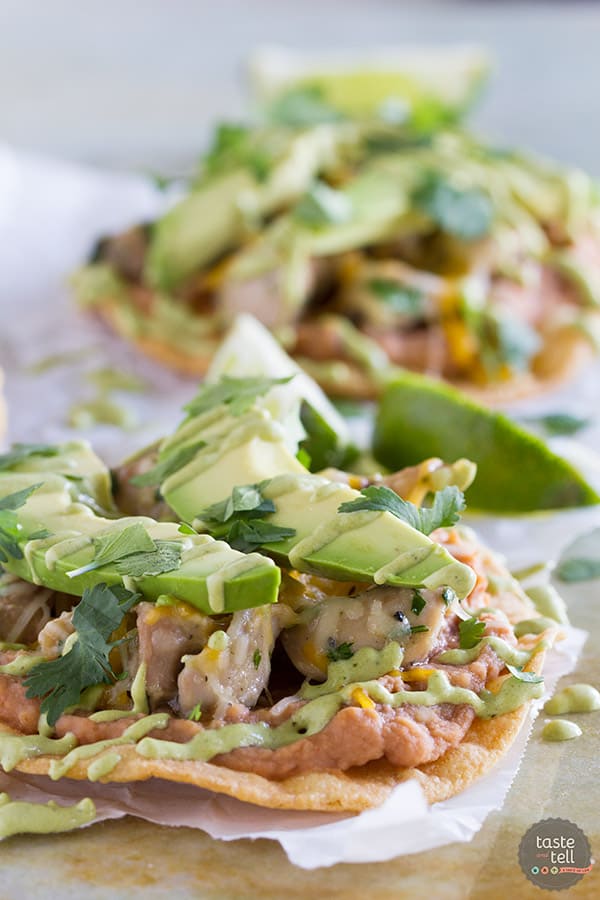 Yum


Hi friends! I'm back today with a new Chopped at Home Challenge, and this one is a tasty one!! If you remember from last time, I have partnered with Sargento® and Food Network for their Chopped at Home Challenge. I get to create a recipe using the secret "basket" ingredients. And even better – you can participate, too! Check out the details at the end of this post.
I have really had fun participating in these chopped challenges. It really helps me to get creative, while making food that I know my family will love. And this challenge was right up my alley – because we all know how much I love making Mexican food!!
The secret "basket" ingredients this round are chicken thighs, poblano peppers, corn tortillas and Sargento Fine Cut Shredded 4 Cheese Mexican cheese. I knew I'd be able to come up with something great!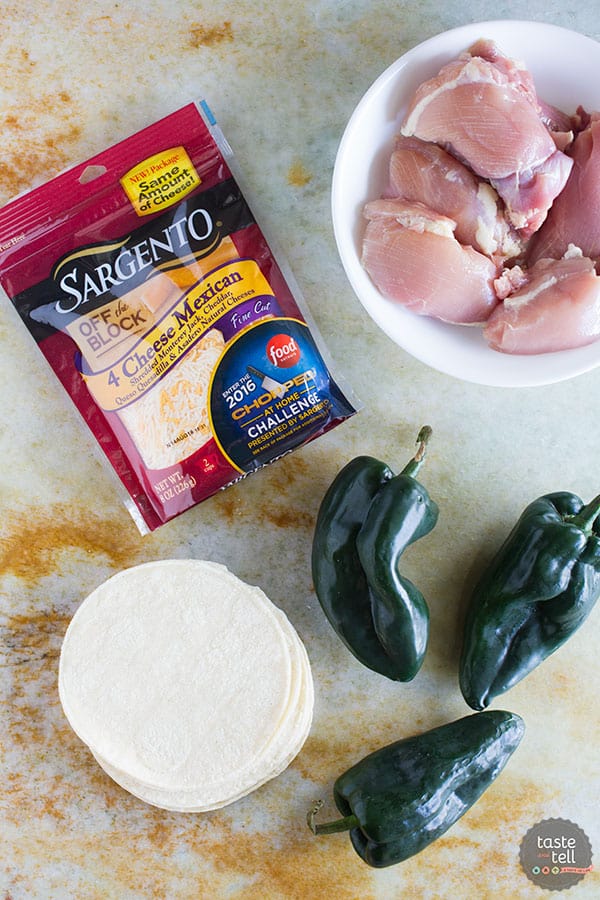 I started thinking about what my family loves, and tostadas came to my mind. One of my husband's favorite meals is tostadas. Our favorites are the traditional ground beef version, or my Slow Cooker Chicken Tostadas, but I wanted to change these into a new favorite. So the corn tortillas got fried into the tostada shells. The shells are topped with refried beans and the chicken, which I kept simple with just some lime juice and cilantro for flavoring. And we can't forget the poblano peppers, which got turned into a delicious poblano cream sauce. Don't forget the cheese – you have to have cheese on a tostada! – and the Sargento Fine Cut Shredded 4 Cheese Mexican cheese is the perfect addition.
These Chicken Tostadas with Poblano Cream Sauce were amazing. I am hooked on making my own tostada shells now, and the flavors of these tostadas just went so well together. They are so flavorful, without the heavy spices that you usually find in Mexican food. The Mexican cheese blend from Sargento is perfect for any Mexican meal, and it made this dinner so much easier. These tostadas are a new family favorite!
Don't forget to check out the Chopped at Home Challenge. It runs through 5/23/2016. Enter for a chance to win $5,000 and a trip to New York City to compete in a televised Chopped cooking challenge for a $10,000 prize.
For more inspiration, check out the Sargento Pinterest page: pinterest.com/sargentocheese/ or visit www.sargento.com/Shredded for more information.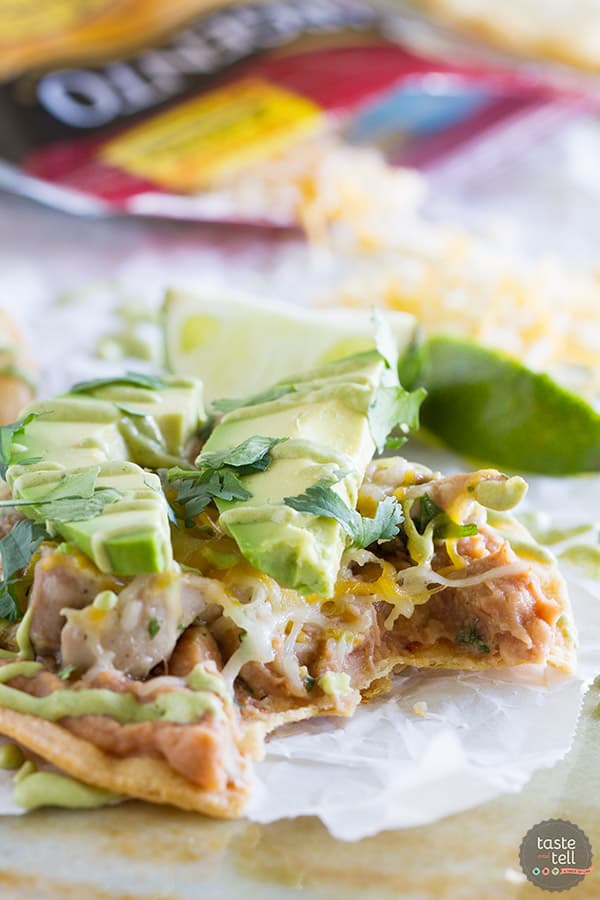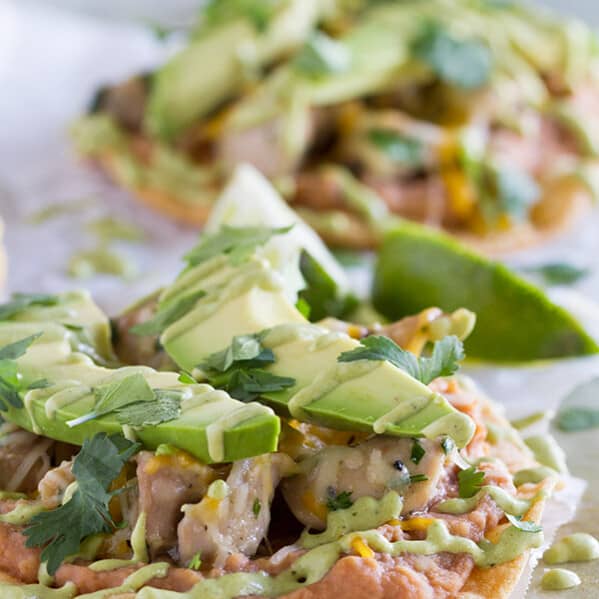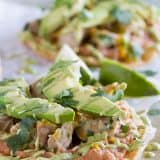 Chicken Tostadas with Poblano Cream Sauce
---
Author:
Prep Time: 15 mins
Cook Time: 45 mins
Total Time: 1 hour
Yield: 6 tostadas 1x
Description
An easy Mexican dinner at home, these Chicken Tostadas with Poblano Cream Sauce have tons of flavor and are perfect for a weeknight.
---
Scale
Ingredients
Poblano Cream Sauce:
3 poblano peppers
3/4 cup sour cream
juice from 1/2 lime
salt
Chicken:
1 1/2 lbs boneless, skinless chicken thighs
salt and pepper
1 tablespoon olive oil
juice from 1/2 lime
1/4 cup chopped cilantro
Tostadas
vegetable oil
6 corn tortillas
1 can (16 oz) refried beans
6 oz Sargento® Fine Cut Shredded 4 Cheese Mexican cheese
1–2 avocados, sliced
cilantro
---
Instructions
Preheat the oven to 425ºF. Place the peppers on a baking sheet and roast, turning a few times, until the skin has charred, about 25 minutes. Remove from the oven and place in a bowl and cover with plastic wrap. Let the peppers sit until they are cool enough to handle, then pull the skins from the peppers. Remove the seeds and the stem from the peppers and place the peppers in a blender or food processor.
Add the sour cream and lime juice to the peppers. Process until the mixture is smooth. Taste, and add salt to taste. Refrigerate until needed.
Cut the chicken into small, bite-sized pieces. Season with salt and pepper.
Heat the olive oil in a large skillet over medium heat. Add the chicken and cook until cooked through and no longer pink. Remove from the heat and add the lime juice and cilantro and stir to combine.
Heat about 1/4" of vegetable oil in a small skillet. Add one corn tortilla and cook until it starts to brown and crisp, then turn over and cook on the second side. Remove from the oil to a paper towel lined plate to drain. Repeat with the remaining tortillas, adding more oil if needed.
Heat the refried beans in a small saucepan until warmed through.
To assemble, spread some of the refried bean on each of the fried tortillas. Top with some of the chicken mixture, then some of the shredded Sargento® cheese. Add a few slices of avocado and cilantro. Drizzle with the poblano cream sauce.
Recipe Notes:
If you have extra Poblano Cream Sauce, it makes a great dip with tortilla chips!
The sauce can be made ahead of time to make dinner easy!
This is a sponsored conversation written by me on behalf of Sargento. The opinions and text are all mine.