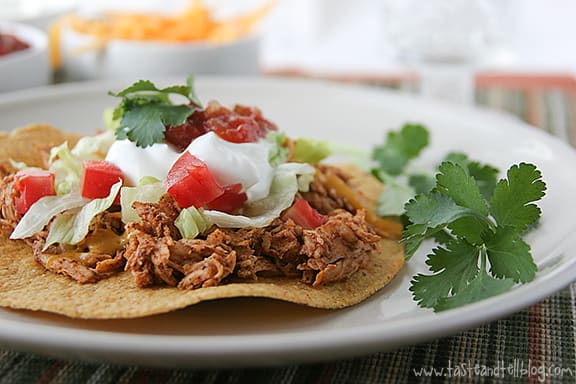 I think as a food blogger, it is sometimes too easy to get caught up in trying the newest trend, or chasing after a unique recipe.  I'll admit that sometimes I overlook the simplest of recipes, or I don't post about them, simply because they are so simple.  Does someone need yet another recipe for taco night?
The answer is – yes.
I know that 95% of you reading aren't food bloggers.  You are just wanting dinner ideas.  (Or dessert ideas.

)  And really, the simplest of recipes are usually the most popular.  And it doesn't get much more simple than this one!!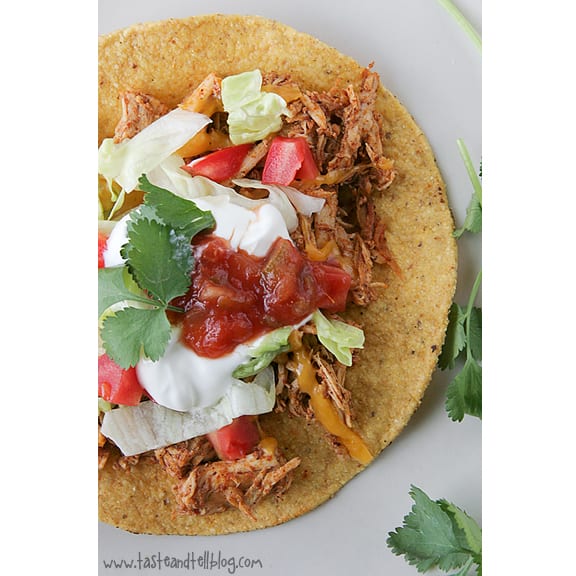 One of my husband's favorite dinners is tostadas.  If I tell him that is what we are having for dinner, his face seriously lights up – he loves them that much.  We usually just stick to basic tostadas, with ground beef taco meat and all of the fixings, but one day, I decided to change things up a little bit.
This recipe is as simple as throwing some ingredients in a slow cooker.  Let them cook together, and then all you have left to do is top your tostadas.  Hands on time is probably 15 minutes – if you count the time it takes to cut up the veggies and grate the cheese.
Fast, easy and delicious.  Just the way I like my recipes!!