Simple, healthy and fast, this baked Panko Crusted Tilapia is served with a homemade tartar sauce and flavorful baked sweet potato fries.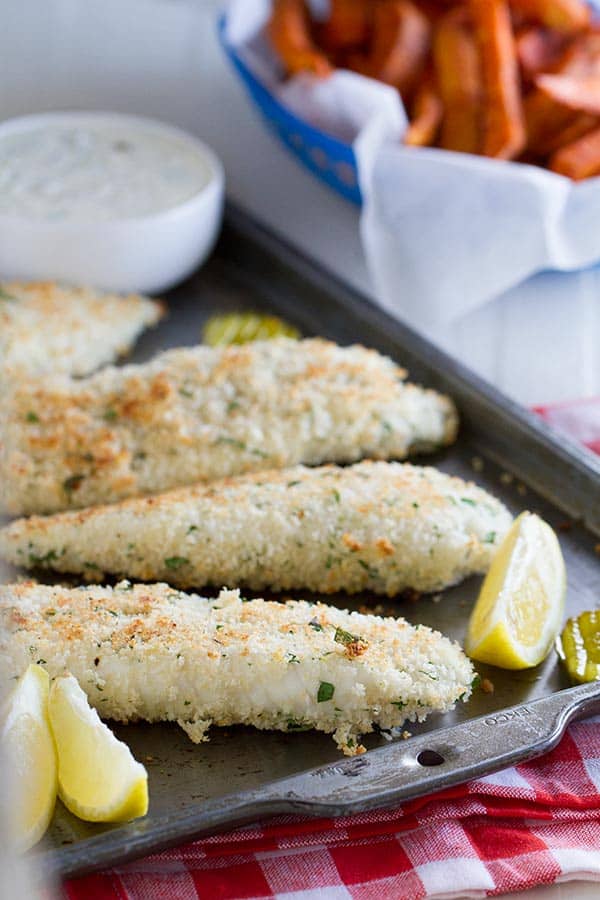 I can't decide if I love Daylight Savings Time, or if I hate it. In one sense – I really hate it. Kids shouldn't have to go to bed when it is light out. Except for the fact that I need my nights, and I refuse to start putting my kids down later because the there is still daylight outside. My two older are actually pretty good and don't fight it. (Maybe because they don't like it all the way dark and sleep with a light on in their room. Maybe they don't even realize it's still light outside!)

But my youngest? It's a whole different story. I tell him it's time to go to bed, and he points at the window, confused. "It's not night," he says to me. He doesn't understand how it could be bedtime if it's still light outside. He acts like he thinks I'm trying to pull a fast one on him.
But at the same time, they no longer wake up at 5am. In fact, just yesterday, Easton came into my room and woke me up at 7:12. 7:12, you guys. That just never happens around here. It was a lovely, lovely thing. And just like that, Daylight Savings Time all of a sudden didn't seem all that bad anymore.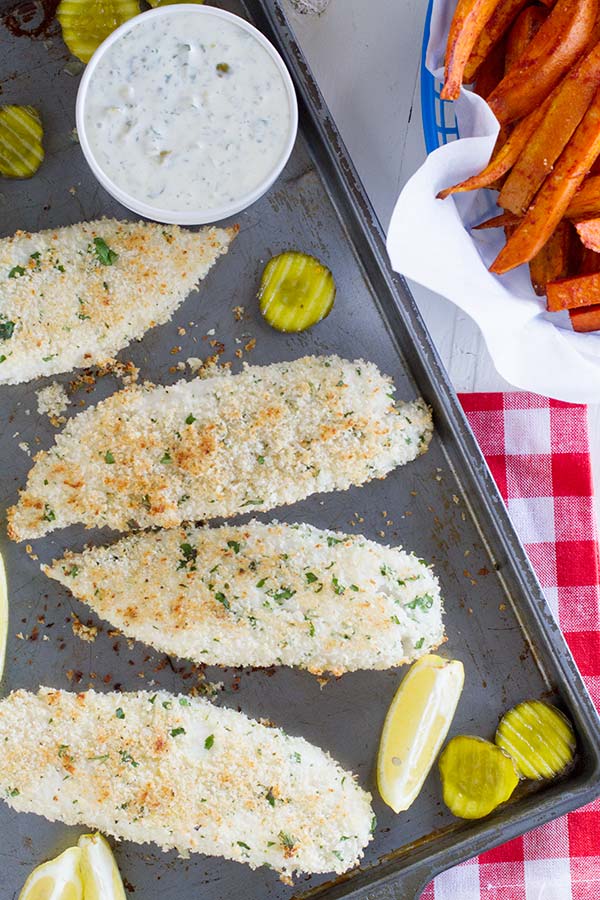 Another great thing about Daylight Savings Time is that I can actually make recipes fresh now. No need to make every recipe at 10am and then have to reheat it for dinner. Now I can actually take a picture at 5pm, and then sit down with my family and eat while the food is still semi-warm.
Being able to make food fresh again means more seafood recipes!! Which really is a good thing, since I do love a good seafood dish. This one is super simple, with tilapia filets that are covered in panko breadcrumbs that have been spiced up a little bit. You also get a homemade tartar sauce recipe as well as some killer paprika sweet potato fries.
I know a lot of the time, people are scared of cooking fish. But please believe me – it's so simple. I actually think cooking fish is at least 10x easier to cook than chicken.
This Panko Crusted Tilapia is great for any weeknight meal. I loved every bite!!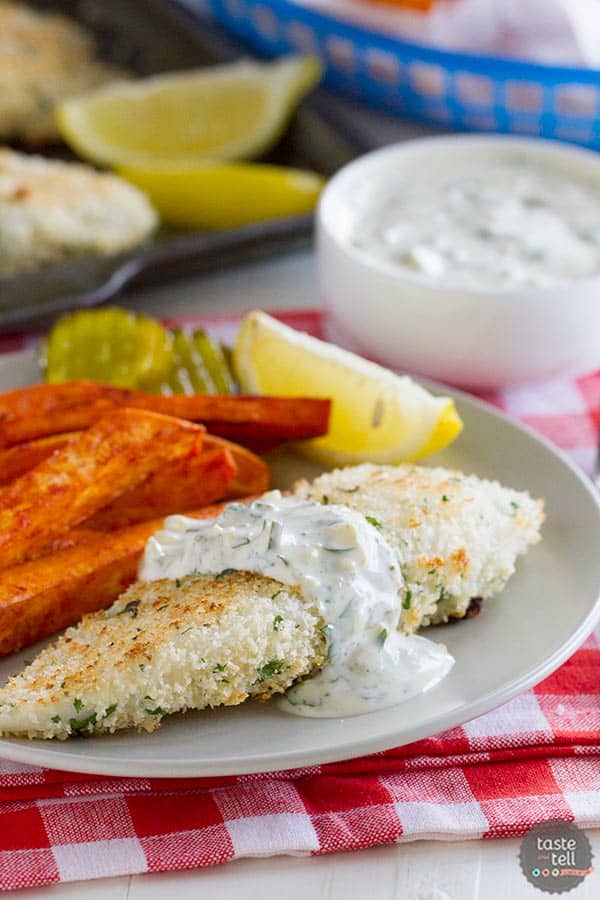 Like what you see here? Make sure you are following Taste and Tell for more great recipes and ideas!!

Facebook ** Pinterest ** Twitter ** Instagram ** Google+
or you can subscribe to my newsletter or Feedly or Bloglovin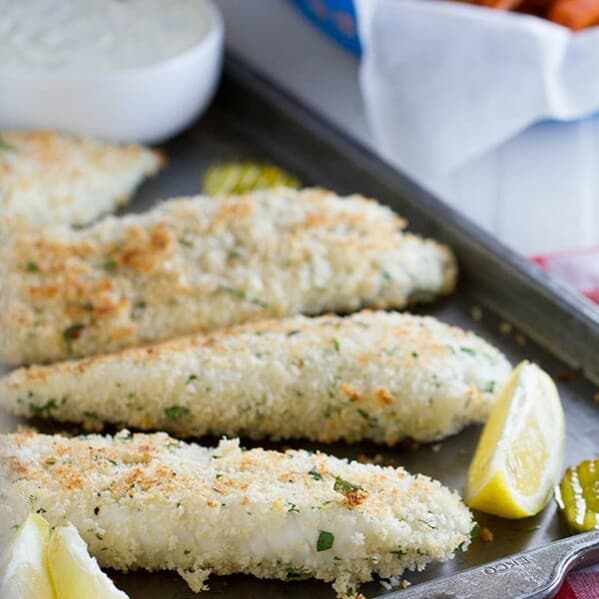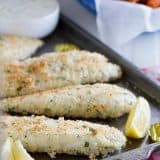 Panko Crusted Tilapia with Paprika Sweet Potato Fries
---
Prep Time: 15 mins
Cook Time: 20 mins
Total Time: 35 mins
Yield: 4 servings 1x
Description
Simple, healthy and fast, this baked Panko Crusted Tilapia is served with a homemade tartar sauce and flavorful baked sweet potato fries.
---
Scale
Ingredients
1 1/2 lbs sweet potatoes, cut into long, thin sticks
1 1/2 tablespoons vegetable oil
2 teaspoons smoked paprika
2 egg whites
1 cup panko bread crumbs
3 tablespoons minced fresh parsley, divided
1/2 teaspoon salt
1/2 teaspoon lemon pepper
1/4 teaspoon garlic powder
4 tilapia filets, 4 oz each
1/2 cup mayonnaise
5 bread and butter pickle chips, finely chopped
1 teaspoon pickle juice
1 tablespoon capers, finely chopped
1 lemon, cut into wedges
---
Instructions
Place oven racks in the top third and the bottom third of the oven and preheat the oven to 475ºF.
Place the sweet potatoes in a large bowl and drizzle the oil over the potatoes. Add the paprika and stir or toss until the potatoes are coated with the oil and paprika. Spread in a single layer on a baking sheet. Place on the upper rack in the oven and cook until the fries are soft on the inside and crisp on the outside, 16-18 minutes, turning once.
Lightly whisk the egg whites (add a splash of water if needed) and place in a shallow dish. In another shallow dish or on a plate, combine the panko breadcrumbs, 2 tablespoons of the parsley, the salt, lemon pepper and garlic powder.
Take a piece to tilapia and dip in the egg, then in the panko, pressing the panko mixture into the sides of the fish if needed.Cook until the fish is no longer translucent and when it flakes easily, about 12 minutes, flipping the fish once.
While the potatoes and fish cook, make the sauce. In a bowl, combine the mayonnaise, pickles, pickle juice and capers. Season to taste with salt and pepper.
Serve the tilapia with the sweet potato fries and the homemade tartar sauce. Squeeze fresh lemon juice over the fish before serving.
Don't miss a thing! Follow me on Pinterest to see what I'm pinning!
Visit Taste and Tell's profile on Pinterest.