Chicken tenders take a Tex-Mex turn with these Tortilla Crusted Chicken Tenders with Southwestern Dipping Sauce.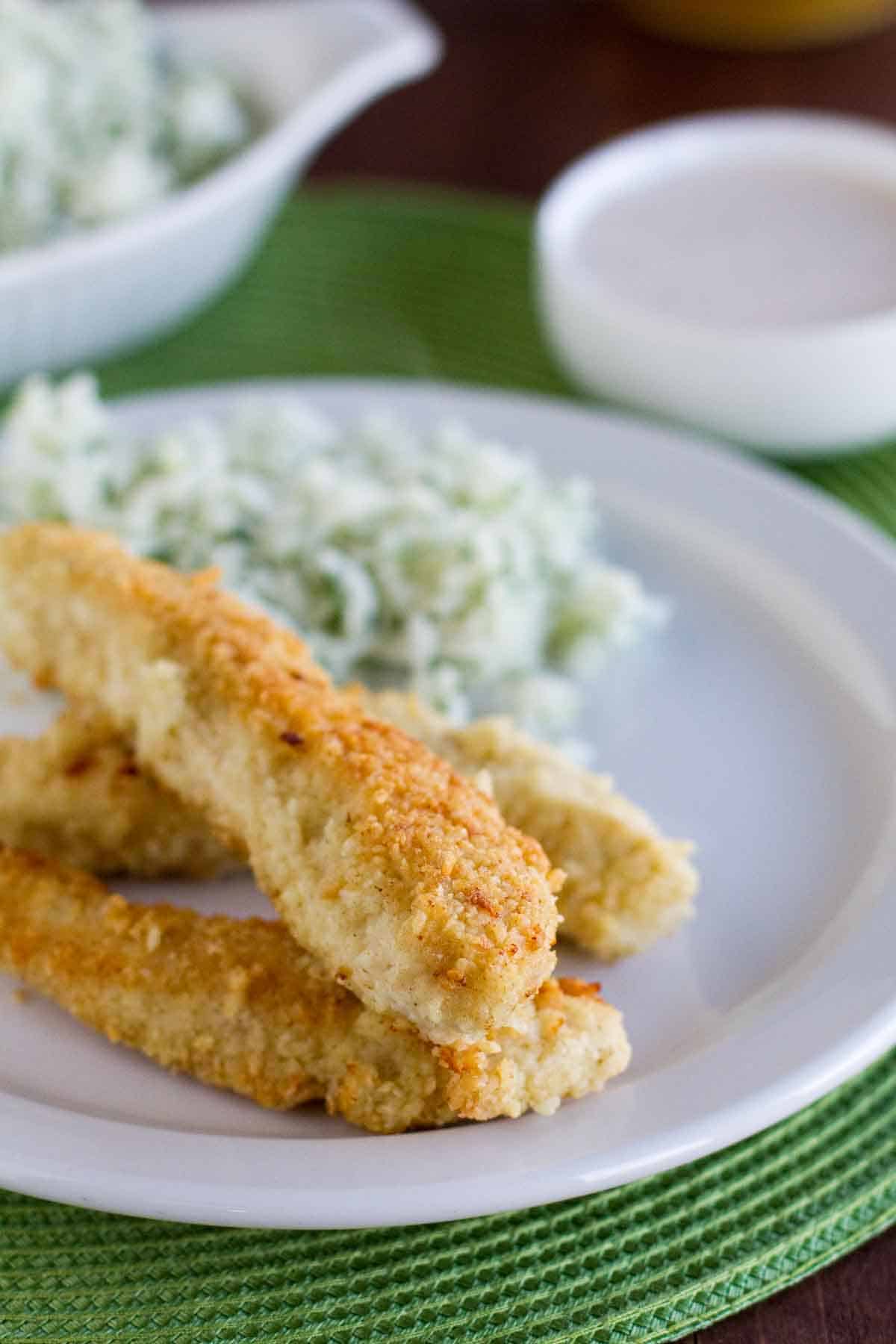 Have you ever anticipated a cookbook that you just knew was going to be good?
I have been so excited for the release of Lori Lange's cookbook – The Recipe Girl Cookbook.  I have been reading her blog for years now, and was so excited when she announced that she was writing a cookbook.  And I was even more excited when I had the cookbook in my hands!!  Lori's recipes are the kind of recipes that I'm always drawn to – family friendly recipes, but often with a twist.  And her cookbook follows in line with her blog – great everyday recipes, with some great entertaining recipes and tips thrown in.
This cookbook really does have something for everyone.  From breakfast, lunch and dinner recipes to a wide variety of desserts, delicious salads and plenty of sides.  And if you are following a gluten-free, dairy-free or vegetarian diet, there are icons on each recipe so you can easily see if the recipe is adaptable for your special diet.  And if you are an entertainer, there is a whole chapter of menu ideas and tips and tricks.  See – something for everyone!!
Number of Photos: Many
The photos in the book are gorgeous – done by one of my favorite food photographers Matt Armendariz.  There isn't a photo of every recipe, but the quality of the photos is amazing.
Difficulty Level of Recipes: Easy to Medium
The majority of the recipes are on the easy side of the scale.  But she does throw in a few recipes that are a little more advanced – or at least take a little more effort.  I love that there is such a variety of recipes in the cookbook.
Availability of Ingredients: Easy
No crazy ingredients here! In fact, I'm sure I could find a few recipes that could be made of all pantry staples.
Here's what I made:
As a food blogger, it's hard to admit that my kids don't eat.  Seriously – dinnertime is a struggle pretty much every night.  And it's basically impossible to get either of my kids to eat chicken unless we go out and have chicken nuggets.  But these chicken tenders?  A miracle.  Not only did both of my kids eat them, but they cleaned their plates.  This, my friends, is a miracle food!!
Overall thoughts:
I definitely think this cookbook is a winner.  I cannot wait to try the Apple-Bacon Waffles, the Butternut Squash Soup with Crispy Pancetta and Sage, and the Snickers Bar Cheesecake Pie.  I would not hesitate at all in recommending this cookbook!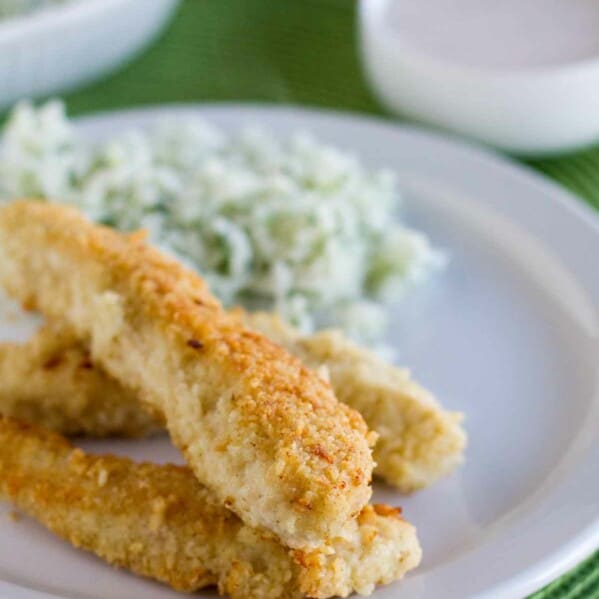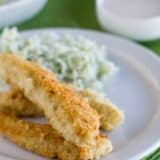 Tortilla Crusted Chicken Tenders with Southwestern Dipping Sauce
---
Author:
Prep Time: 25 minutes
Cook Time: 10 minutes
Total Time: 35 minutes
Yield: 4 servings 1x
Category: Main Dish
Method: Stove Top
Cuisine: Tex-Mex
Description
Chicken tenders take a Tex-Mex turn with these Tortilla Crusted Chicken Tenders with Southwestern Dipping Sauce.
---
Scale
Ingredients
Sauce
1/4 cup mayonnaise
1/4 cup buttermilk
2 tablespoons chopped fresh cilantro
2 teaspoons red taco sauce
1 teaspoon freshly squeezed lime juice
1/4 teaspoon garlic powder
1/4 teaspoon kosher salt
1/8 teaspoon dried oregano
1/8 teaspoon cumin powder
Chicken Tenders
4 taco-size corn tortillas
4 tablespoons all-purpose flour
3/4 teaspoon ground cumin
1/2 teaspoon salt
2 large egg whites, lightly beaten
1 tablespoon milk
1 1/2 lbs chicken tenders
1/4 cup vegetable or canola oil
---
Instructions
Prepare the sauce:
In a small bowl, combine all of the sauce ingredients. Cover and refrigerate until ready to serve.
Make the chicken:
Tear the tortillas into strips and place in a food processor. Process until they form fine crumbs. Transfer them to a shallow bowl and add the flour, cumin and salt and mix to combine. In another shallow bowl, combine the egg whites and milk.
Heat the oil over medium-high heat in a large skillet. Dip each of the chicken tenders in the egg mixture and then into the tortilla mixture, pressing to coat if needed. Add the chicken strips to the hot oil and cook until the chicken is golden and crispy, 2 to 3 minutes on each side. Serve with the sauce.
Keywords: tortilla crusted chicken tenders