Pin It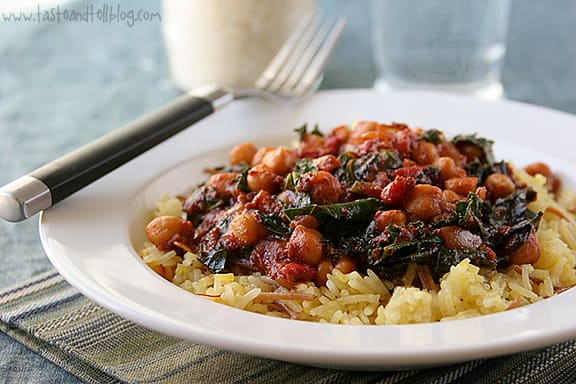 For the first time in months, I actually have a back log of recipes to share.  I got into quite a cooking slump, and was pretty much blogging right after I cooked there for awhile.  Which is fine, but I'm much more comfortable with a nice back log – that way if I want to skip out on cooking one night, I don't have to worry that I don't have something to share with you all.  And an even bigger bonus is that I'm cooking a lot of those recipes that I've bookmarked.  I've mentioned it before, but I set up a board on Pinterest where I am re-pinning things that I've pinned and then I made.  This way, I can leave my thoughts on a recipe without feeling like I have to blog every single thing that I eat.  It's small right now, but I'm adding to it on a regular basis now – so if you are on Pinterest, my I Pinned It and Then I Made It board is one that you want to be following!!  (And speaking of Pinterest, if you are following me but don't follow all of my boards, I'm no longer pinning to my Fabulous Food board.  I've decided to break everything out into individual boards to make finding recipes easier.  So – if you don't follow all of my boards, you won't be getting my new pins – so make sure you head over and follow my new boards!)
I actually made this Rachael Ray recipe almost a month ago, and am just now getting to posting it.  I have to say – this isn't a recipe that I would normally be drawn to – especially if I just saw the recipe randomly.  But when I saw her make this on 30 Minute Meals, I knew I wanted to try it.  I'm not kidding you when I say that I have thought about this dinner – often – since I made it.  Not many recipes make me dream about eating them again like this one did.  I made some changes from the original recipe – using Mexican chorizo instead of Spanish since I have such a hard time finding Spanish – and adding more beans, and I think that this turned out absolutely perfect.  It was too spicy for my husband, probably because of the chorizo, but I was secretly glad, because it just meant more for me. 🙂  It was perfect for dinner, and the leftovers were awesome as well.  I can promise you that this will make an appearance in my house again – probably when the hubs won't be around for dinner – but I'm hoping it will be on the table sooner than later!!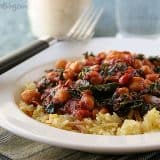 Spanish Style Rice and Beans
---
Prep Time: 5 minutes
Cook Time: 25 minutes
Total Time: 30 minutes
Yield: 4 servings 1x
Description
This spin of rice and beans is packed with flavor. Budget friendly and done in half an hour – this one will have you going back for seconds!
---
Scale
Ingredients
1 red bell pepper
extra virgin olive oil
10 ounces Mexican chorizo
2 tablespoons butter
1/2 cup broken spaghetti
1 cup long grain rice
1 pinch saffron
4 1/4 cups chicken stock, divided
kosher salt
4 cloves garlic, thinly sliced
1 large red onion, diced
2 tablespoons tomato paste
Two (15-ounce) cans chickpeas, drained
1 small bundle kale, stripped and chopped or shredded
freshly grated nutmeg
---
Instructions
Place the red pepper over a gas flame to char it, or blacken it under the broiler. Place into a bowl and cover tightly with plastic wrap and allow to cool. Once cool enough to handle, peel it, then seed and chop it.
Heat a drizzle of extra virgin olive oil in a Dutch oven or in a deep skillet. Add the chorizo and cook, breaking up with a wooden spoon.
Meanwhile, heat the butter and a drizzle of olive oil in a saucepan. Add the pasta and cook until golden. Add the rice and the saffron and about 2 1/2 cups of the chicken stock. Bring to a boil, sprinkle it with salt, and cover the pot and cook until the rice is tender, about 17 to 18 minutes.
In the pot with the chorizo, add the garlic and the onion. Cook until tender, about 7 to 8 minutes. Stir in the tomato paste and deglaze the pan with 1/4 cup of the chicken stock. Add the beans, roasted pepper, kale, and 1 cup of the chicken stock. Grate a pinch of nutmeg over the top. Cover the pot and cook to wilt the kale.
Serve the rice in shallow bowls, topped with the bean mixture.
**If the rice cooks too quickly or if the beans get too dry, use the remaining 1/2 cup of chicken stock.**
——————–
adapted from 30 Minute Meals