Apple Pancake Rings – Fresh apples sliced and dipped in pancake batter, then cooked until golden. Great for breakfast or for an after school snack!
Looking for more apple recipes? Check out these 15 Apple Recipes You'll Want to Make Every Fall!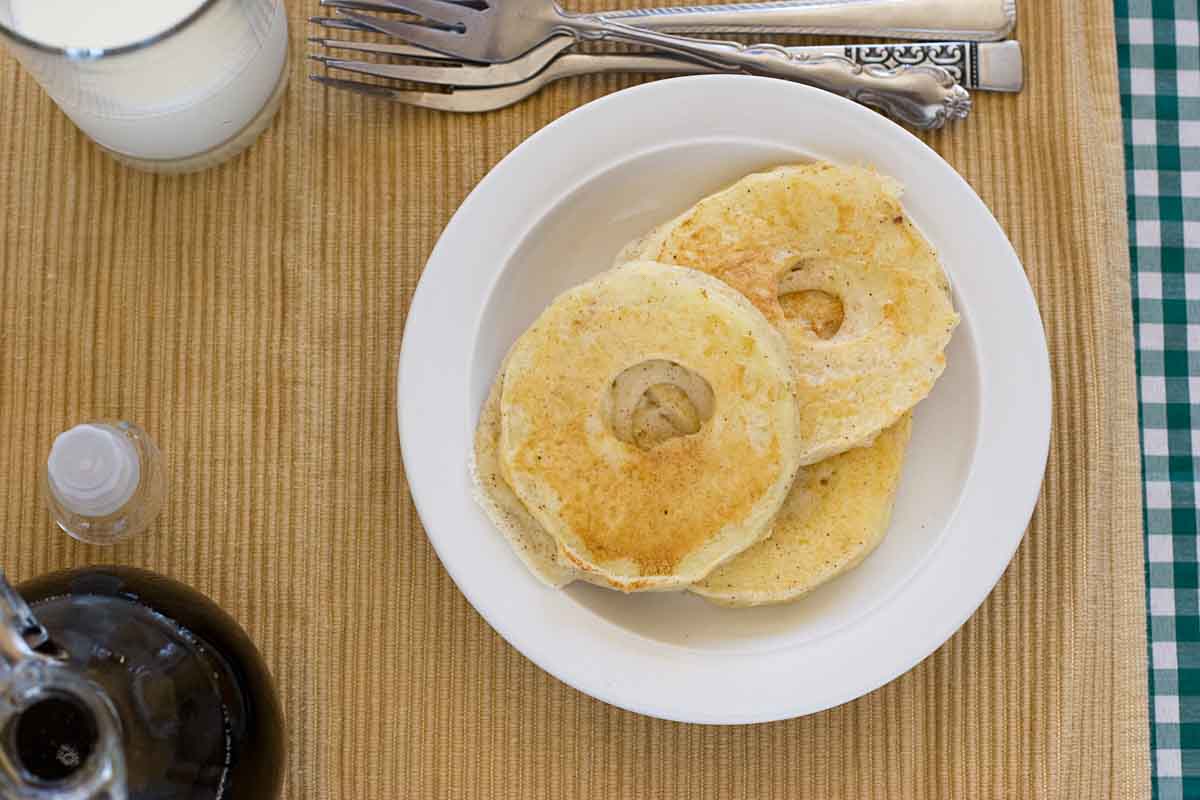 How many of you have seen the new show, The Chew? I'll be totally honest here – that very first episode almost gave me an anxiety attack. If you don't know the show, there are 5 hosts, and it's basically a talk show about food. I was really excited for the first episode, but I really felt like it was a little chaotic. Too many people talking at the same time and too much rushing around, (I think it's live??). But that being said, I'm glad I stuck around and kept watching, because I feel like they are getting into the swing of things more and more with every episode.
The actual show and hosts aside, I do have to say that there are many, many things that they have made that I want to try at home. Carla's Pumpkin Beignets<, Mario's Chicken with Black Beans and Rice, Michael's Lola Burger, Daphne's Cannoli Parfait, and Clinton's Purple Cow, just to name a few! Along with today's recipe – Carla Hall's Apple Pancake Rings.
Carla actually made these on that very first episode, and this is one recipe that has stuck out in my mind since the beginning. And since I told you how to
make your own pancake mix, and showed you another creative way to eat those pancakes in these Breakfast Meatballs, I thought it would be fun to bring you another use for that pancake mix!!
I had a couple of different kinds of apples on hand, so I decided to try them both out and see what kind I liked better in this recipe. I had a granny smith and a gala, and I by far liked the granny smith better. The gala was still good, but got a little bit mushy and didn't have that pop of flavor like the granny smith did. And even though there are only 2 apples in the picture above, I ended up using 4 apples to use most of the pancake mix. On the episode, Carla reduced some apple cider with cinnamon to make a syrup to serve over the apples, but I didn't have any apple cider on hand. So I just served mine with regular old pancake syrup, and they were pretty delicious that way!! I actually think these would make the perfect after school snack, too. Although they are best served warm, and the leftovers get pretty soggy. But eat them up while they are hot, and you won't regret it!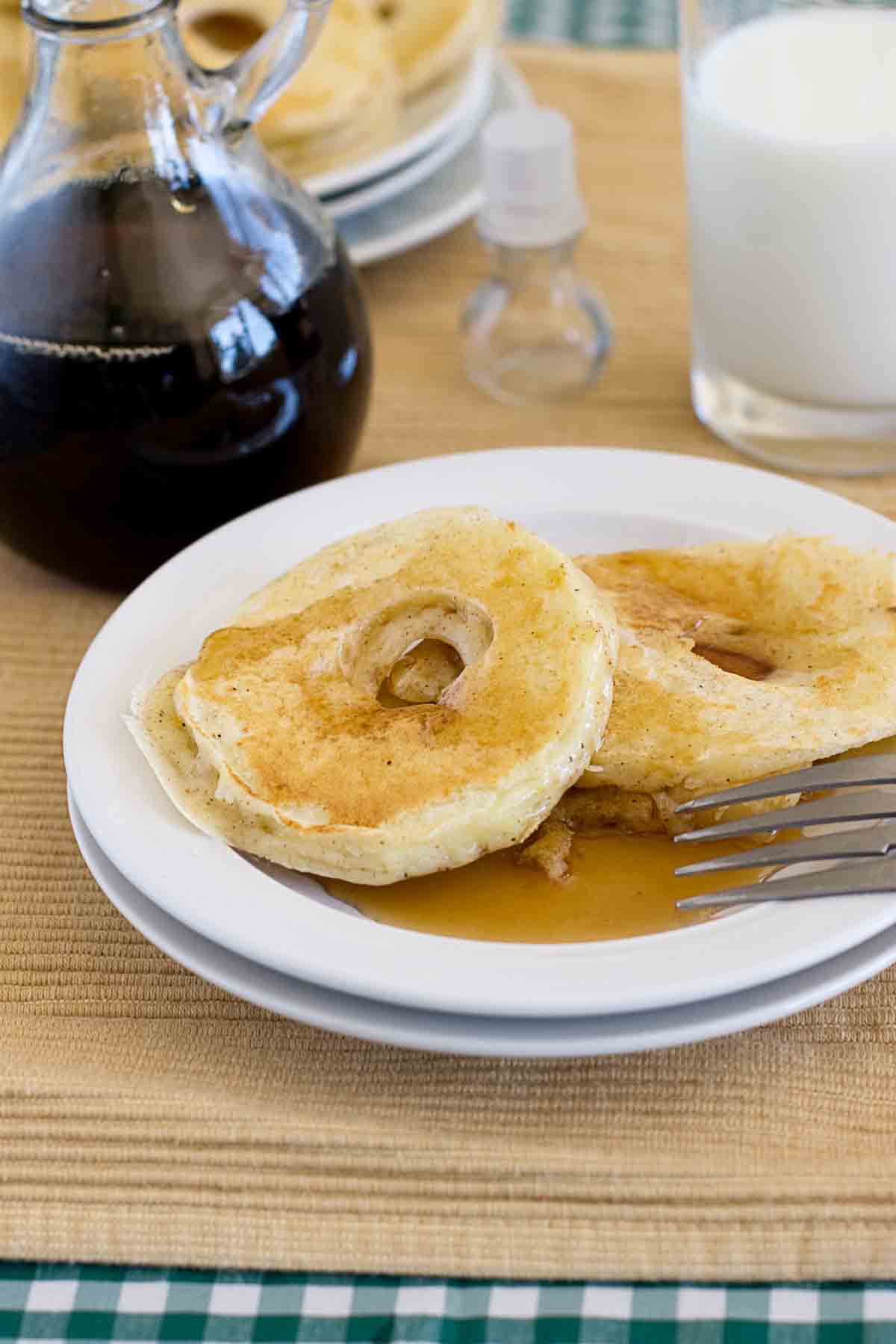 More Apple Breakfast Recipes:
German Apple Pancake
Apple Pancakes with Caramel Apple Syrup
Apple Cider Doughnuts
Apple Cinnamon Muffins
Baked French Toast with Apples and Raisins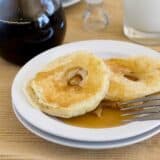 Apple Pancake Rings
---
Author:
Prep Time: 10 minutes
Cook Time: 20 minutes
Total Time: 30 minutes
Yield: 4–6 servings 1x
Category: Breakfast
Method: Stove Top
Cuisine: American
Description
Apple Pancake Rings – Fresh apples sliced and dipped in pancake batter, then cooked until golden. Great for breakfast or for an after school snack!
---
---
Instructions
Heat a griddle over medium heat.
Prepare the pancake mix, mixing in the additional buttermilk, the pumpkin pie spice and the lemon zest.
Peel the apples, core them, and slice them into 1/8″ slices. Use a toothpick to dip each slice into the pancake batter, then onto the griddle. Cook until golden brown, flipping once. Serve warm with syrup or with apple cider that has been reduced with cinnamon.
Recipe Notes:
adapted from The Chew
Keywords: Apple Pancake Rings