A perfect side dish for pizza night, this Antipasto Salad is filled with all of your favorite antipasto flavors with an easy Italian salad dressing.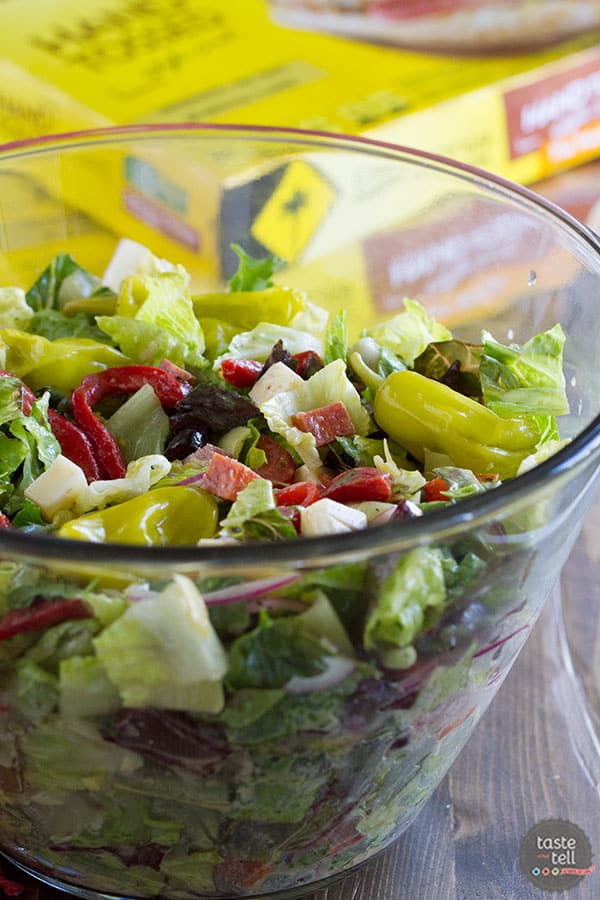 I used to always think that summers were busy. But now that my kids are getting a little older, I am finding that they are even busier and fuller. And my kids are still fairly young – I can't imagine how it's going to be in several years when there are activities galore. Busy schedules combined with high temps seem to create low motivation when it comes to dinnertime lately. That, combined with the fact that I have the pickiest kids ever, has led to simplified menus so far this summer. Which basically means pizza every week.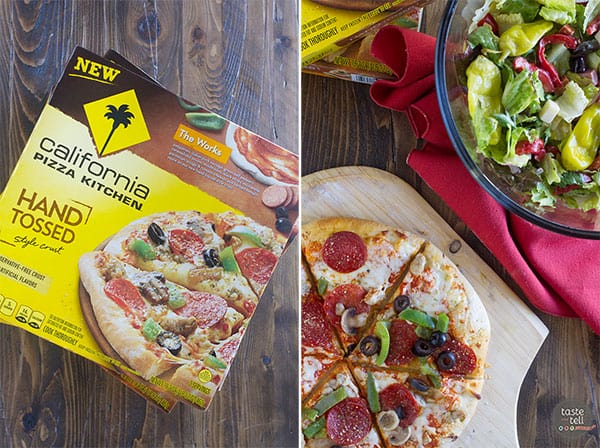 Ok, ok – I'll admit that we have been a pizza every week family for quite a while now. But I especially love pizza night during the summer because it is so easy to make and because it's one of the few things that everyone in my family will eat. But sometimes things get super busy, or we spend too much time during the day out and about, and I don't have time to whip up a batch of pizza dough ahead of time.
Enter California Pizza Kitchen. I always like to have a few frozen options in the freezer to help on those nights when I don't have the time or energy to cook. Because my kids start complaining if I give them peanut butter and jelly for lunch and dinner. 😉
I love the California Pizza Kitchen thin crust pizza, so I was really excited when I saw that they came out with this Hand-Tossed Style pizza. It comes in 3 varieties – Hand-Tossed Style The Works, Hand-Tossed Style California Style White, and Hand-Tossed Style BBQ Recipe Chicken with Bacon. I honestly couldn't decide what flavor I wanted to try first, so I bought all three. 🙂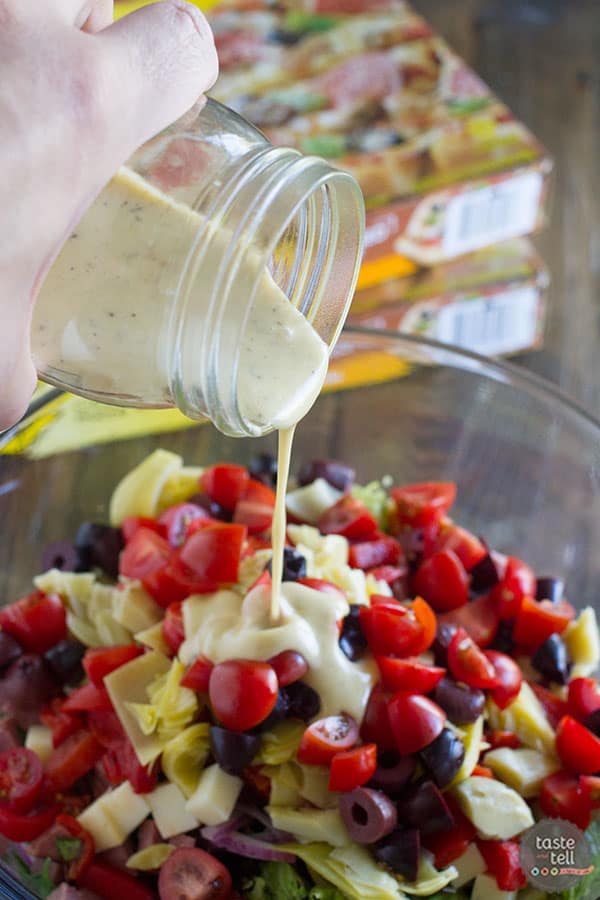 So last Friday, we decided to have pizza night, and took a vote on which pizza to try first. The Hand-Tossed Style The Works won out this week! I wasn't surprised, since we are a pepperoni loving family. My favorite accompaniment for pizza is a big salad, so I thought it would be fun to make up a new salad to go along with our pizza. One of my favorite starters is a simple antipasto plate, so I decided to turn that into a salad.
This Antipasto Salad is filled with all kinds of goodies – it is seriously jam packed with flavor! Roasted red peppers, artichoke hearts, pepperoni, salami, Provolone… just to name a few. And then a simple Italian inspired dressing comes together in seconds to bring it all together. This is seriously one of the easiest dinners ever – perfect for summertime. While your pizza is baking, you make the salad, and dinner is on the table in no time at all. This is the perfect dinner for last minute entertaining, as well, in case you have friends stop by unexpectedly.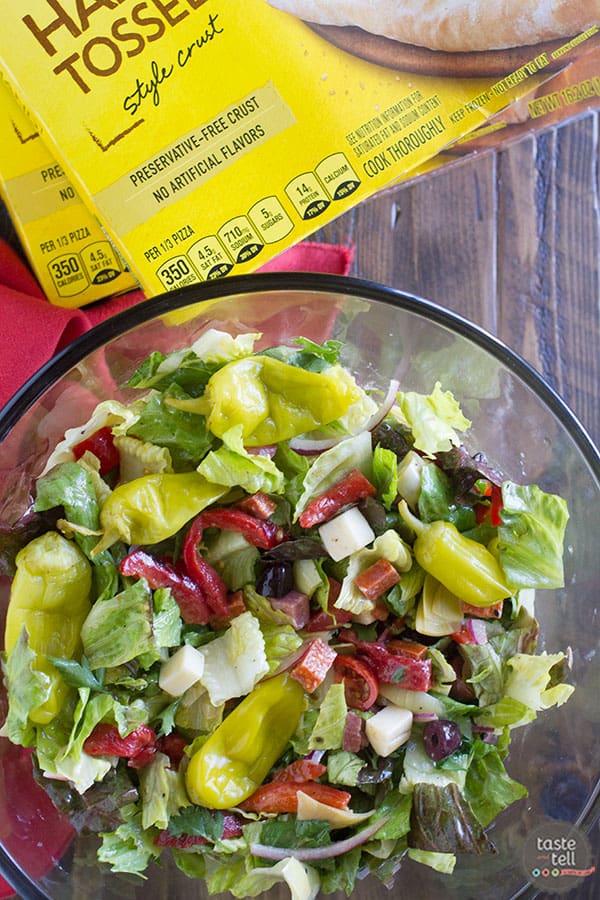 We all loved the California Pizza Kitchen Hand-Tossed Style The Works. I loved that the pizza is made from premium ingredients and that the crust is preservative free without artificial flavors. The flavors are inventive, and the crust is crispy on the outside and chewy on the inside, just like pizza should be.
For even more pairing ideas, or for more information, go to CPKfrozen.com. Or see how CPK's Executive Chef, Brian Sullivan, gets inspired in this video. What would you pair your California Pizza Kitchen Hand-Tossed Style pizza with?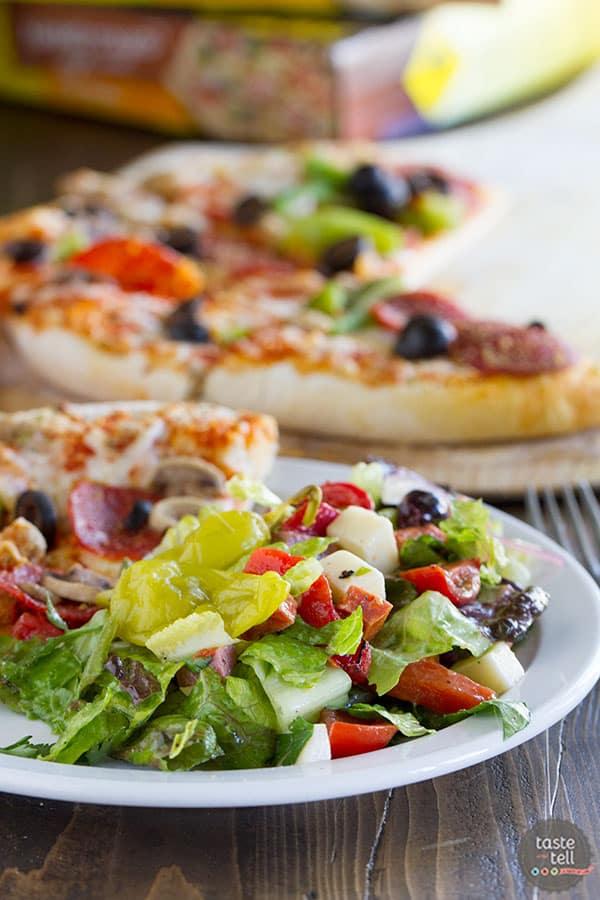 Like what you see here? Make sure you are following Taste and Tell for more recipes and ideas! Facebook | Pinterest | Instagram | Twitter | Google+ | Weekly Newsletter | Feedly | Bloglovin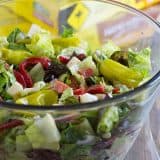 Antipasto Salad
---
Prep Time: 15 mins
Total Time: 15 mins
Yield: 6-8 side dish servings 1x
Description
A perfect side dish for pizza night, this Antipasto Salad is filled with all of your favorite antipasto flavors with an easy Italian salad dressing.
---
Scale
Ingredients
Dressing
6 tablespoons extra virgin olive oil
1/4 cup red wine vinegar
1 clove garlic, minced
1 teaspoon Dijon mustard
1/2 teaspoon sugar
1/2 teaspoon salt
1/4 teaspoon black pepper
Salad
8 cups chopped lettuce (I used a mix of read leaf and romaine hearts)
1 (7 oz) jar roasted red peppers, drained and sliced
1 (6 oz) jar artichoke hearts marinated in oil, chopped
1/2 cup thinly sliced red onion
1/2 cup parsley leaves
1/2 cup kalamata olives, halved
1/2 cup diced pepperoni
1/2 cup diced salami
1/2 cup diced Provolone
1/2 cup quartered cherry or grape tomatoes
pepperonicini peppers
---
Instructions
To make the dressing, combine all the ingredients in a blender and process until completely combined and smooth. Alternately, combine in a jar with a tight fitting lid and shake vigorously until combined and smooth.
In a large bowl, toss together the lettuce, red peppers, artichoke hearts, red onion, parsley, olives, pepperoni, salami, Provolone and tomatoes. Pour the salad dressing over the top and toss to combine. Serve with the pepperoncini peppers.
Don't miss a thing! Follow me on Pinterest to see what I'm pinning!
Visit Taste and Tell's profile on Pinterest.



This post has been sponsored by California Pizza Kitchen. I'm so glad to be able to work with companies and organizations that I truly believe in. Thank you for supporting them, too.