Garlic, Bean and Chicken Enchiladas – Enchiladas made with whole wheat flour tortillas are filled with lots of garlic, beans and shredded chicken and covered in a verde sauce.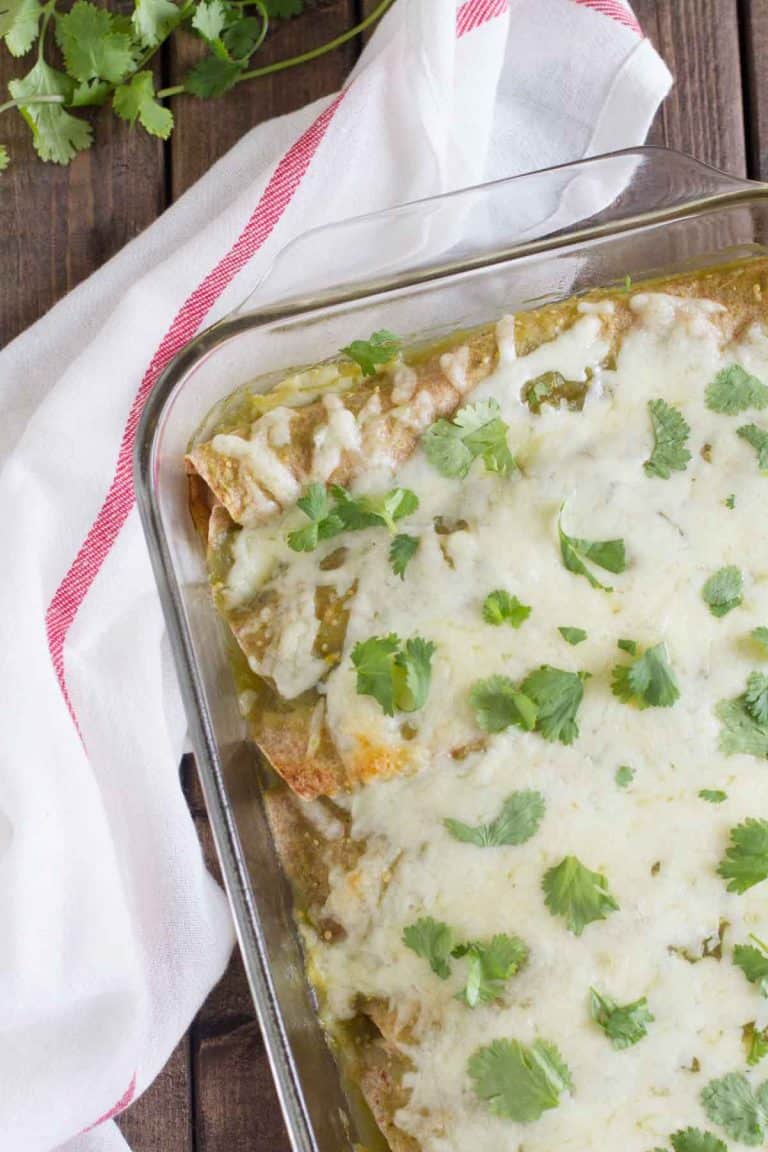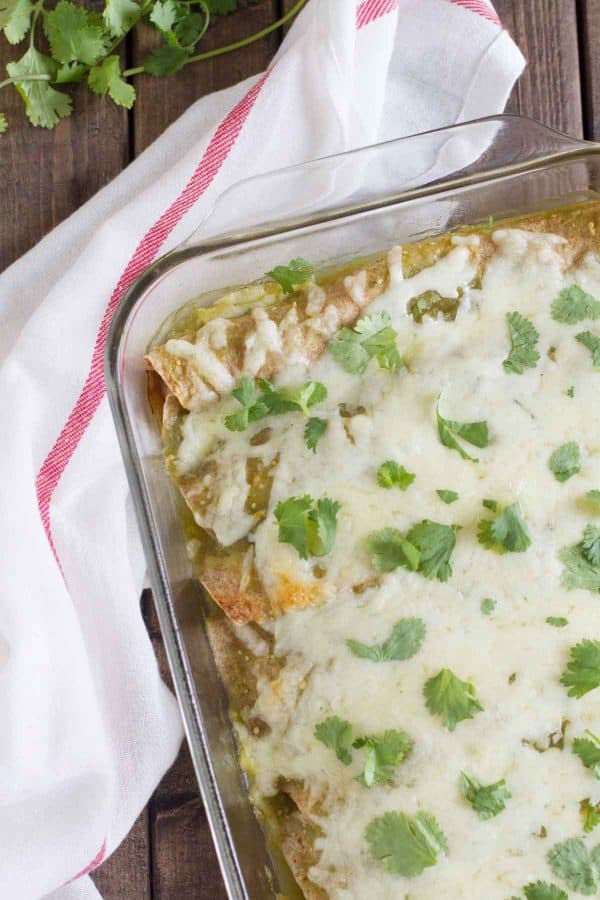 Earlier this week, I went to lunch with my 3 sisters, my sister-in-law, and my mom for one of my sister's birthday. I brought cupcakes for the birthday girl, and she told me that she wanted the recipe and that I need to post them on my blog. I told her that I would, but explained that I am doing a 7 day Rachael Ray series, so it would have to be next week. One of my other sisters then said how glad she was that I am doing this series because she had never tried a RR recipe before, but now she wants to. Then the first sister said that she had tried several of her recipes, but she hadn't had very good luck with them. I just must be lucky with my choosing, because in all honesty, I think of all of the Rachael Ray recipes I've tried, and there have been a lot, I can only remember 1 or 2 that I didn't love. So it got me thinking. I love 30 Minute Meals, and I have made quite a few recipes from the show, but the majority of the recipes of hers that I make come from her magazine. And really, I do like the magazine recipes better. Maybe it's because they are not necessarily "30 minute meals" – some do take a little longer, but most of them are made well under an hour. Maybe that makes a difference – maybe not. So I'd like to know – if you've made a RR recipe, was it from her show, her magazine, or one of her cookbooks, and did you like it or not?
But now to today's recipe. I loved this one. Granted, I did change it up a bit to make it more likable to my husband, but still, I really liked this one. This is regularly a vegetarian recipe. But I knew that my husband would throw a fit and claim that he didn't like it if there was no meat in it, so I added chicken. It is also made with corn tortillas, but my husband prefers flour, so I swapped in some whole wheat flour tortillas. Although I think the original version is probably delicious, it has you frying the corn tortillas in a little bit of oil. Since we went with flour, I cut out the frying part, which probably made this a bit healthier.
If you are a garlic fan, you will probably love these. If you don't particularly like garlic, first of all you are crazy, but you probably wouldn't like these because there is a pronounced garlic flavor. It's not as pungent as garlic normally is, but it's not as mellow as roasted garlic is. It's somewhere in the middle. And because the recipe just calls for store bought salsa verde, the heat level of this dish can vary widely. The salsa I picked up was quite spicy, so that combined with the pepper jack cheese made for a very spicy dinner. My husband thought it was right on the border of being too spicy, but I thought it was perfect.
If you want to make this recipe vegetarian, or if you want to use the corn tortilla version, you can check out the original recipe.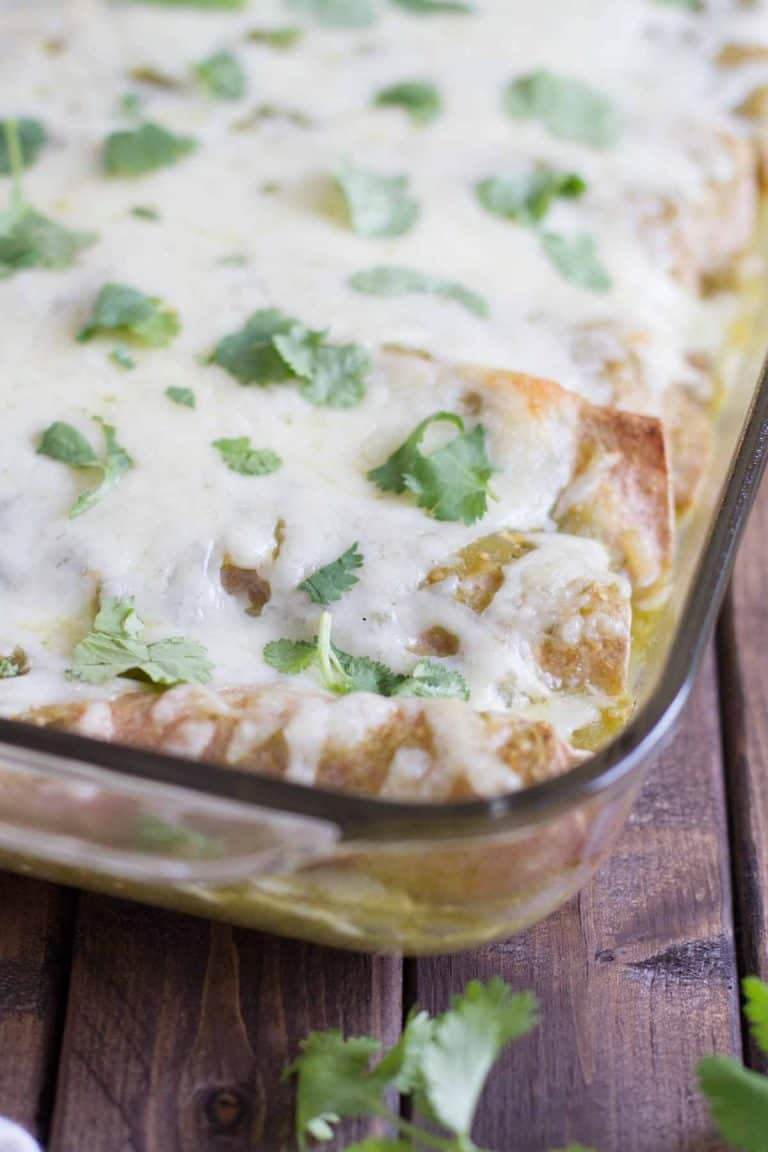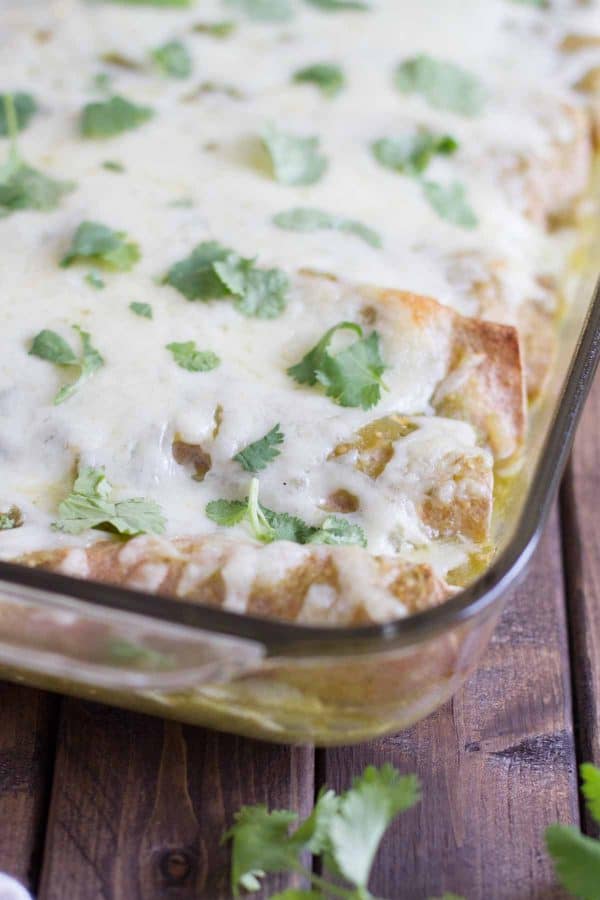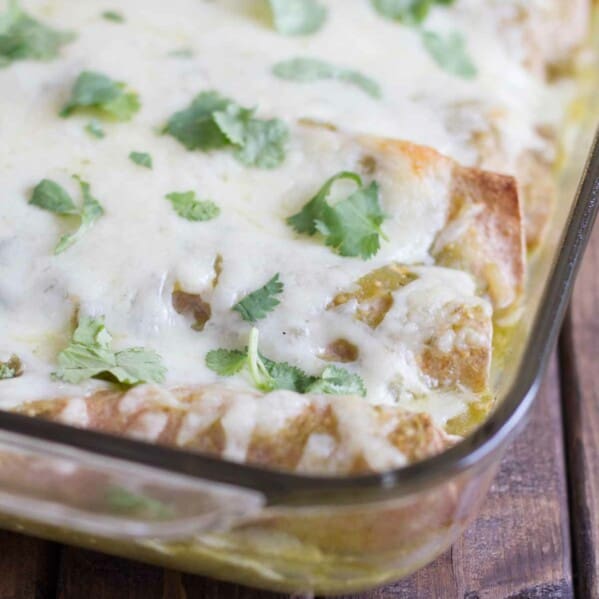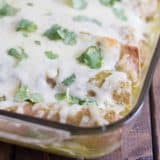 Garlic, Bean and Chicken Enchiladas
---
Author:
Prep Time: 20 minutes
Cook Time: 20 minutes
Total Time: 40 minutes
Yield: 4-6 servings 1x
Category: Main Dish
Method: Baked
Cuisine: Mexican
Description
Enchiladas made with whole wheat flour tortillas are filled with lots of garlic, beans and shredded chicken and covered in a verde sauce.
---
Scale
Ingredients
2 tablespoons olive oil
8 cloves of garlic, thinly sliced
Two 15.5 oz cans cannellini beans, drained
1/3 cup chicken broth
salt
1 cup cooked, shredded chicken
Twelve 6-inch whole wheat flour tortillas
2 cups store bought salsa verde
1 1/2 cups shredded pepper jack cheese
---
Instructions
Preheat the oven to 375°. In a medium saucepan, heat 2 tablespoons oil over medium heat. Add the garlic and cook, stirring, until just golden, about 2 minutes. Stir in the beans and cook for 1 minute, then stir in the chicken broth. Season with salt and cook, mashing the beans, until softened, 7 minutes. Add the shredded chicken. Let cool slightly.
Place about 1/4 cup garlic/bean/chicken mixture on 1 tortilla and roll up to enclose; transfer to an oiled 9-by-13-inch baking dish. Repeat with the remaining beans and tortillas.
Pour the salsa over the filled tortillas. Sprinkle the cheese on top. Bake until the cheese is melted and the salsa is bubbling, about 20 minutes.