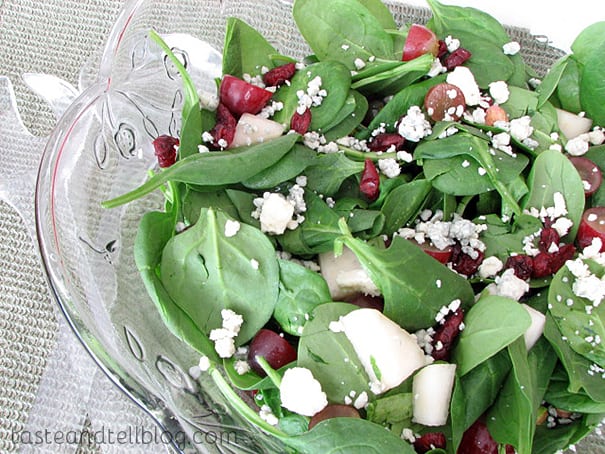 I seriously don't know if I could make up my own recipe to save my life. I'm always jealous of those people who can make up their own outstanding recipes, but that's just not me. I rely heavily on recipes – from cookbooks, magazines, the internet, family members – it doesn't matter where they come from as long as I have a recipe. I will sometimes play with the recipe, but it is extremely rare for me to just throw something together without a basic outline.
Sometimes, when eating out, I will have a dish that I would love to be able to make at home. But unfortunately, my palate is not quite sophisticated enough to be able to know each ingredient in the dish, so recreating it at home is not very likely. But thank goodness for the internet, because with a quick search, you can usually find hundreds, if not thousands, of recipes for what you are looking for. Finding that exact recipe you want, though – that could take some experimenting!
A few weeks ago, I went to lunch with my sisters, mom and sister in law to a place here called Café Zupas. It is a local place (3 locations in Utah right now) that serves sandwiches, soups and salads. One of my sisters recommended the Red Raspberry Spinach Salad. She said that she often craves it, and has tried to make it at home, but it never quite tastes the same. I loved the salad and ate every bite.
So when I made dinner for my in-laws, I decided I needed a salad to serve along with the spaghetti. This salad immediately popped into my mind. I knew the salad part would be easy because I knew everything that went into it. But the dressing was a whole 'nother story! After searching online, I realized that there are many raspberry vinaigrette recipes out there, and there were many different versions – I didn't know which one to choose!! I just ended up picking one randomly.
Now I know what my sisters meant when she said that she couldn't recreate this salad at home. While the dressing that I chose was ok, it really didn't have enough raspberry flavor to it. That's why I need your help! I know that most of you (if not all!) have never been to this restaurant to taste the dressing, but I'm sure at least one of you has a good raspberry vinaigrette recipe up your sleeve. And rather than test recipe after recipe that I find on a Google search, I'd rather try your recipes because I trust your opinions more!! So please share with me!
And regardless of if you have the perfect dressing recipe or not, you really should try this mix of ingredients in your next salad. And if we get lucky, maybe someone will share the perfect dressing with us to go along with the salad!
Red Raspberry Spinach Salad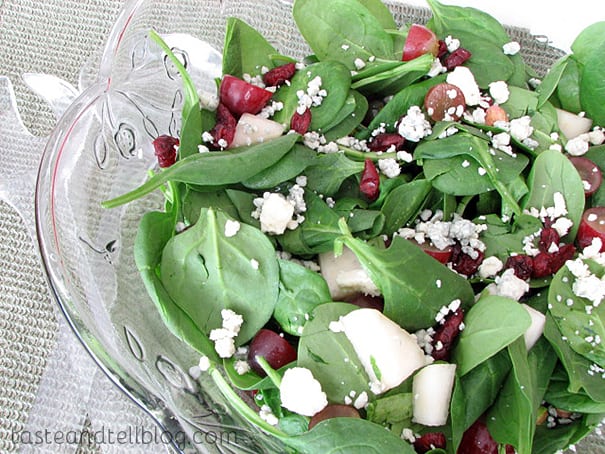 Ingredients
Baby Spinach
Grapes
Pistachios
Dried Cranberries
Pears
Blue Cheese
Red Raspberry Vinaigrette
http://www.tasteandtellblog.com/this-salad-needs-your-help/
Recipe from www.tasteandtellblog.com