2.6K Flares
2.6K Flares
×

Yep, I'm getting all healthy on you today.
And honestly – I kind of feel like a fraud. Because I spent yesterday eating blondies and grilled cheese sandwiches. And a red velvet muffin. But truth be told – I really need to do something about this baby weight. And Quinoa Crusted Chicken? Well, it's a start!
When I saw this recipe in Every Day with Rachael Ray, I just knew I had to give it a try. I had never seen this done before, and it intrigued me. I like quinoa, but I don't eat it nearly enough. And this gave me an excuse to make some.
Knowing me, though, I knew that I had to have some sort of a sauce to dip the chicken in. As much as I liked the chicken on it's own, I think it definitely needed a sauce or a dip. My immediate thoughts went to honey mustard, probably because of Dijon on the chicken. But to make a traditional honey mustard would cancel out that I was actually making something healthy. So I decided to try to health-ify it a bit.
And guess what? I actually really liked this version of honey mustard. A simple change of replacing mayonnaise with Greek yogurt made this easy and a whole lot better for you. This is a healthy meal that I could totally eat on a regular basis!



Quinoa Crusted Chicken with Skinny Honey Mustard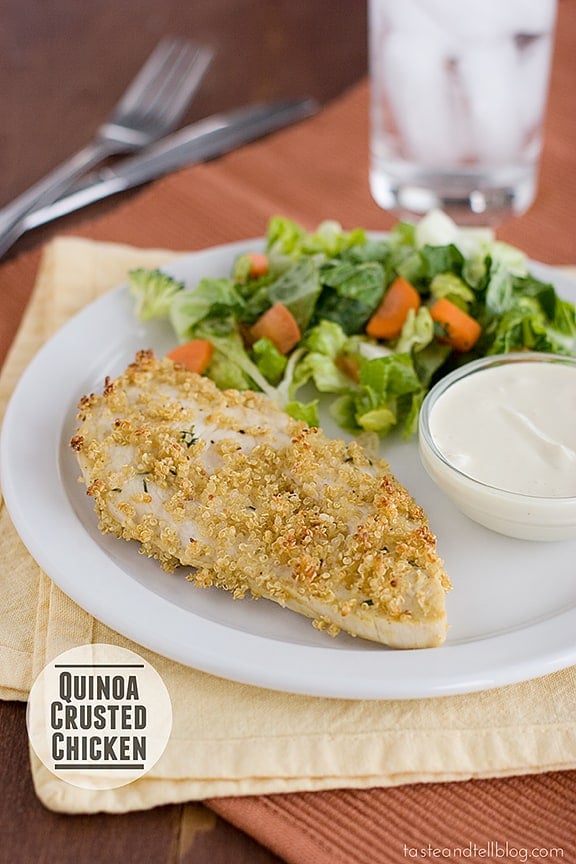 A healthy dinner option - boneless, skinless chicken breasts are coated with quinoa and baked and served with a lighter version of honey mustard.
Ingredients
3/4 cup cooked quinoa
4 (6 oz) boneless, skinless chicken breasts
1/4 cup Dijon mustard
1 tablespoon chopped fresh thyme
3/4 cup plain Greek yogurt
3 tablespoons honey
3 tablespoons Dijon mustard
Instructions
Preheat the oven to 300F. Line a rimmed baking sheet with parchment paper and spread the quinoa on top. Bake until it is lightly toasted, 25-30 minutes, stirring once or twice. Let cool completely, then transfer to a bowl, breaking up any large clumps. Set aside.
Increase the oven temperature to 425F. Place the chicken, mustard and thyme in a large bowl and toss to coat. Place a cooling rack on the baking sheet and spray with nonstick cooking spray. Take each of the chicken breasts and dip in the quinoa. Use a spatula or your hands to adhere the quinoa to the chicken. Place on the rack and spray the chicken with nonstick cooking spray.
Bake until the chicken is cooked through, 15 to 20 minutes.
Meanwhile, in a small bowl, combine the yogurt, honey and Dijon mustard. Serve the chicken with the honey mustard.
-------------------
Adapted from Every Day with Rachael Ray January/February 2013
http://www.tasteandtellblog.com/quinoa-crusted-chicken-with-skinny-honey-mustard/
Recipe from www.tasteandtellblog.com
2.6K Flares
2.6K Flares
×