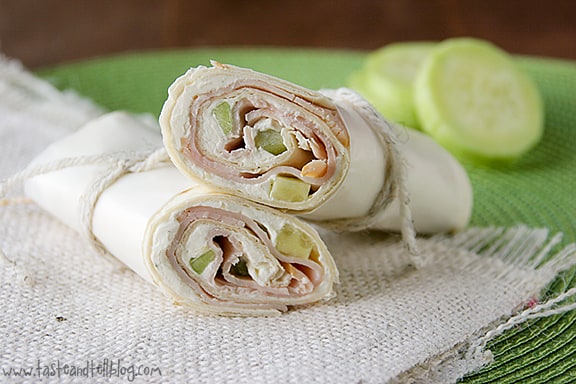 We are hitting that time of year when I start to crave salads, sandwiches, and anything that is easy and light.  It stays light longer, and most nights, I'd rather be outside playing with the kids than cooped up in the kitchen.  Don't get me wrong – I really love to cook, but this time of year has me savoring every bit of the nice weather that I can.  Before long, it will be so hot that I'll just want to stay inside in the comfort of my air-conditioned house.  But for now, I'll trade time in the kitchen for easy dinners and time enjoying spring.
I'm also on the lookout for great picnic ideas.  My daughter, who is 3 years old, can't get enough of the park.  She could seriously spend hours there every day, swinging and sliding and climbing and running.  Oh, to be a kid again!!  Last week, I promised her a picnic, so we whipped up some of these  wraps to bring along on our picnic.
These wraps are my idea of a perfect springtime, light dinner, or a great picnic lunch.  This recipe actually comes from an issue of Every Day with Rachael Ray, but I ended up finding it on Pinterest.  After looking online, there were a few comments about how the recipe was a little bland.  So my version here is definitely "inspired" by the original recipe, but I jazzed it up a bit by adding some extra cucumber and ranch seasoning.  I've been addicted to using ranch seasoning lately.  You know – the same stuff you can buy to make ranch dressing with.  I am amazed at how much flavor a little bit of it adds.  And I think it added the perfect amount of "wow" to this recipe.
So if you are busy enjoying the season, these wraps are the perfect easy dinner or lunch idea.  Only minutes to make and full of flavor!
Here are some other blogger recipes that are wrapping it up!
Roasted Chicken Wraps with Black Bean Salsa and Guacamole from Annie's Eats
Thai Chicken Wrap with Spicy Peanut Sauce from Taste and Tell
Southwestern Quinoa Wrap from Epicurean Mom
Chipotle Turkey Wrap from College Girl Cooking
BBQ Chickenwith Blue Cheese Slaw Wrap from Closet Cooking