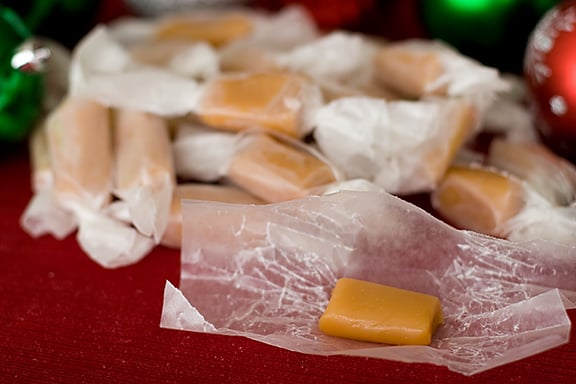 If I had to tell you one thing that I have no will power around, it would be caramel. Whether it's over ice cream, in a brownie, or just straight – if I see it, I want to eat it. Which is why I don't make the candies very often. I could seriously eat the whole pan of it myself!!
A few weeks ago, I went to a holiday goodie exchange. I thought this would be a perfect excuse to make caramels so that I wouldn't have a whole pan to eat myself. (Instead I just ate half the pan!!) I've made a few different recipes in the past, but I would have to say that this was the easiest recipe I've used. It does take a little bit of time, but very little effort. I did have one problem with the recipe, though. The recipe says that for high altitude, it should only take 15 minutes to come to temperature, or 35 minutes for non-high altitude. Well, mine took almost an hour until the temperature was right. It wasn't a big deal, because I had the time, but just be prepared for this recipe to take some time on the stove!
Caramels
from Betty Crocker Christmas Cookies Dec/Jan 2009
Makes 64 candies
2 cups sugar
1/2 cup butter, plus more for greasing
2 cups whipping cream
3/4 cup light corn syrup
Grease bottom and sides of an 8-inch baking dish with butter.
In a 3-quart heavy saucepan, heat all ingredients to boiling over medium heat, stirring constantly. Boil uncovered about 35 – 60 minutes, stirring frequently, until candy thermometer reads 245F or until small amount of mixture dropped into cup of very cold water forms a firm ball that holds it's shape until pressed.
Immediately spread caramel mixture in baking dish. Cool completely, about 2 hours.
Cut into 8 rows by 8 rows to make 1-inch squares. Wrap candies individually in waxed paper.