I had every intention to post this yesterday, but things got too busy. Oh well…
I can't believe this is my first post of the month for my Cookbook of the Month. December is such a busy month. I see all of the wonderful cookies and holiday treats on everyone's blogs, and I feel like I am so far behind!! So instead of one recipe from my cookbook, I'll tell you about 3!!
I'm a bit intimidated by candymaking. So I started with what I thought would be 3 foolproof recipes. We'll start with the fudgels. Fudgels – according to Ruth Kendrick and Pauline Atkinson, are a mix between fudge and truffles. I decided to try the brown sugar fudgels, since the heading says that they are a family favorite. A combination of vanilla-flavored compound coating, brown sugar, evaporated milk, butter, marshmallows and vanilla make up these confections. I was really excited to try these because I love fudge and I love truffles, but unfortunately, these were my least favorite of the 3 recipes I tried. I'm not sure if it was the brand of compound coating I bought, but these were extremely sweet. One small square was more than enough. I think the thing that disappointed me most about them was that they were not smooth and creamy. They were a bit dry. If you could get past the sweetness and texture, the taste was actually quite nice. And as far as candy goes, they were very easy to put together – no thermometer or long cooking times required. I may play around with this one a bit – try out some different compound coatings and such to see if I can get a less sweet, smoother candy.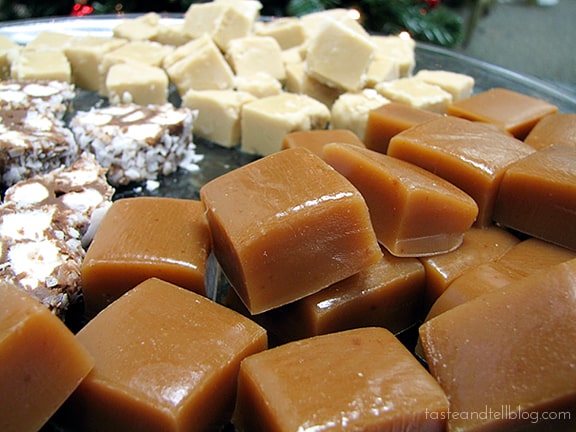 Next up are the caramels. These would have been my favorite, but user error put them second best to me. These are called 30-minute caramels – they are a short cut caramel. Caramels are my favorite homemade candy, and there are several versions in this book that I'd like to try, but I made these all on a week night, and time was a bit short. These caramels use brown sugar, which deepens the color and taste faster, so you don't have to cook them as long. You are supposed to cook these until they are 240F, but I think that my thermometer must be wrong. I cooked these for about 40 minutes (when they are only supposed to take 30 minutes) and I was still 4 or 5 degrees below where I was supposed to be. I gave up and poured them into my dish. In the morning, when I went to cut them, they were quite hard and very difficult to cut. Now I'm thinking I should have stopped them even further below where I did. I really should get a new thermometer, I guess!! These taste just as good as any long cooking caramel. You had to soften these a bit before you could chew through them, but that didn't stop us from eating far too many!! I just ended up cutting them into bite sized pieces, and although a bit hard, they are delicious!!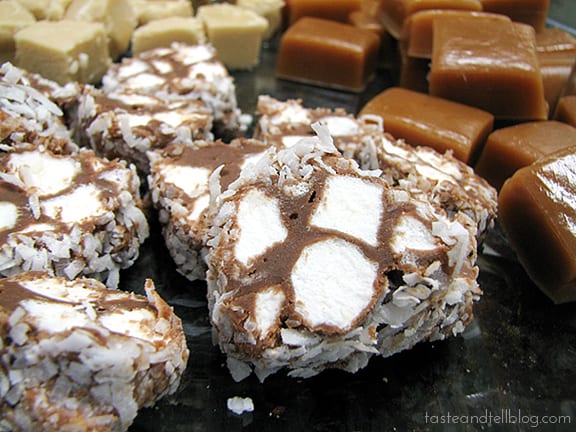 Last, but certainly not least, are a candy called Shaggy Dogs. I actually made these by mistake. I saw a picture in the book, and there were 3 candies featured. I thought one of them looked really good, and not really paying attention, I read the caption and guessed that they were the Shaggy Dogs. Well, when I got home with my ingredients, I realized that the ones I actually wanted to make were a different one in the picture!! Well, my mistake was worth it because these were my favorite of the bunch. They were the hardest to work with, but they were eaten up the quickest! You make a chocolate mixture and then add in marshmallows. After letting the mixture cool, you are supposed to make it into logs that are coated in coconut, chilled, and then cut into pieces. Maybe I didn't let the mixture cool long enough (I am impatient, after all) and forming the logs was a bit messy. It worked out though. I took a plate of the candy to work, and the Shaggy Dogs were the first off the plate. I'll definitely remember this recipe!!
Shaggy Dogs
From Candymaking
2 cups coconut
1/2 cup margarine
1 (6-oz) package semisweet chocolate pieces
2 eggs, beaten*
1 (10-oz) package miniature marshmallows
2 cups powdered sugar
1 cup chopped nuts, optional
Sprinkle coconut on large piece of waxed paper or on a baking sheet; set aside. In a 2-quart saucepan, melt margarine and chocolate pieces. Place pan over low heat and stir occasionally until ingredients are melted. Remove from heat and, using a wooden spoon, stir in eggs until well mixed. Stir in marshmallows, powdered sugar and nuts. Refrigerate briefly until mixture is easy to form.
Shape into logs approximately 1-1/2″ x 5″. Roll each log in coconut. Wrap individually in waxed paper or plastic wrap and refrigerate until firm. To serve, slice into pieces about 1/2 inch thick. Store in refrigerator up to 3 weeks. Makes about 10 logs.
*Use 1/2 cup evaporated milk in place of eggs, if desired.