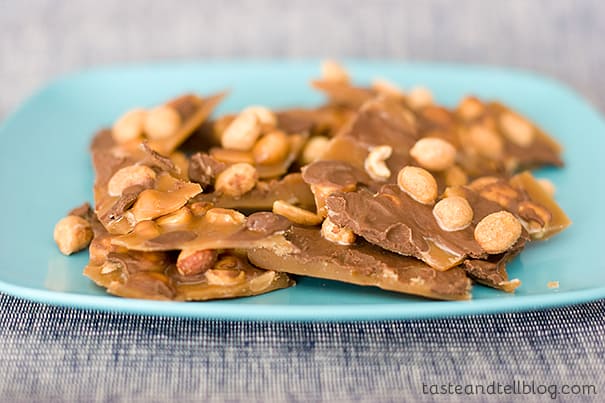 Today's treat – Peanut Toffee – was also posted at the Cafe Zupas blog. If you are looking for a last minute treat to make, head on over to check out the recipe!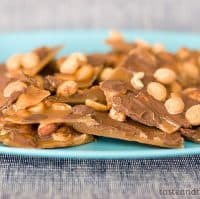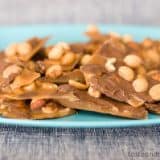 Peanut Toffee
---
Scale
Ingredients
1 cup peanuts
1/2 cup granulated sugar
1/3 cup packed brown sugar
1 cup butter
1/4 cup water
1/2 cup semi sweet chocolate chips
---
Instructions
Heat oven to 350F. Line a 15×10×1-inch pan with foil. Spread peanuts in pan. Bake 6 to 10 minutes, stirring occasionally, until light brown. Pour into small bowl; set aside. Set aside pan with foil to use later.
Meanwhile, in a 2-quart heavy saucepan, cook granulated sugar, brown sugar, butter and water over medium-high heat 4 to 6 minutes, stirring constantly with a wooden spoon, until mixture comes to a full boil. Boil 10 to 15 minutes, stirring frequently, until candy thermometer reaches 300F or a small amount of mixture dropped into cup of ice forms a hard brittle strand.
Stir in ½ cup of the peanuts; immediately pour toffee into same foil-lined pan. Quickly spread the mixture to ¼-inch thickness with a rubber spatula. Sprinkle with chocolate chips. Let stand for about 1 minute or until chips are completely softened. Spread softened chips evenly over toffee. Sprinkle with remaining peanuts.
Refrigerate about 30 minutes or until topping is firm. Break into 2×1 inch pieces. Store in tightly covered container.
Recipe Notes:
Adapted from Bettly Crocker Christmas Cookies Dec/Jan 2009