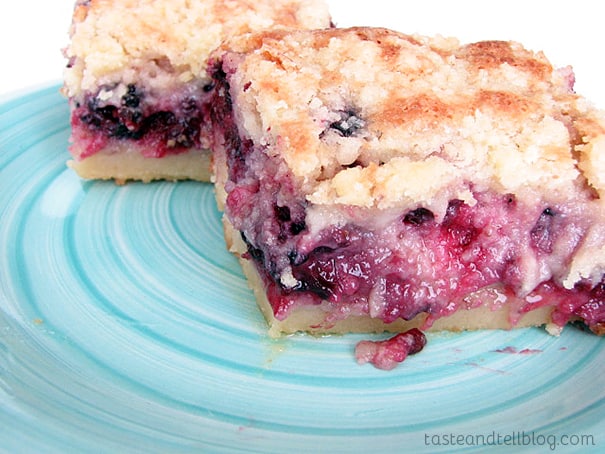 Ever since I saw Emiline's Wild Blueberries & Cream Tart, I haven't been able to get it out of my head. So for some reason, when I was reading through my copy of The Pastry Queen, these Blackberry Pie Bars stood out as a substitution for Emiline's tart, or at least to get over my craving for that tart. I don't know why they reminded me of one another, because they really aren't anything alike, but I'm glad that the craving for Emiline's tart brought me to these bars.
These bars are described as an easier way to make pie. No worrying about rolling out a crust. But to me, they didn't really resemble a pie all that much. The base tasted more like a shortbread base to me. And it was much to thick to be considered anything like a pie, in my opinion. But really – I don't care what you compare them to, because these we so delicious!! I made them as dessert for the spaghetti dinner I took my in-laws last weekend. Luckily we saved plenty at home for my husband and I, because I couldn't get enough of them. My husband liked them best straight out of the refrigerator with a dollop of whipped cream because the bottom crust was so thick and chewy when they are cold. I preferred them at room temperature. And I ate WAY too many of these. But even now that they are gone, I still find myself wanting more.
I almost forgot to add – this was way too much for my food processor -it got way to full and wouldn't mix completely. I ended up finishing it off by hand with a pastry cutter, which worked just fine!
This would be a great recipe to switch up as well. Don't like blackberries? Use blueberries, or cherries, or a mix of berries. I bet it would even be good with apples. And despite the fact that it doesn't taste like pie to me, they are much easier to eat and share than a pie is. So they would be perfect for a backyard bbq, or a neighborhood get-together. I can guarantee I'll be making them again!
Blackberry Pie Bars
from The Pastry Queen
Crust & Topping
3 cups all purpose flour
1 1/2 cups sugar
1/4 teaspoon salt
1 1/2 cups chlled unsalted butter
Fruit Filling
4 large eggs
2 cups sugar
1 cup sour cream
3/4 cup all purpose flour
Pinch of salt
2 (16-ounce) packages frozen blackberries, defrosted and drained
For the crust and topping:
Preheat the oven to 350F. Grease a 9×13-inch baking pan.
Combine the flour, sugar and salt in a food processor fitted with the metal blade. Process until fully combined. Cut the butter into 1/2-inch cubes. Add the butter to the flour mixture and process until the butter is evenly distributed, but the mixture is still crumbly.
Reserve 1 1/2 cups of the crumb mixture for the topping. Press the remaining crumbs into the bottom of the prepared pan. Bake the crust for 12-15 minutes, or until it is golden brown. Cool for at least 10 minutes.
To make the filling:
Whisk the eggs and sugar together in a large bowl, then add the sour cream, flour and salt. Gently fold in the blackberries. Spoon the mixture evenly over the crust. Sprinkle the reserved crumbs evenly over the top. Bake for 45 to 55 minutes, or until the crust is lightly browned. Cool for at least 1 hour before cutting.
Makes approximately 2 dozen bars.