Healthy and fast, this Chicken Milano Foil Packet Recipe is great for a weeknight. The chicken is moist and flavorful, and clean up is a breeze!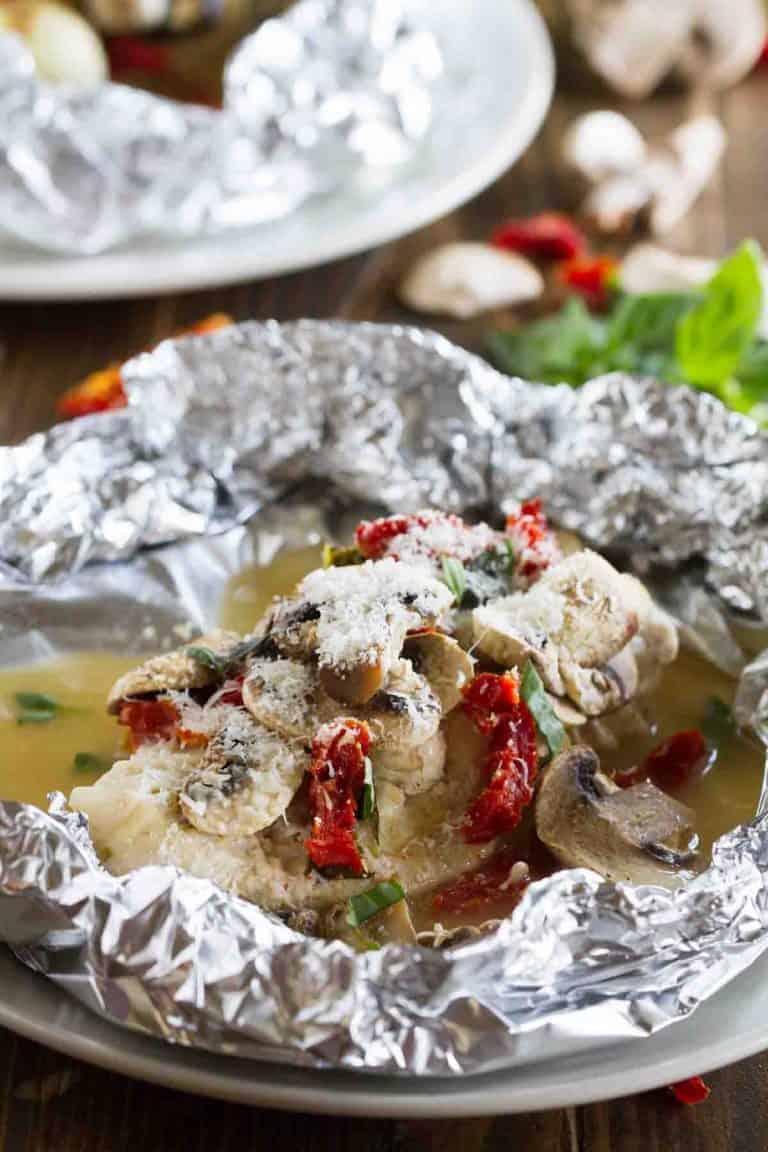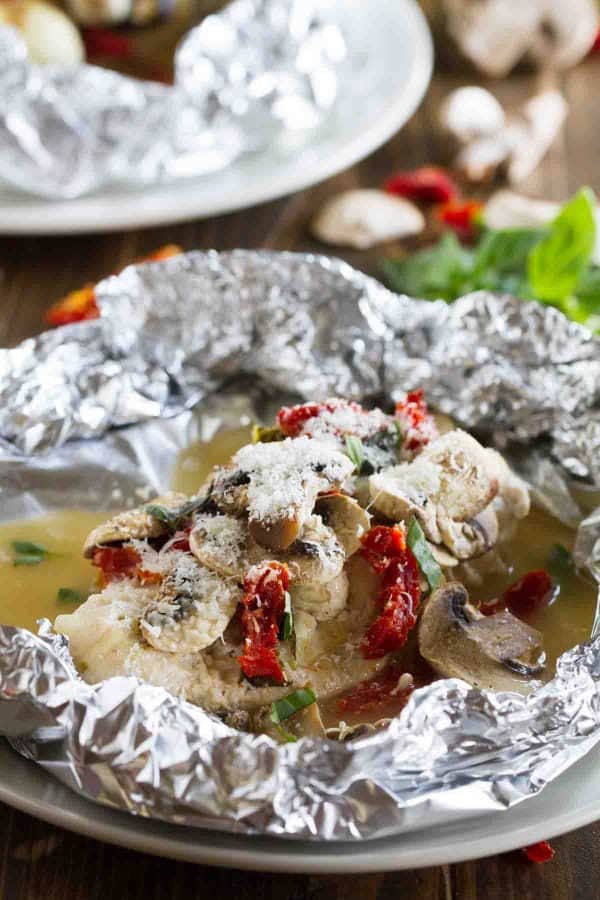 I'm totally starting to feel my age. Which in some ways, isn't too bad. But in others, well, I wish I could go back to being a teenager. Or at least a 20-something.
Don't get me wrong. My 30s have been way better than my 20s were. But as I inch ever so closer to that 40 mark, my body is definitely telling me that I'm not 22 anymore. And that I really need to put that donut down.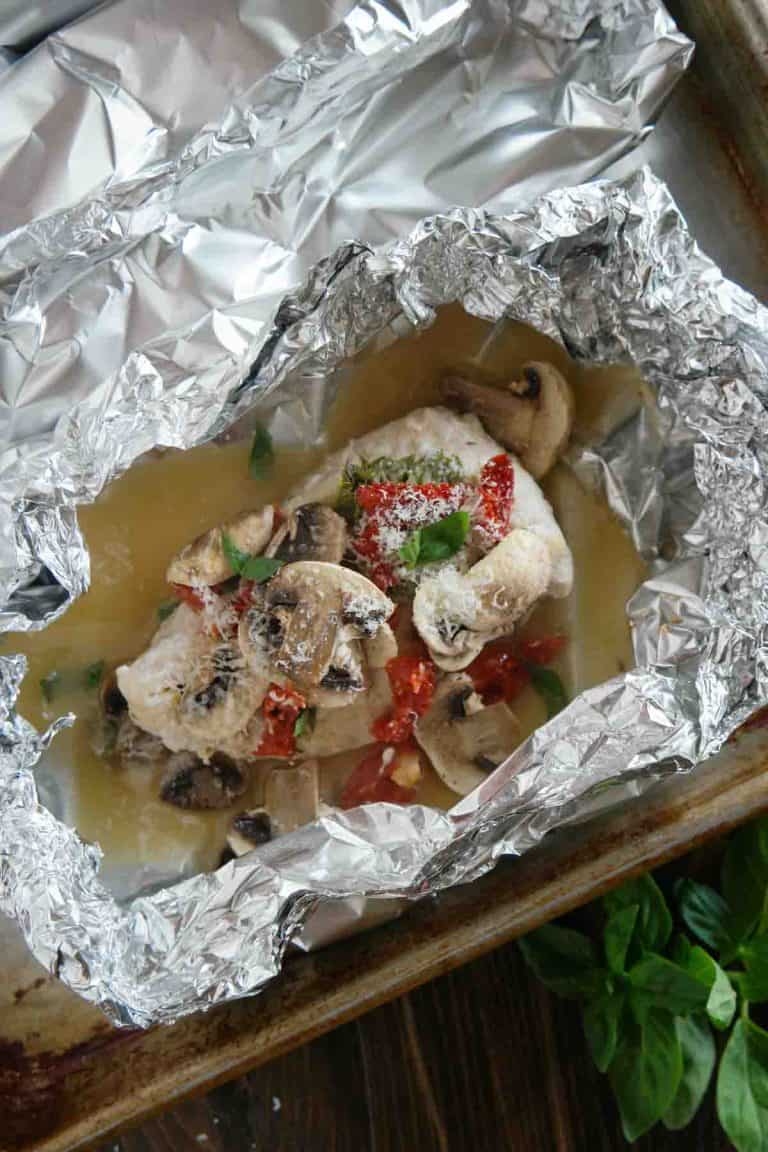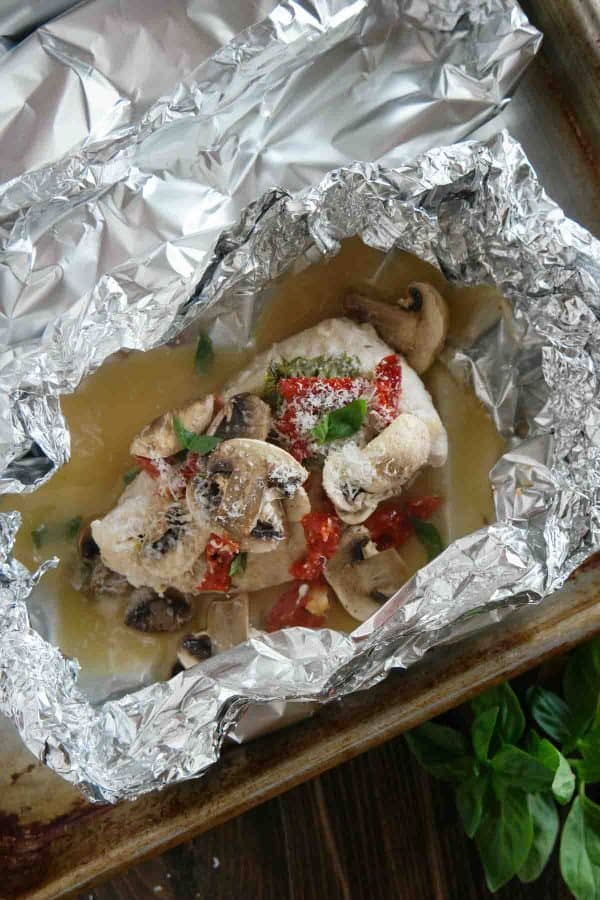 The thing is, I love to eat. I love food. It's more than just sustenance to me. But I can't even eat like I did 2 years ago anymore. I've always been a believer in all things in moderation, but now, I feel like I'm having to tip more towards the healthy side instead of right in the middle to keep things under control. Don't get me wrong – I'm not giving up my cheese or that slice of cake, but I've been on the search for healthier dinner ideas.
I don't follow a lot of fashion bloggers, (simply because most days, I'm the complete opposite of fashionable), but there is one that I like to watch on Snapchat. And a few weeks ago, she made her dinner in foil packets. I don't know why it kind of sat with me, because foil packets are really anything new, but I typically only think about them for camping. Or at least outdoor cooking, aka the grill. But hers, although I can't remember now what was in it, looked amazing, and she just cooked it in the oven, alongside the meal for her family.
So I knew I had to try one.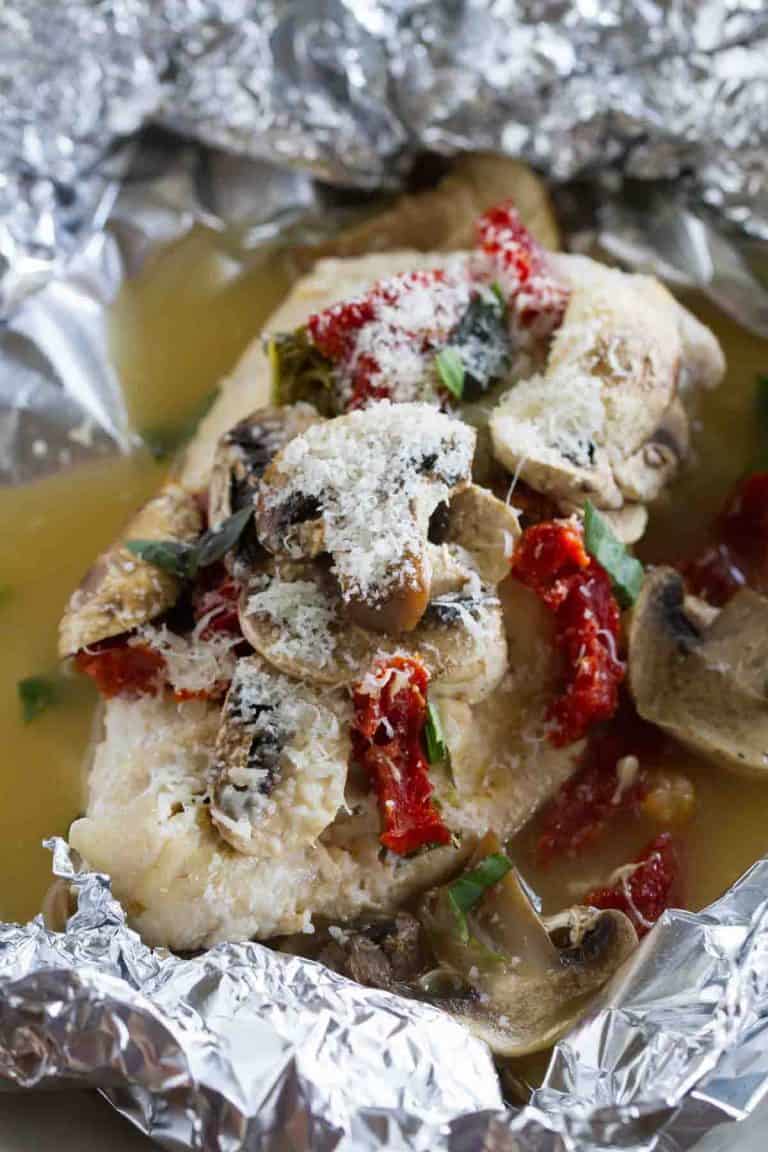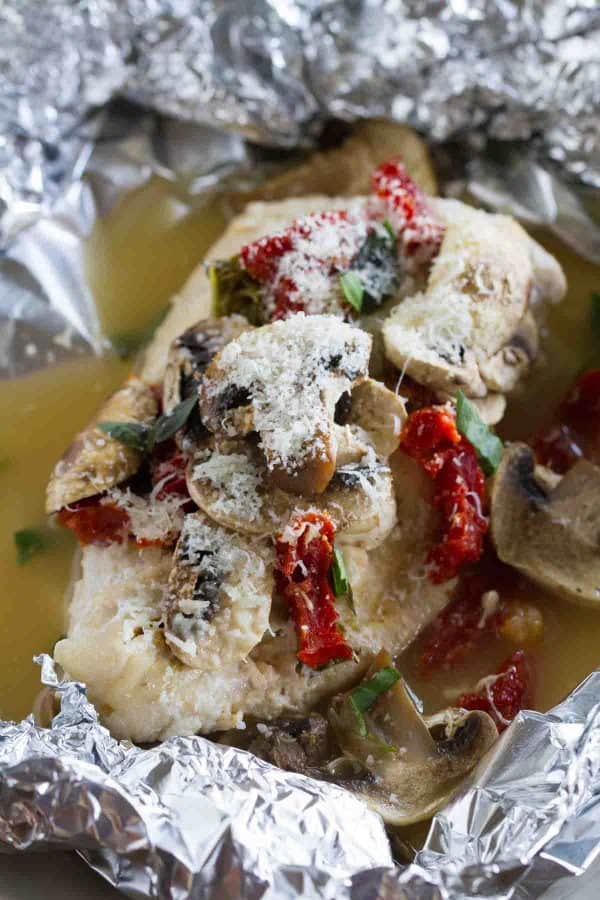 This Chicken Milano Foil Packet Recipe is not only super easy, but cleanup is such a breeze. There is a lot of flavor going on, with the basil and the sun-dried tomatoes. I used a light Italian dressing (I used this one). And the sun-dried tomatoes are the actual dried tomatoes, not the oil-packed sun-dried tomatoes. I can usually find them in the produce department.
You will want to make sure, as with all chicken breast dishes, that you don't overcook the chicken. I would say to check at 15 minutes to see if one is done, and then go from there.
Easy to make, easy to clean up, and low in calories, this Chicken Milano Foil Packet Dinner is a great lower calorie dinner without sacrificing flavor!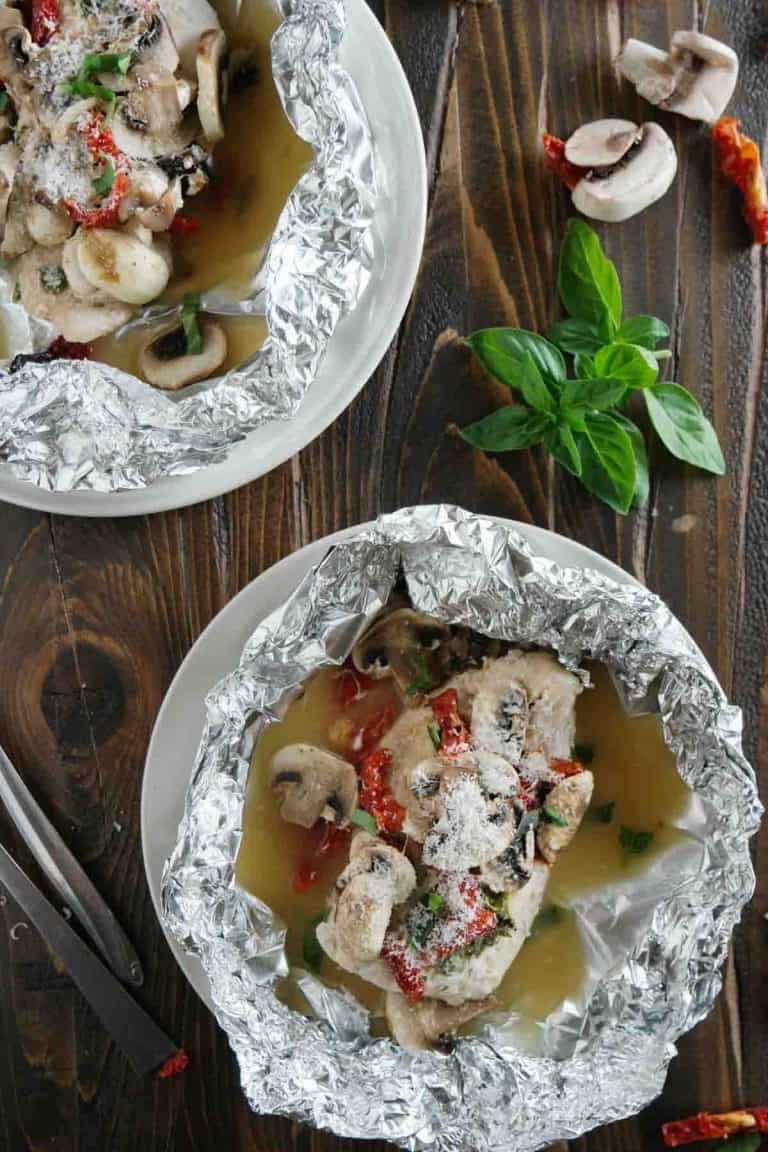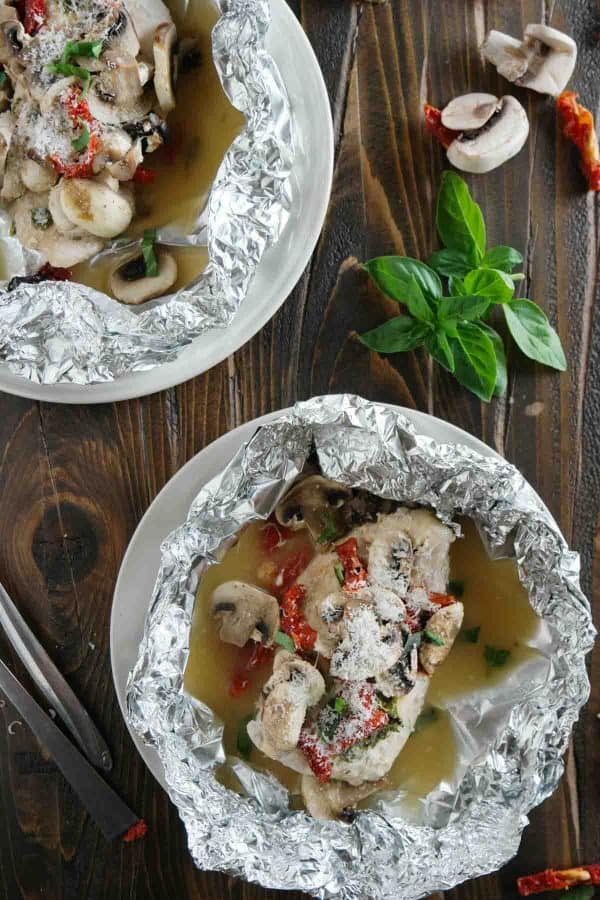 Want more lightened up chicken recipes?
Easy Chicken Cordon Bleu
Easy Lemon Chicken with Butternut Squash
Baked Chicken Parmesan
Around the Web:
20 Minute Healthier Orange Chicken from Nutmeg Nanny
Skillet Chicken Cordon Bleu from Skinnytaste
Low Calorie Chicken Salad Sandwiches from Chelsea's Messy Apron
Like what you see here? Make sure you are following Taste and Tell for more recipes and ideas!
Facebook | Pinterest | Instagram | Twitter | Google+ | Weekly Newsletter | Feedly | Bloglovin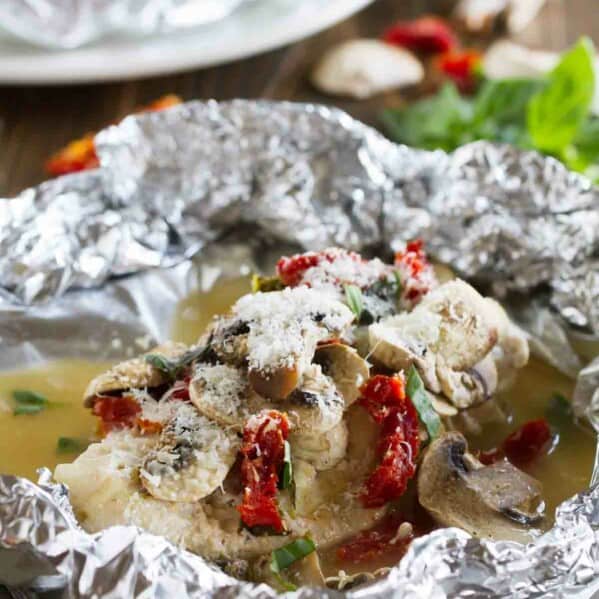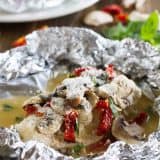 Chicken Milano Foil Packet Recipe
---
Author:
Prep Time: 15 mins
Cook Time: 20 mins
Total Time: 35 minutes
Yield: 4 servings 1x
Category: Main Dish
Description
Healthy and fast, this Chicken Milano Foil Packet Recipe is great for a weeknight.  The chicken is moist and flavorful, and clean up is a breeze!
---
Scale
Ingredients
2 boneless, skinless chicken breasts (about 8–10 oz each)
1/4 cup prepared Italian dressing (light or reduced calorie works)
8 oz fresh mushrooms, sliced
1/4 cup fresh basil, plus more for topping
1/4 cup julienned sun-dried tomatoes (dried, not in oil)
1/4 cup freshly grated Parmesan cheese
---
Instructions
Preheat the oven to 450ºF.
Butterfly each of the chicken breasts open and cut into two thinner pieces so you have a total of 4 pieces of chicken.
Cut 4 large pieces of heavy-duty foil.  Place one piece of chicken in the center of each piece of foil. Top with 1 tablespoon of Italian dressing, 1/4 of the mushrooms, 1/4 of the basil, and 1/4 of the tomatoes.  Season with salt and pepper.  Bring up 2 sides of the foil and seal.  Fold the opposite edges to form a packet.  There should be some room in the package for heat circulation. Repeat with the remaining ingredients.
Place the foil packets on a baking sheet, and place in the oven.  Bake for 15-20 minutes, or until the juice of the chicken is no longer pink, and when a thermometer inserted in the thickest part of the breast registers 165ºF. 
Fold back the foil of each packet and top with the Parmesan cheese.  Add more basil, if desired.
Nutrition
Calories: 297
Sugar: 2 g
Sodium: 862 g
Fat: 12 g
Saturated Fat: 5 g
Unsaturated Fat: 5 g
Trans Fat: 0 g
Carbohydrates: 4 g
Fiber: 1 g
Protein: 43 g
Cholesterol: 111 mg
USEFUL PRODUCTS:
Don't miss a thing! Follow me on Pinterest to see what I'm pinning!