An easy recipe for homemade baked caramel corn.
When I was younger, every so often, we would have what we called "pig-outs." It was usually when my dad and my brother would be gone on camp-outs, but us girls and our mom would get lots of candy and junk food, and get to sit in front of the tv, pigging out and watching movies. This was a real treat for us, as we didn't get to have a lot of junk food normally.
As I went to make this caramel corn the other day, the memory of these pig-outs came to mind. My memory is horrible these days, (I blame it on pregnancy brain!), so I called my mom this morning to see if we ever ate this caramel corn at our pig-outs. I knew that we always had Brachs candy, but beyond that, I couldn't remember!! She told me that yes, we always had the candy, and that it was always just an array of junk food. She said she was sure we probably had this caramel corn from time to time, but she wasn't sure either!
So even if we didn't have this at our pig-outs, I plan on having these special nights with my kids from time to time, and this caramel corn will be on the menu!! I have a recipe that I've been using for years that makes a sticky caramel corn, but after making this, I think I actually prefer this baked version more! I actually took this to a "movie night" this week with some of the teenage girls in my church, and it was a hit. I had one girl tell me that she doesn't usually like caramel corn, but loved this. I went home empty handed!
Baked Caramel Corn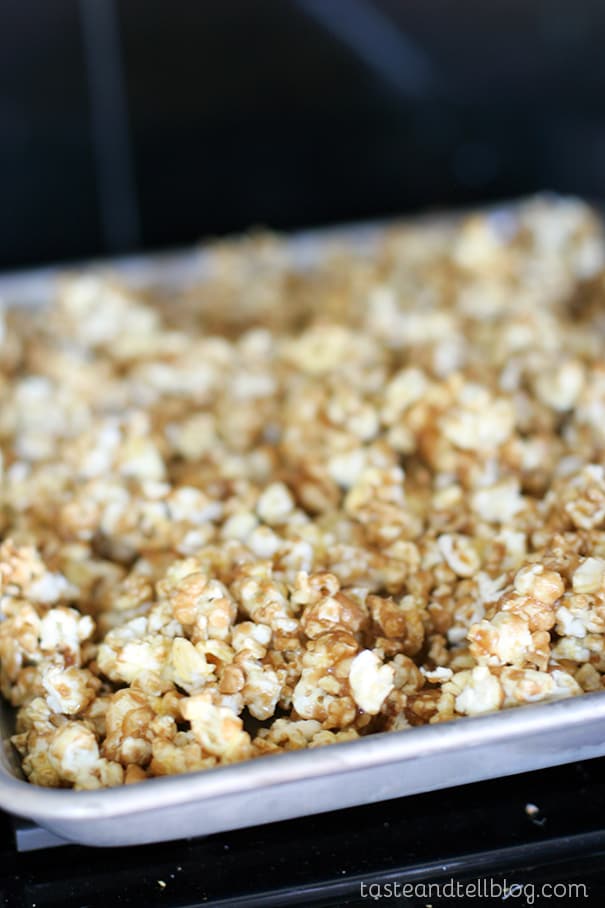 An easy recipe for homemade baked caramel corn.
Ingredients
1 cup butter
1/2 cup corn syrup
4 qt. popped corn*
2 cups brown sugar
1 teaspoon salt
1 teaspoon vanilla
Instructions
Preheat oven to 250F.
Melt butter in a saucepan over medium heat. Add sugar, corn syrup and salt; stir to combine. Bring to a boil, stirring constantly. Once the mixture comes to a boil, let it boil for 5 minutes without stirring.
Gradually pour over the popped corn, mixing well. Turn into 2 large, shallow baking pans.
Bake in preheated oven for 30 minutes, or until fairly dry, stirring twice. Remove from pan and break into pieces.
Store in an air-tight container.
Notes
Adapted from adapted from Goodman's Galloping Gourmet
*The original recipe calls for 6 quarts, but I found that 4 quarts was about the right amount. In fact, I even had a hard time fitting it all on two pans. I would normally use air-popped popcorn, but my machine had been loaned out, so I used microwave popcorn. If my calculations are correct, 1 bag of microwave popcorn equals about 1 quart of popcorn. I used 4 bags.
http://www.tasteandtellblog.com/cookbook-of-the-month-recipe-baked-caramel-corn/
Recipe from www.tasteandtellblog.com