3.6K Flares
3.6K Flares
×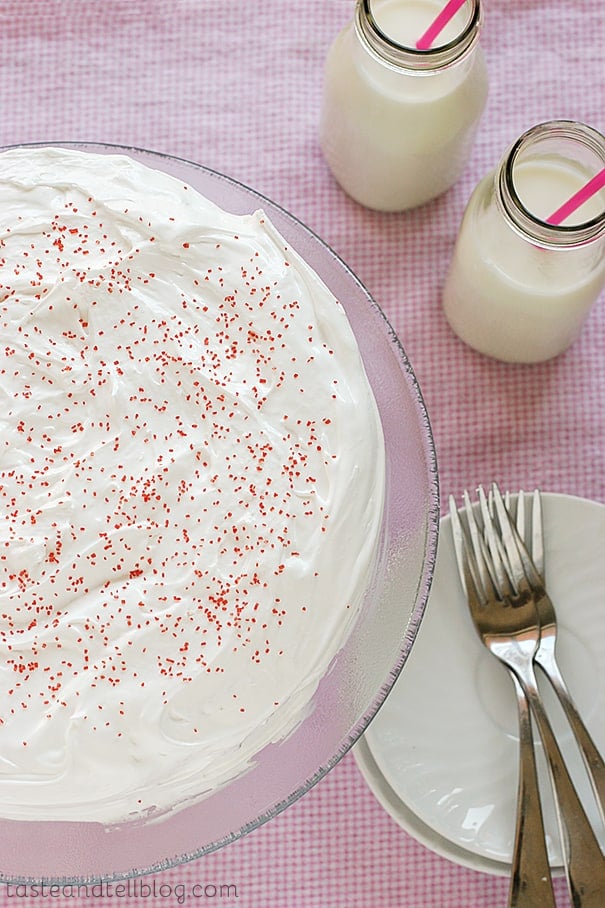 A few weeks back at a baby shower, the conversation turned to foods that reminded us of our childhoods. Ever since that conversation, so many foods have come back to me, reminding me of home. Everything from my mom's chile rellenos (recipe coming soon!) to popcorn cake to stacked enchiladas. And of course, cherry chip cake.
Every birthday, we would get to choose what we wanted for dinner, and what kind of cake we wanted. I always chose homemade chicken nuggets for dinner. And for the cake – it was always cherry chip cake with fluffy frosting. With red sugar sprinkles on top. They always had red sugar sprinkles on top. I know that when I was really young, my mom decorated some really fun cakes, but looking back now, the cherry chip cakes with fluffy frosting are the ones I loved the most.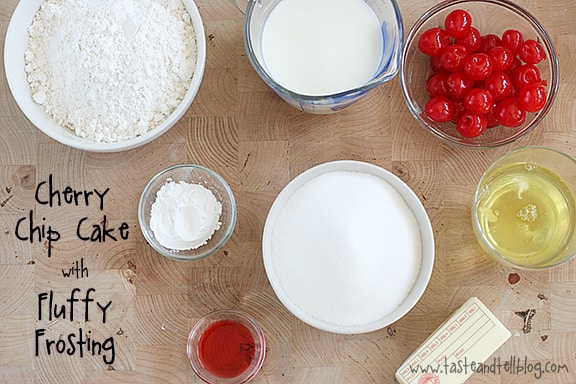 Of course, my mom's cherry chip cakes always came from a boxed mix. But several weeks ago, I got this idea in my head that I wanted to try to re-create this childhood favorite – but from scratch. So I went online to see how others had done it. I was surprised to find that there aren't that many recipes out there. Lots of chocolate cherry cakes, but not really any for from-scratch cherry chip cakes.
So, I decided to just wing it. And I'm going to call this cake version 1. Because while I really liked it, there are a few things I'd change for next time. But since this was my birthday cake from yesterday, I really wanted to share it with you!!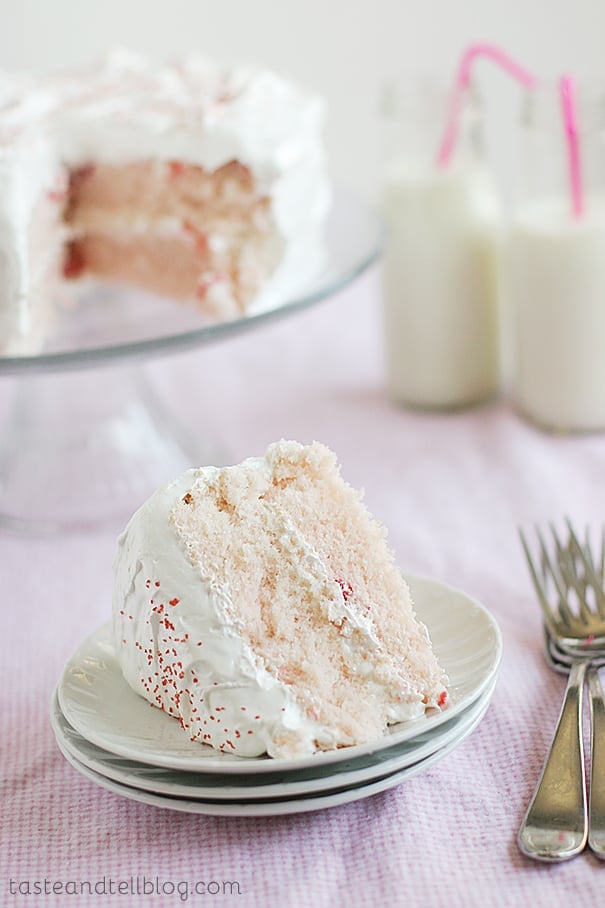 Things I'd change – First, I would chop the cherries smaller than I did. I cut them into 8 pieces each, but they all sunk to the bottom of the cake. So I think they were still too heavy. I'd chop them really fine next time. You can't even see them in the pictures because they were all hidden by the frosting.

Second, I'd use a recipe that didn't call for cake flour. This could totally just be me – my husband thinks I'm crazy – but I think that cake flour has sort of a strange aftertaste. I can usually always tell if something is made with it. And for me, that taste kind of masked the light cherry flavor a bit. (But like I said, my husband didn't taste it, and thinks I'm kinda crazy…) Third, I thought it could use just a tad more cherry flavor. Again, my husband disagreed with me on this one. But I would up it just a tiny bit. This frosting is my mom's version of a 7 minute frosting. I grew up knowing it as fluffy frosting. It wasn't until I started blogging that I learned that the rest of the world knew it as 7 minute frosting. But this version is super easy, and as long as you beat it long enough, I think it's pretty fail-proof!
But really, this whole cake was pretty much a success, especially considering it was a first try. And although nothing could really replace those little bits of artificial cherries, this still brought me back to my childhood!!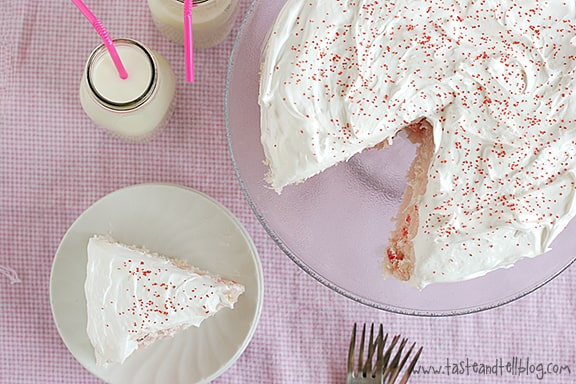 Cherry Chip Cake with Fluffy Frosting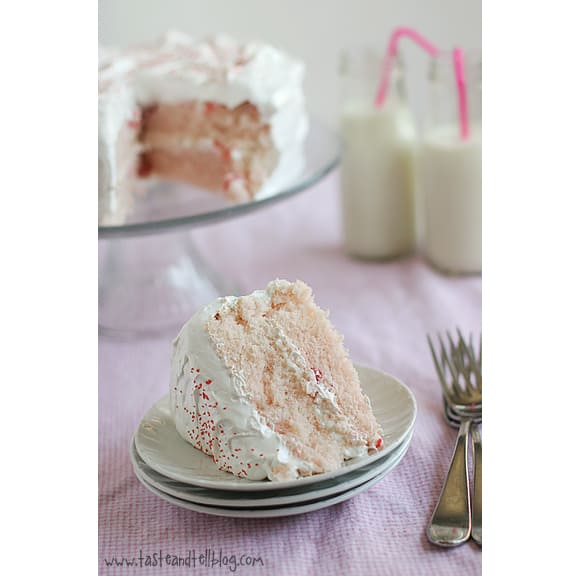 Ingredients
For the Cake

2 1/4 cups cake flour
1 tablespoon baking powder
1/2 teaspoon salt
1 1/4 cups milk
4 large egg whites
1 1/2 cups sugar
8 tablespoons unsalted butter, at room temperature
1 teaspoon cherry extract
1 tablespoons marachino cherry juice (from the jar that the cherries come in)
1 10-ounce jar marachino cherries, chopped

For the Fluffy Frosting (this makes enough to frost a 2 layer cake.)

4 egg whites, at room temperature
1 cup sugar
2/3 cup corn syrup
1 teaspoon vanilla extract
Instructions
For the cake:

Preheat the oven to 350F. Spray 2 9-inch round cake pans with cooking spray. Line the bottom of each pan with parchment or waxed paper and spray with cooking spray. Set aside.
Sift together the flour, baking powder and salt. In another bowl, whisk together the milk and egg whites.
In the bowl of a stand mixer, beat the sugar and butter until very light and fluffy, at least 3 minutes. Beat in the cherry extract and cherry juice. Add one third of the flour mixture, beating on medium speed. Beat in half of the egg-milk mixture, then half of the remaining dry ingredients. Beat until incorporated. Beat in the rest of the milk mixture, then add the remaining flour mixture. Beat the mixture for 2 minutes to make sure everything is incorporated and aerated. Fold in the cherries, then divide the mixture between the two pans.
Bake in the preheated oven until a toothpick inserted in the middle comes out clean. Transfer to a cooling rack and let cool for 5 minutes, then run a knife around the edge of the pan and release the cakes from the pans. Cool completely on the cooling racks.

For the fluffy frosting:

In a stand mixer, beat the egg whites until they form stiff peaks.
Meanwhile, heat the sugar and corn syrup over medium heat. Heat until it comes to a full boil, then remove from the heat.
Once the egg whites are stiff, slowly pour in the hot sugar mixture. Do not scrape the sides of the bowl, or you will have sugar crystals in the frosting. Beat the frosting until it forms a shiny, fluffy marshmallow frosting, 5-7 minutes. Beat in the vanilla extract.
Frost the cake and sprinkle red sugar sprinkles on top! :)
http://www.tasteandtellblog.com/cherry-chip-cake-with-fluffy-frosting/
Recipe from www.tasteandtellblog.com
3.6K Flares
3.6K Flares
×