Sugar is cooked to deepen the flavor of this moist Burnt Sugar Candy Bar Cake. Browned butter and crushed candy bars finish off this sweet and delicious cake.
Recipe and Photos Updated July 2017
Originally posted February 25, 2008 – I've never really had the patience for cake decorating, but after getting addicted to watching cake decorating videos on Instagram, I was inspired to spend some time and effort on a cake. I searched the archives and decided to remake this Burnt Sugar Candy Bar Cake. The first time I made it back in 2008, it was a little overly sweet, so I made a few alterations this time around and I think it came out perfectly. It is still very sweet (it is cake, after all), but it was a huge hit. I have also included high altitude changes in the recipe notes.
The original post from 2008 follows: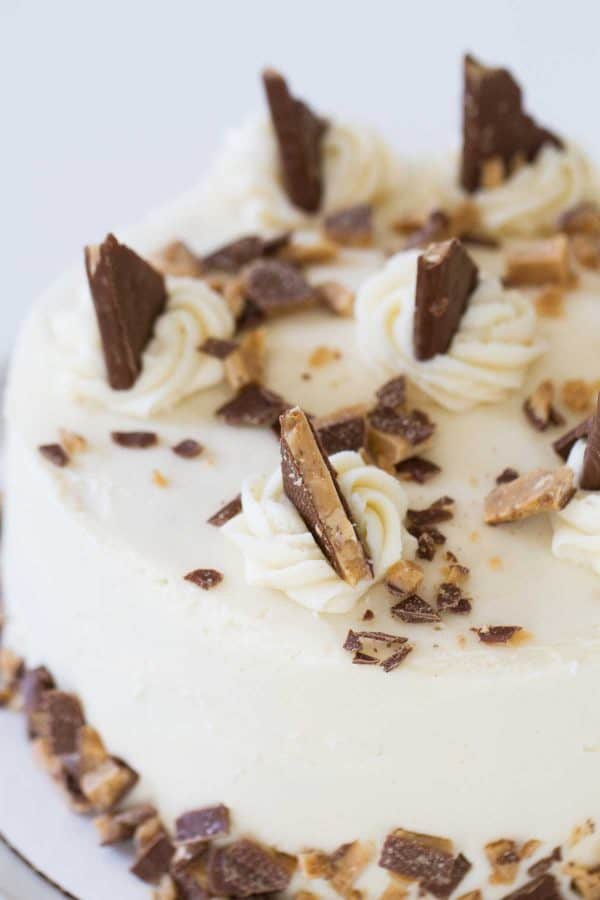 There are so many recipes I waiting to be blogged about – and this Burnt Sugar Candy Bar Cake is one of them. I actually made this for a work birthday last month. I've mostly been doing cupcakes for work birthdays, but I decided to go for a cake for this particular birthday. I had this recipe picked out, and was so excited about it. The flavor was amazing, but it was much too sweet. Obviously, I'm having a hard time finding that perfect balance, because this one was too sweet, and the last cupcakes I blogged about were not sweet enough!!
This cake is a burnt sugar cake. It might sound a little intimidating, but it was actually quite easy. The "burnt sugar" flavor comes from cooking the sugar until it is caramelized, creating a deeper flavor. Then the cake is filled with a brown butter frosting and candy bar of your choice. The picture in the cookbook showed many different kinds of chocolate candy bars, but I thought that Heath candy bar would compliment the flavors of the cake and the frosting the best, so I stuck with the one flavor or candy bar. The candy bar cake is then frosted and then topped with more candy bars.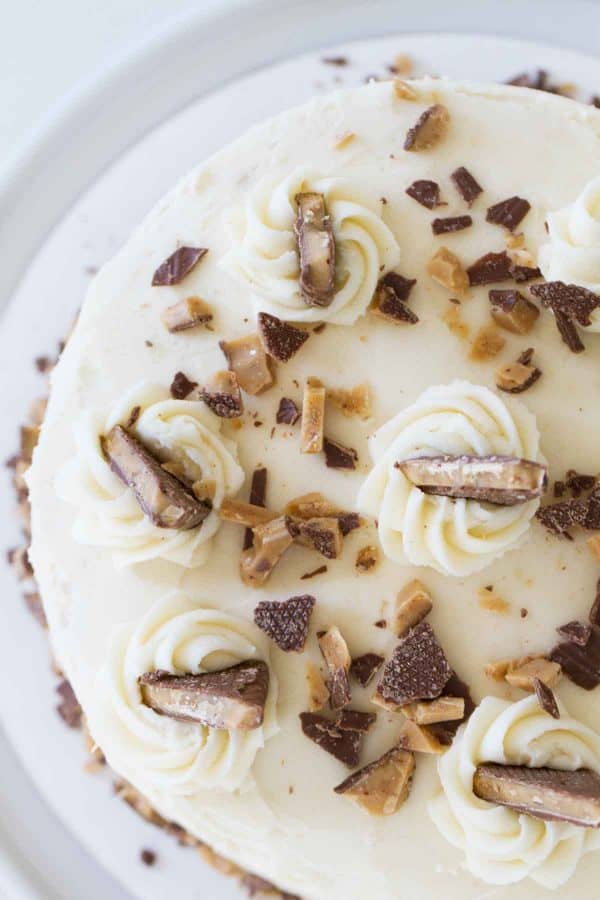 When I was making this frosting, I absolutely loved it. I couldn't stop taking little samples of it – it was just so good. But something happened overnight. It was still just as tasty the next day when I served the cake, but it's sweetness multiplied. I will be trying this frosting again, but will cut down on the amount of powdered sugar added. I think by just decreasing it a bit, this would make an excellent frosting that would go well on many different flavors of cake.
This Candy Bar Cake was gobbled up at work, but I would like to try to tweak a few things on this cake to make it better, because I think it has a lot of potential. And it is a pretty impressive looking cake, because who isn't impressed and eager to dig into something that is covered in candy bar pieces!?!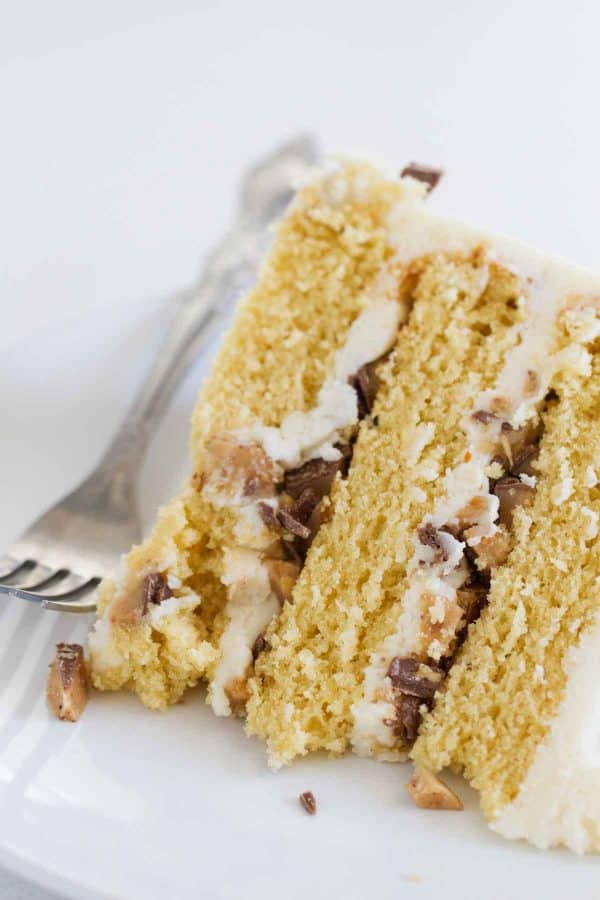 Check out these other layer cakes:
Coconut and Pistachio Pudding Cake
Dark Chocolate Cake with Nutella Buttercream
Italian Cream Cake
Or take a look at these layer cakes from around the web:
Lemon Layer Cake from Well Plated
Snickerdoodle Cake with Brown Sugar Cinnamon Buttercream from Foodie with Family
S'mores Layer Cake from Brown Eyed Baker
Like what you see here? Make sure you are following Taste and Tell for more recipes and ideas!
Facebook | Pinterest | Instagram | Twitter | Google+ | Weekly Newsletter | Feedly | Bloglovin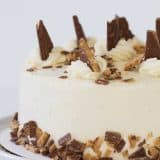 Burnt Sugar CandyBar Cake
---
Author:
Prep Time: 30 mins
Cook Time: 30 mins
Total Time: 1 hour
Yield: 16 servings 1x
Category: Dessert
Description
Sugar is cooked to deepen the flavor of this moist Burnt Sugar Candy Bar Cake. Browned butter and crushed candy bars finish off this sweet and delicious cake.
---
Scale
Ingredients
Cake:
3/4 cup granulated sugar
3/4 cup hot water
1 1/2 cups granulated sugar
2/3 cup unsalted butter, softened
2 eggs, yolks and whites separated
2 teaspoons vanilla
3 cups all-purpose flour
1 1/2 teaspoons baking powder
1/4 teaspoon baking soda
Frosting:
1/2 cup unsalted butter
8 oz cream cheese, softened
4 tablespoons unsalted butter, softened
6 1/2 cups confectioners' (powdered) sugar, sifted
1 teaspoon vanilla extract
1 tablespoon milk
1 1/2 cups chopped Heath candy bars, plus more for decorating
---
Instructions
Make the cake:
Preheat the oven to 350ºF. Grease and lightly flour 3 8-inch baking pans.
Place the 3/4 cup granulated sugar in a medium pot.  Place over medium-high heat and allow to cook until the sugar just begins to melt, without stirring.  Reduce the heat and begin to stir the mixture constantly, cooking until golden brown, 1 to 3 minutes more.  Carefully stir in the hot water.  (Do not be alarmed if the syrup forms lumps – this is normal.) Bring the mixture to a boil, then reduce the heat.  Continue stirring until the mixture is free of any lumps.  Remove from the heat and carefully pour into a liquid measuring cup.  Add enough water to make the mixture equal 1 3/4 cups liquid.  Set aside to cool.
In the bowl of a stand mixer or a large mixing bowl, beat together the 1 1/2 cups granulated sugar, the 2/3 cup butter, the egg yolks (reserve the whites), and the 2 teaspoons of vanilla extract.  Beat on medium speed until smooth.
In another bowl, combine the flour, baking powder and baking soda.
Add 1/3 of the flour mixture to the butter and sugar mixture and beat just until combined.  Add half of the sugar syrup mixture and beat, followed by another 1/3 of the flour, then the remaining sugar syrup and the remaining flour. 
In a medium mixing bowl, (or in a separate bowl on your stand mixer), beat the reserved egg whites until stiff peaks form.  Gently fold the egg whites into the batter.
Divide the batter evenly between all three baking pans.  Bake in the preheated oven until a tester inserted in the center comes out clean, 18-25 minutes. 
Cool the cakes for 10 minutes, then remove the cakes to a cooling rack to cool completely.
Make the frosting:
Place the 1/2 cup butter in a small saucepan and heat over medium-low heat until melted. Continue to cook the butter until it forms a nut-brown color.  Remove from the heat and allow to cool for 5 minutes.
In a large mixing bowl, beat the cream cheese and the 4 tablespoons of butter until combined and cool.  Beat in 2 cups of the powdered sugar.  Beat in the browned butter and the 1 teaspoon vanilla extract.   Gradually beat in the remaining 4 1/2 cups.  Add as much of the milk as needed to get a spreadable consistency.
Assemble the cake:
Place one cake layer on your cake stand or plate.  Spread about 1/2 cup of the frosting over the top of the cake, then sprinkle on 1/2 of the chopped Heath bars.  Place another cake layer on top and spread another 1/2 cup of frosting and the remaining chopped Heath bars.  Place the last cake layer on the top.  Use the remaining frosting to frost the outside of the cake. If desired, decorate with more chopped candy bars.
Recipe Notes:
high altitude changes: I added 1 extra tablespoon of sugar to the cake, plus 2 tablespoons water and 1 tablespoon flour.
Adapted from Better Homes and Gardens Test Kitchen Favorites
Nutrition information provided as an estimate only. Various brands and products can change the counts.
Nutrition
Serving Size: 1 slice
Calories: 657
Sugar: 83 g
Sodium: 135 mg
Fat: 26 mg
Saturated Fat: 16 g
Unsaturated Fat: 7 g
Trans Fat: 0 g
Carbohydrates: 102 g
Fiber: 1 g
Protein: 4 g
Cholesterol: 86 mg
SHOP THIS POST:
Don't miss a thing! Follow me on Pinterest to see what I'm pinning!