1.1K Flares
1.1K Flares
×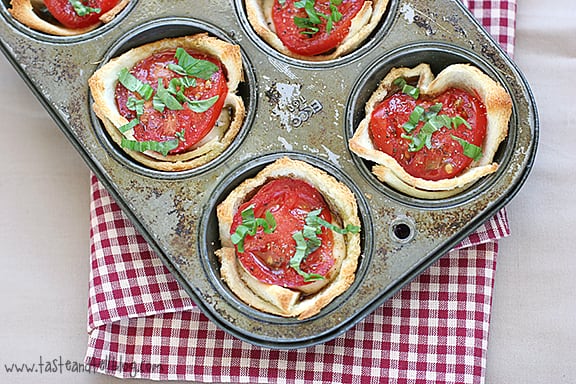 I was looking back through my blog earlier, and I'm noticing a theme over the past few weeks.  Lots of little bites – not a whole lot of hearty meals.  I guess that is to blame on summer, right??  I've posted a few soups, and there was a salad and a quesadilla thrown in, but really, I've been making a whole lot of appetizers served as dinner, or we've been having multiple side dishes for dinner.  You get the heat that zaps any motivation to be in the kitchen for very long, combined with all of the great in-season produce that makes for a perfect side dish, and you get light summer dinners.  So I apologize if you've been wanting something more substantial – I do have a few things coming up!!
But for now, I am still making my way through piles of vegetables that are sitting on my counter.  Not wanting anything to go to waste, I have been making great use of lots of tomato recipes these last few days.  Seriously – I could do a whole tomato week, but I'll spare you since I already focused on peaches and corn!!!  (But you will be getting almost all tomato recipes this week!)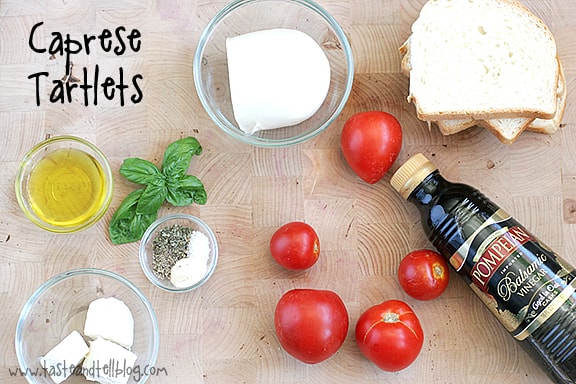 Here is another winning recipe from Melissa D'Arabian from $10 Dinners.  After not loving the first recipe that I made of hers, I'm glad I didn't give up on her, because everything I've made since has been divine.  And these little tartlets are no exception.  I loved that the shells are made out of plain old white bread.  And the flavored cream cheese was so good that I wanted to just eat it by the spoonful!   This was such a great spin on a caprese sandwich – and it's one that I would definitely do again!  These would be perfect for a party, or as a side dish – or do what we did and just eat them for dinner!!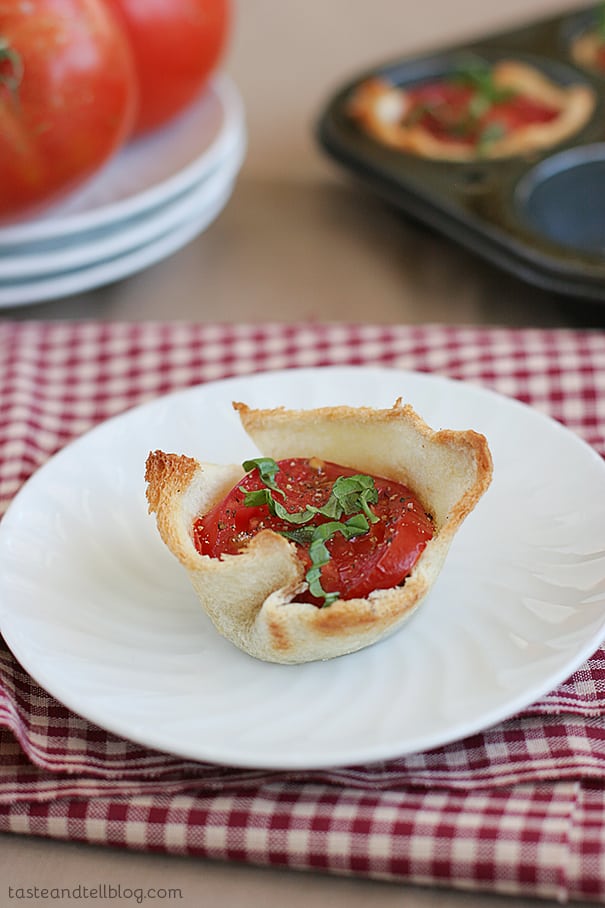 Caprese Tartlets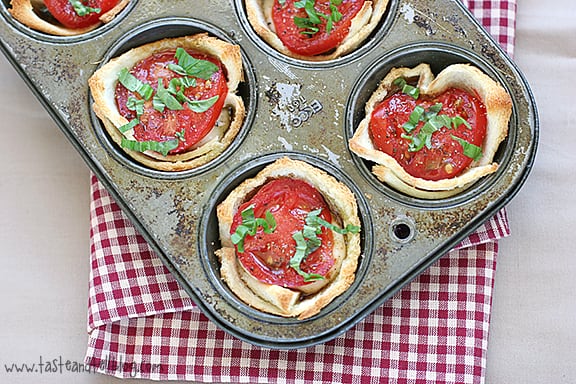 Ingredients
8 slices white bread
1/4 cup extra-virgin olive oil
3 tablespoons cream cheese, softened
1 teaspoon garlic powder
1 teaspoon dried basil
salt and pepper
2 Roma tomatoes, thinly sliced
4 ounces fresh mozzarella, thinly sliced
balsamic vinegar, for drizzling
8 fresh basil leavesPreheat the oven to 375F.
Instructions
Preheat the oven to 375F.
Remove the crusts from the bread. Using a rolling pin, flatten each slice of bread. Brush both sides with olive oil and press into a muffin tin. (Tip: cut a small slit diagonally down one corner to make it easy to fit into the cup.) Set aside.
In a small bowl, combine the cream cheese with the garlic powder, dried basil, salt and pepper. Mix together until smooth and creamy. Drop about a teaspoon into each cup. Bake the tartlets in the preheated oven until browned, about 12-13 minutes.
Remove from the oven and place a slice of mozzarella in each cup. (I returned mine to the oven again for a minute or two to soften and melt the mozzarella slightly.) Top with a tomato. Drizzle with balsamic vinegar and a small drizzle of remaining olive oil and season with salt and pepper. Chiffonade the basil for garnish. Serve warm
http://www.tasteandtellblog.com/caprese-tartlets/
Recipe from www.tasteandtellblog.com
——————————
More Caprese inspiration:
5 Caprese sandwich ideas from Foodiecrush
Caprese Pizza with Crispy Bacon from Taste and Tell
Heirloom Tomato Caprese Salad with Balsamic-Basil Vinaigrette from Picture-Perfect Meals
1.1K Flares
1.1K Flares
×