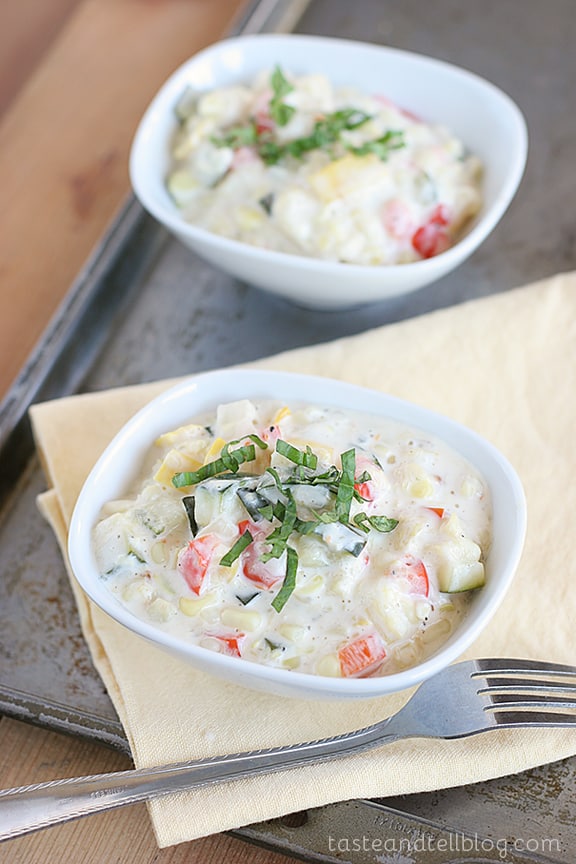 I am not a good multi-tasker. Which is strange, because I used to be really good at it. Before I had kids, when I was working in the corporate world, I prided myself on the fact that I could juggle 10 things at once. But these days? Not so much. Especially when it comes to dinner time. I'm good at getting the main dish on the table, but side dishes? That is where I normally fail. It's not that we don't like our side dishes. But making both dinner and sides at the same time – and planning everything so that it all finishes around the same time so there is hot food on the table – is really difficult for me. Which is why it's pretty rare to see a side dish on our table.
A couple of weeks ago, though, I had a brilliant idea. What if you could start your side dish earlier, and all you had to do was serve it up when dinner time came? And the answer to my problem came to me – the slow cooker!! By starting your side dish a couple of hours earlier, all you have to worry about is making the main dish, and when it's time for dinner, the side dish is already done and piping hot. And that is when this dish was born.
This recipe actually killed two birds with one stone. Not only did it help with my whole side dish ordeal, but it also helped to clear out all kinds of garden produce. This succotash is full of tons of veggies – all that are being harvested right now. And the beauty of it is that you can really throw in whatever veggies you have on hand! And the creamy finish of sour cream and cream cheese at the end makes it so that everyone wants to load their plate up. This – to me – is the perfect way to clean out the veggie drawer!!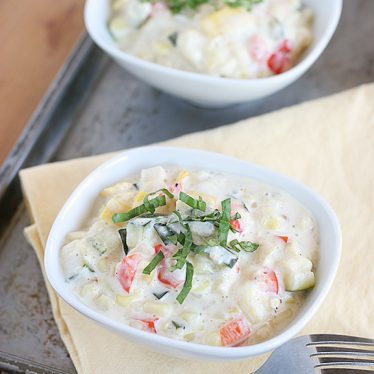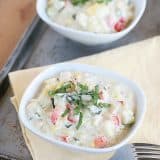 Creamy Summer Vegetable Succotash
---
Prep Time: 15 mins
Cook Time: 3 hours 30 mins
Total Time: 3 hours 45 mins
Yield: 4 servings 1x
Scale
Ingredients
2 cups diced zucchini
2 cups diced yellow summer squash
2 cups fresh corn kernels
1 cup diced red bell pepper
1/4 cup water
salt and pepper, to taste
4 ounces sour cream
4 ounces cream cheese
---
Instructions
Combine the zucchini, squash, corn, bell pepper, onion, water and salt and pepper into a slow cooker.
Cook on high for 2 1/2 – 3 hours, or until the vegetables are all tender.
Turn the slow cooker to low and add the sour cream and cream cheese. Cook an additional 30 minutes or until the cream cheese is melted.