Summer in a burger, this Caprese Burger has all the flavors of a Caprese salad – mozzarella, tomatoes and basil. Plus a review of The Art of the Burger by Jens Fischer.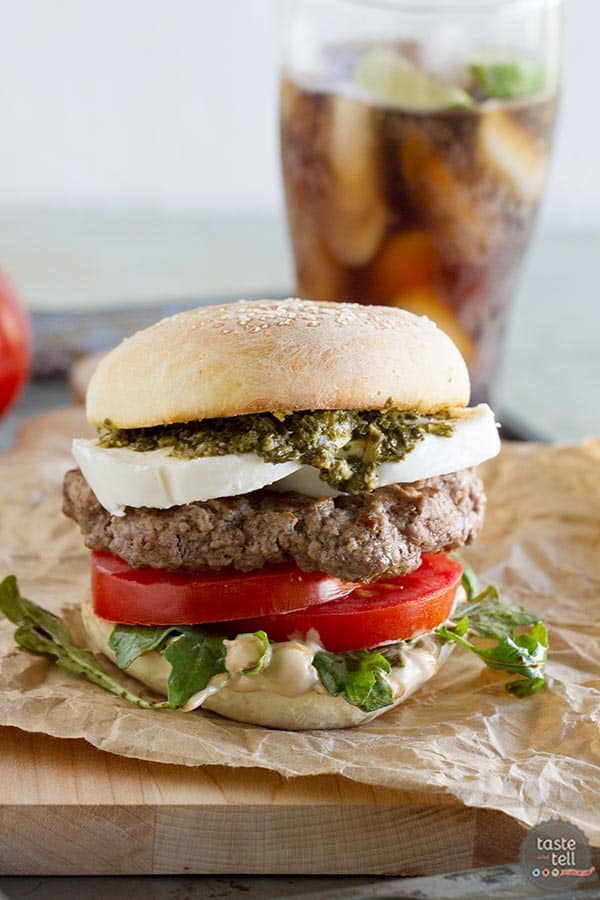 Ok, I'm going to come right out and say that today I have a cookbook review that isn't a "normal" Taste and Tell cookbook choice. It's not filled with tons of recipes that I can't wait to try. It's not full of easy, everyday recipes. It's a little bit more out there, but it's kind of fun. And definitely different. Which is why I wanted to share it with all of you today.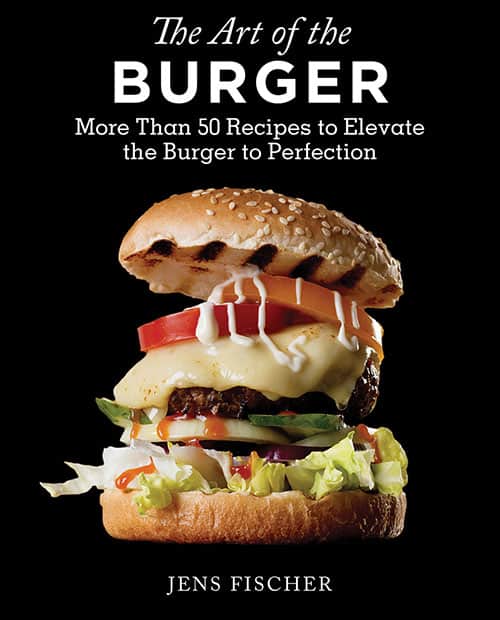 I am a burger lover. I'm not that girl that will shy away from a burger and order a salad. (Although I do love salad, too – I think I just love all food!!) But I definitely think there is something to be said about a good, juicy burger. So I was excited when I received a copy of The Art of the Burger by Jens Fischer. More than 50 recipes? Count me in!!
When I first opened up the book, I was so surprised by what I saw. The way the book is laid out is definitely different and creative. It is not full of photos of the finished burgers, but of all of the components of the burgers.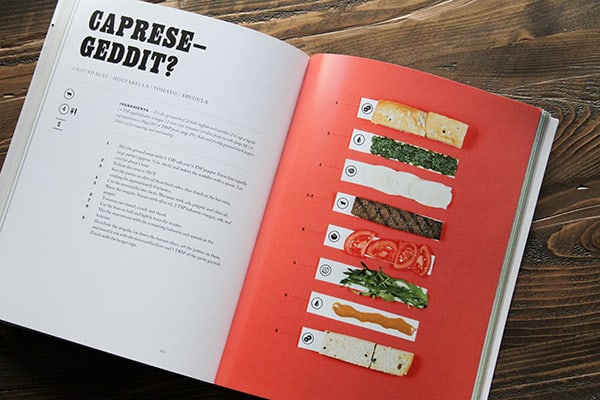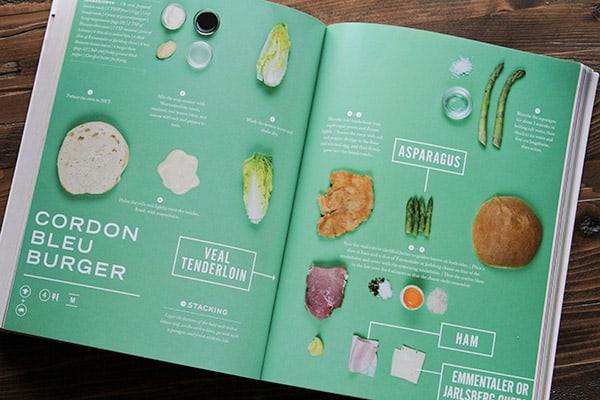 See? Definitely something different. And it was kind of exciting to see a cookbook laid out in a different way than the norm.
That being said, some of the "burgers" are a little bit out there, and I use the word burgers lightly, because to me, many of these are just sandwiches, not really burgers at all. I wouldn't say that I have every single recipe bookmarked, but there are some great ideas that might be good starting points. And I love the section that has recipes for different kinds of buns.
I think the biggest downfall in the book is how hard the recipes are to read. The ingredient lists are often grouped into a paragraph instead of listing one ingredient on each line. And the steps are often all over 2 pages, instead of altogether, so it can get a little bit confusing when you have to go searching for the next step. But like I said above, this book definitely gets points for creativity.
Here are the details:
Number of Photos: Lots But not of the finished burgers. You get pictures of the components of the recipe, but not the finished recipe.
Difficulty Level of Recipes: Easy to medium. While a lot of the recipes are simply assembling the "burgers", there are also the bun recipes that may be a little bit more difficult. Plus, since the recipes aren't always easy to read, that can make the recipes a little more difficult as well. The bun recipes also use fresh yeast, and that is not something that is easy for me to find, so adaptations have to be made for the buns for me.
Availability of Ingredients: Easy to Medium Most ingredients should be fairly easy to find, but there are some ingredients like fillets of kippers, clarified butter, marinated truffle or duck foie gras from a jar that might be harder to find.
Overall thoughts:
While I don't think this is the must have book of 2015, I do have to applaud its creativity, and it really does make me want to get up and make a burger. If nothing else, it shows that the burger can really be a lot of fun!
Other recipes I want to try:
The Old Greek
The Italian Job
Farmer's Lunch
Benedict Burger
Go Blues
Buy The Art of the Burger on Amazon.
I think you can never go wrong when it comes to Caprese flavors, so I was immediately drawn to the Caprese Burger recipe in the book. (Although it's called Caprese-Geddit? in the book, which I will admit that I don't get.) This is a simple burger recipe with a beef patty, mozzarella, tomatoes and pesto, and then a balsamic/arugula mixture. The buns are based off of the focaccia bun recipe in the book, although I made a couple changes just based on preference.
I totally cheated and used jarred pesto from the store, and while it does work in a pinch, I do prefer homemade pesto. This burger is big – both in size and in flavor. The ingredient list is pretty small, but I was very happy with how much flavor it packed in. And I loved that the actual burger patty was simple, and that the toppings are what made the burger shine. Don't skip the balsamic and arugula mixture – that balsamic brings in a lot of extra flavor and wow to this Caprese Burger!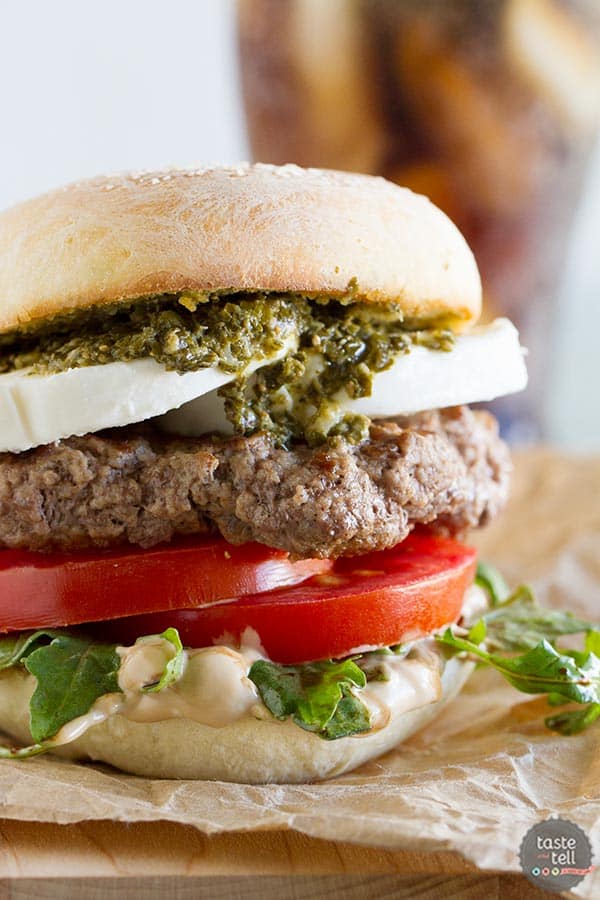 Like what you see here? Make sure you are following Taste and Tell for more recipes and ideas!
Facebook | Pinterest | Instagram | Twitter | Google+ | Weekly Newsletter | Feedly | Bloglovin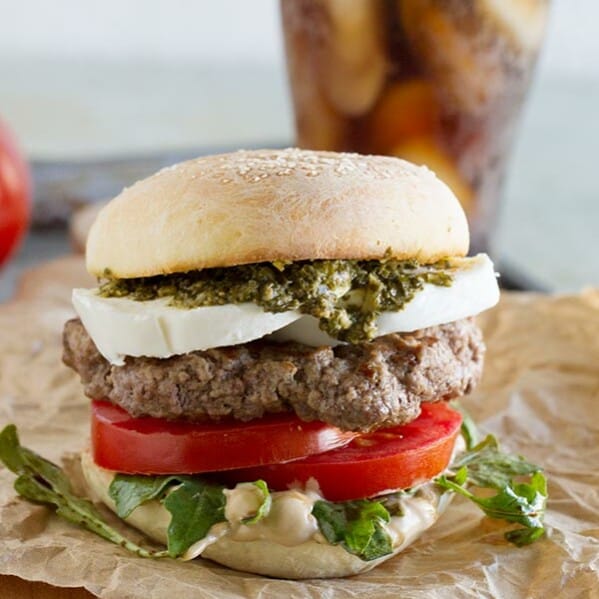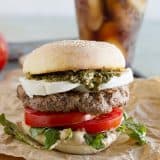 Caprese Burger
---
Prep Time: 30 mins
Cook Time: 30 mins
Total Time: 1 hour
Yield: 4 1x
Description
Summer in a burger, this Caprese Burger has all the flavors of a Caprese salad – mozzarella, tomatoes and basil. Plus a review of The Art of the Burger by Jens Fischer.
---
Scale
Ingredients
Focaccia Rolls
2 cups all-purpose flour
1 1/2 teaspoons active dry yeast
1/2 cup water
1/2 teaspoon salt
1 tablespoon olive oil
olive oil, for brushing
coarse sea salt for sprinkling
Burgers
1 1/2 lbs ground beef
salt and pepper
olive oil
8 slices fresh mozzarella
1 1/2 cups arugula
4 tablespoons balsamic vinegar
2 vine-ripe tomatoes
1/2 cup mayonnaise
4 tablespoons pesto
---
Instructions
Make the Rolls:
Combine the flour and the yeast in the bowl of a stand mixer. Add the water, salt and 1 tablespoon of olive and mix until combined. Knead for a few minutes until smooth, then transfer to an oiled bowl. Cover and let rise until doubled.
Line a baking sheet with parchment paper. Shape the dough into 4 equal rolls and set on the baking sheet. Brush the tops with olive oil, then sprinkle with sea salt. Let the balls sit for 30 minutes.
Preheat the oven to 400ºF. Bake the rolls until golden brown, 15 minutes. Let cool completely.
Make the Burgers:
Combine the beef with 1/2 teaspoon salt and 1/4 teaspoon pepper. Form the mixture into 4 equal sized patties and indent the centers.
Preheat the oven to 350ºF. Heat a cast iron skillet with a little bit of olive oil. Sear the patties on both sides, then transfer the skillet to the oven to finish cooking, about 8 minutes.
Meanwhile, rinse the arugula. Season with olive oil, 2 tablespoons of the balsamic vinegar, salt and pepper.
Rinse, core, and slice the tomatoes.
In a small bowl, combine the mayonnaise and the remaining 2 tablespoons of balsamic.
Cut the rolls in half. Lightly toast them. Spread the mayonnaise on the bottom half of the buns. Top with some of the arugula, tomato slices, then a burger patty. Top the burger with 2 slices of mozzarella, then 1 tablespoon of pesto. Top with the top burger and serve immediately.
Don't miss a thing! Follow me on Pinterest to see what I'm pinning!
Visit Taste and Tell's profile on Pinterest.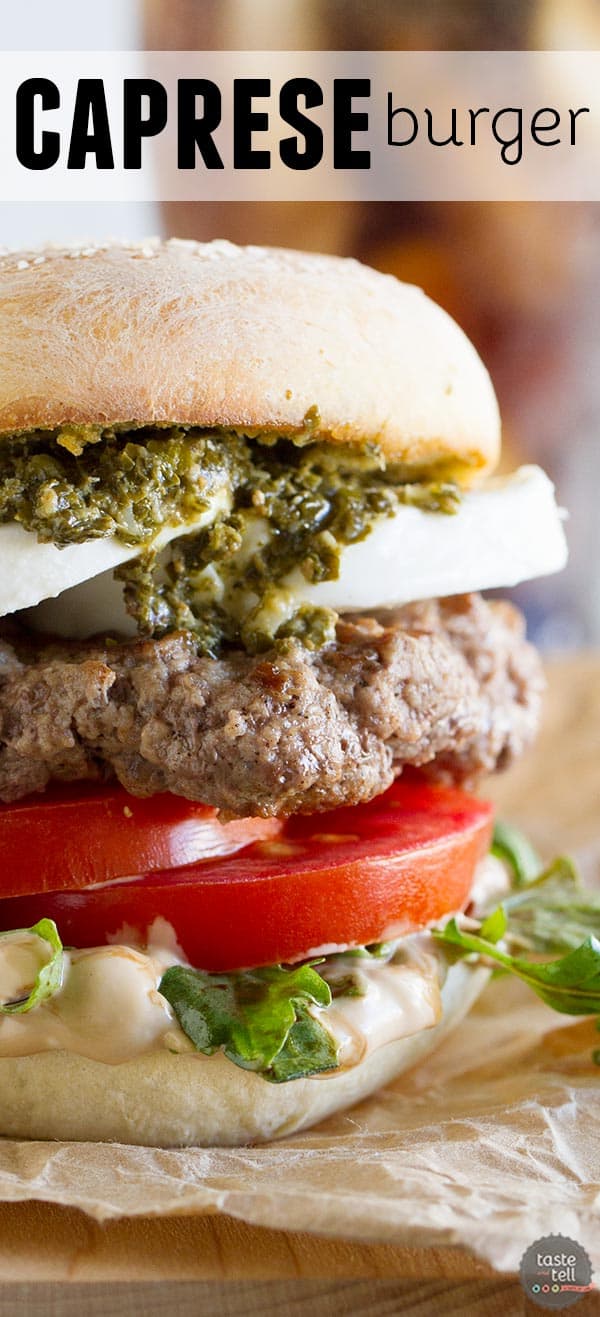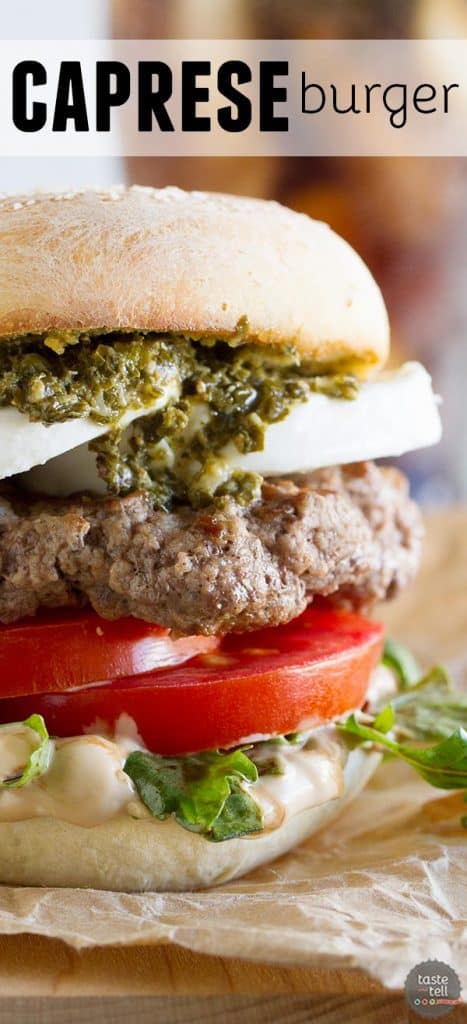 I received this book from the publisher for review purposes, but all opinions are my own. This post contains affiliate links. If you purchase an item from Amazon from the link Taste and Tell receives a small commission. Thank you for supporting Taste and Tell through your purchases!