Photo updated July 2012
Last week I shared one of my favorite ways to save money in the kitchen by making sure ingredients don't go to waste. This week, I want to show you a couple of recipes that help to utilize leftovers!
Now, I can't take credit for these recipes, because they were featured in the magazine with the purpose of using the leftovers for another meal. But I really liked the idea of preparing ahead of time and using leftovers to create a whole new meal. Plus, they both sounded good to me! Today, you will get the meatloaves, and tomorrow, I will show you the quesadillas that come from the leftovers.
I've mentioned before, but my husband is not a meatloaf fan. It's one of the very few things that I never make because he just won't eat it. But guess what?? He liked these!! I've never done a meatloaf in a skillet before, but I loved how moist the end result was. That is my husband's biggest issue with most meatloaf – that it is too dry. But not only are these cute, but they are moist and tasty – and take less than an hour to prepare!!
My only caution would be that the portions are not that big. If you plan on making leftovers for the quesadillas, you might need to make a little more than the recipe.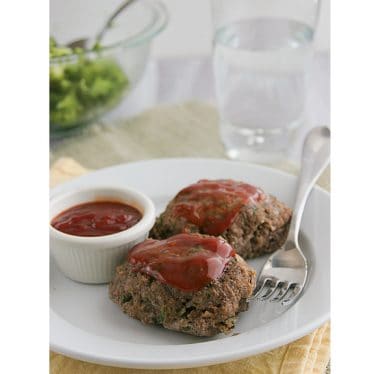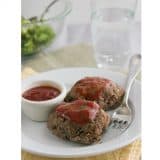 Mini Skillet Meatloaves
---
Prep Time: 15 minutes
Cook Time: 25 minutes
Total Time: 40 minutes
Yield: 4 servings 1x
Description
Easy mini meatloaves, made in a skillet!
---
Scale
Ingredients
1/3 cup breadcrumbs
1/3 cup milk
1/3 cup chopped fresh parsley
1 large egg
3 tablespoons Worcestershire sauce
1 small onion, finely minced
1 teaspoon chili powder
2 cloves garlic, grated or finely minced
1 1/2 pounds ground beef
salt and freshly ground pepper
1 tablespoon vegetable oil
1/2 cup ketchup
1 to 2 tablespoons packed light brown sugar
1 tablespoon apple cider vinegar
---
Instructions
Mix the breadcrumbs, milk, parsley, egg, Worcestershire sauce, onion, chili powder and garlic in a large bowl. Add the meat, season with salt and pepper and mix with your hands until combined. Shape into six 3-to-4-inch oval loaves.
Heat the vegetable oil in a large nonstick skillet over high heat. Add the loaves and brown about 3 minutes per side.
Whisk the ketchup, sugar and vinegar in a bowl and brush a few tablespoonfuls over the meat. Add 1/2 cup water to the skillet, cover and simmer over low heat until cooked through, about 15 minutes.
Transfer the loaves to a plate. Add the remaining ketchup mixture to the skillet and cook over high heat, stirring, until thick, 3 to 5 minutes. Serve 4 meatloaves with the hot glaze, reserving 2 for quesadillas.
——————–
Slightly adapted from Food Network Magazine December 2009