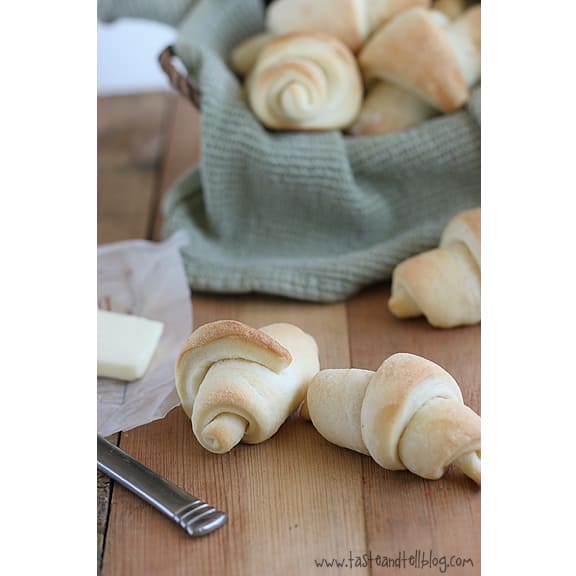 I sometimes think that I was born in the wrong era. At times I'll be in the kitchen, thinking about ancestors past and how they made everything from scratch. Call me crazy, but I can sometimes imagine myself back in the day as a farmer's wife, at home preparing all the meals, making something hearty and filling for when my husband came in from working the land. Granted, I'd miss air conditioning and running water and reality tv, but I often wonder what it would have been like to live back then.
I say that now, but then I don't even make all of my own bread. (This is something that I would really love to eventually do, but life seems to be getting in the way lately.) But I really do enjoy making bread. And even though I have a mixer, there is something about making the dough completely by hand – or at the very least, kneading the bread by hand – that is so satisfying and therapeutic. So I love to take advantage of any time I have to make bread from scratch.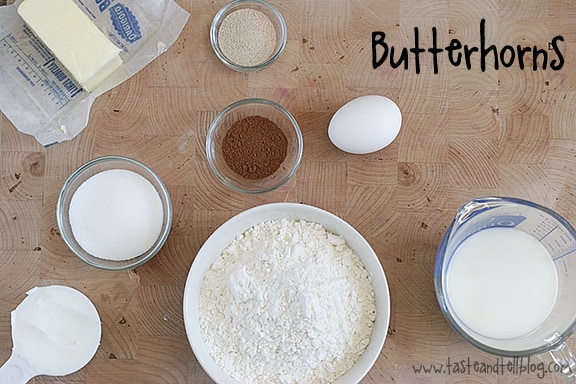 I saw these butterhorns in this month's Cookbook of the Month – Poor Girl Gourmet, and knew immediately that I wanted to make them. I especially loved that these rolls are so versatile – they don't have to be just plain rolls. Although there is definitely nothing wrong with plain rolls. I made half of mine plain, to eat with dinner that night, and the other half I sprinkled with cinnamon and sugar for a sweet treat. I loved that they were just sweet enough to be called sweet, but not so sticky sweet that you felt like you were on sugar overload after eating them.
If you are afraid of working with yeast, I implore you now to give it a try. It may be a little intimidating to start out with, but it really isn't as difficult as you'd imagine it to be. And it is so satisfying to see something like bread that you know made completely from scratch. And these rolls would be a perfect recipe for a beginner to start with! This is a recipe I'll be keeping around!
Recipe Rating: 9 out of 10