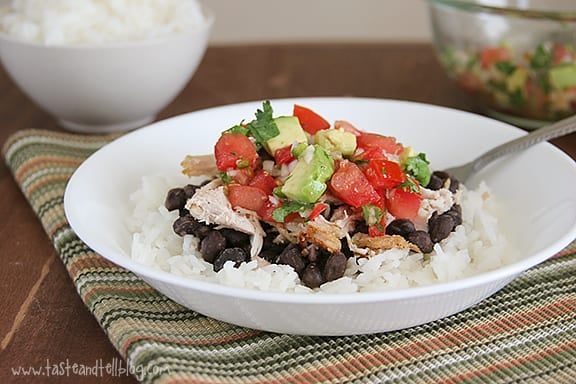 Yes, I know I'm late to the party. I started hearing people "talk" about Chipotle on Twitter, Facebook and Instagram months ago, but I had never been. There is one that is about 20 minutes from my house, but let's be honest. I don't eat out very often. And when I don't feel like cooking and I just want to pick something up, it's going to be something that is 5 minutes away, not 20.
But I finally broke down a little while back. I was having one of those days. And I didn't want to cook, and I wanted to do something for myself. And yeah, instead of buying a new pair of shoes or some new nail polish, I drove to Chipotle. In rush hour traffic. The whole trip took me over an hour. But I didn't even care, because it was what I wanted, and like I said, it was already one of those days anyway.
It's a good thing I really liked the burrito. I'm not going to be driving an hour for a burrito on a regular basis, but I'd totally go again if I was in the neighborhood. And really, it did give me a constant craving after that.
While I had a burrito that day, I know that their burrito bowls are really popular. I've seen all kinds of versions all over the internet. I was even watching a past episode of Ten Dollar Dinners, and it looks like even Melissa d'Arabian has jumped on the burrito bowl bandwagon. While I have no idea if hers are like the ones that everyone loves so much, they were pretty darn delicious!
You start off by slow cooking the pork, which makes for an easy meal. And there are 2 parts of this recipe that you really shouldn't skip. The browning of the shredded pork, and the pico de gallo. You basically fry the shredded pork, which makes pieces of it crispy and delicious. I loved the texture that it brought to the meal. And the pico seriously makes these. Don't try to substitute jarred salsa – it will not be the same!! I was not a very good direction reader, and totally skipped the cheese and the sour cream, but had them both with the leftovers. But sorry they aren't in the pictures!! And this recipe says it serves 4, but I only made half, and easily got 4 servings out of half. So I guess it depends on how big your servings are.
I can tell you though, there is no reason for me to drive an hour when I can make something this delicious at home!!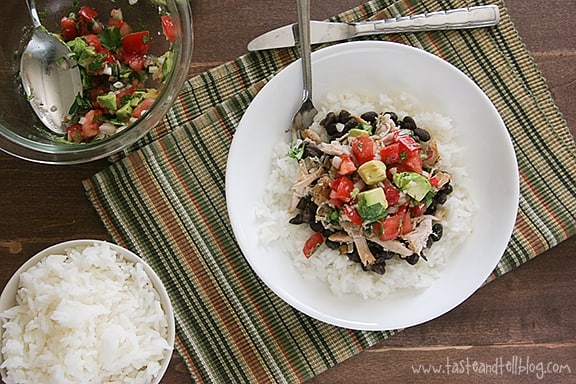 Loving the burrito bowls!
Chipotle Burrito Bowl at Iowa Girl Eats
Black Bean Burrito Bowls at Cookie and Kate
New Mexican Burrito Bowls (gluten-free) at Adventures of a Gluten Free Mom
Oatmeal Burrito Bowl from Closet Cooking
Burrito Bowls from The Little Red House