I have a new addiction.  I guess I shouldn't say new, because I've featured a couple of baked donuts here.  But I've held back – mostly because I know that not everyone has a donut pan.
But I'm telling you now – if you are a donut lover, invest the few dollars it costs to buy one.  I have this one, that you can buy for under $10.  It's totally a good investment – if you ask me.  (And just for the record, I just decided that if it's a yeast doughnut, I call it a doughnut, and if there is no yeast, I call it a donut.  I know I'm weird, but that's the distiction that I came up with, even though one of my past donut recipes is spelled doughnut. I'm seriously confusing myself now!!)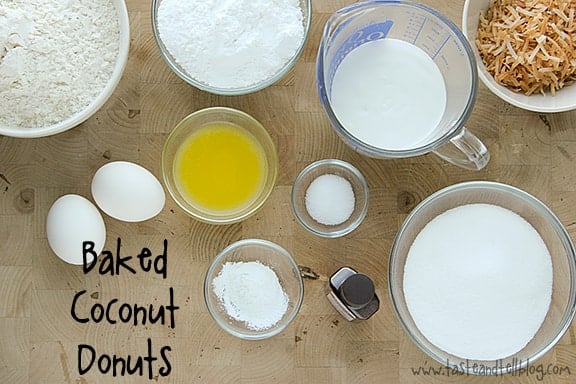 My family was in charge of breakfast for a family reunion this past weekend (that I didn't get to go to – boo hoo), and while we were talking before hand about what to make, I kept thinking donuts.  I imagined baking up dozens of donuts, several different kinds.  I had a whole list of flavors I wanted to try.
After lots and lots of talking and deciding, we all decided to go with breakfast pockets and cinnamon rolls.  But I couldn't get the thought of those donuts out of my head.  So what did I do?  I headed straight into the kitchen!!
We all know that I love coconut.  So of course my mind went to coconut donuts.  And I'm so glad I started with these.  They were SO good.  My husband snuck one before I got the icing on them, and I think that he wasn't very impressed.  But once I iced them and topped them with the toasted coconut?  He couldn't keep his hands out of them!  And I'll totally admit that I couldn't stop eating them, too.  This is definitely a breakfast treat that I'd love to wake up to!!
And please forgive me if I go a little donut crazy now.  I'm telling you – I came up with some good ones that I want to try out!

Other baked donuts to check out:
Baked Maple Donuts from Dashing Dish
Reeses Peanut Butter Cup Baked Buttermilk Donuts from Picky Palate
Baked Ricotta Blueberry Donuts from Mother Thyme

linked up to Add a Pinch