Pin It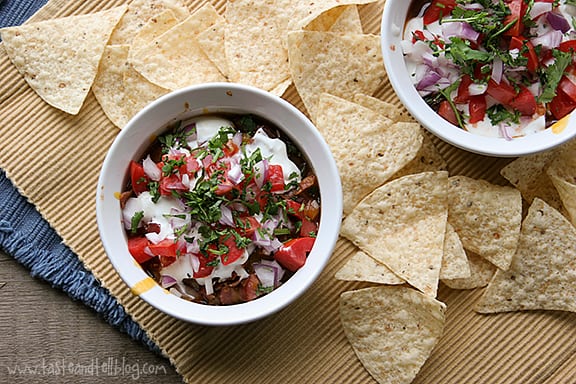 Do you know what you are going to make for the big game next week?  Boy, do I have a good recipe for you today!!
I actually had a different recipe planned to post about today.  But then I saw this episode of The Rachael Ray Show this week.  And I just knew that I had to make this recipe – football game or no football game!
It's probably not very "cool" to admit, but I totally love hot dogs.  Call it a guilty pleasure.  But I love them.  Give 'em to me plain, with just ketchup and mustard (and some finely diced onion!!), or dress them up with all kinds of toppings.  I like them all.  And I'll freely admit that every now and again, I get a major craving for a chili dog.  This usually ends up in a trip to Sonic for a coney dog.  But then I see this recipe – giving me a chili dog, combined with all the topping of a 7-layer dip, and you get to eat it on chips?  Count me in!!
This really was everything that I hoped it would be.  Total indulgence, but totally delicious.  If you are still looking for something to bring to your Super Bowl party, this should definitely be a contender.
PS – My 2nd annual Red Velvet week begins on Monday.  Believe me – you don't want to miss any of the recipes that I've got coming to you!!