Welcome to 4th of July Week here on Taste and Tell! All week, I'll be bringing you festive red, white and blue recipes that will be perfect for the celebrations coming up. And on Friday, come by and link up your favorite red, white and blue recipes!!

Can you believe that the 4th of July is almost here? I have to say – July 4th is one of my very favorite holidays. I look forward to it almost like I look forward to Christmas and Thanksgiving. I love the family time together. I love the fireworks and the parades. And I always tear up when I hear those patriotic songs – thinking of all that has been sacrificed in years past and today so that I can enjoy the freedoms that we have. What a great occasion to celebrate!!
And what's better to celebrate with than food? I'm going to be giving you all kinds of sweet ideas this week for your 4th of July celebrations. And the bonus is that most of the recipes I'll be featuring are super easy! I have 6 days of recipes planned for you, and I wanted to do something fun, so on Friday, I'll have a linky up where you can come and share some of your favorite red, white and blue recipes. So make sure you check out all the recipes this week, and share your own on Friday!
First up – everyone's favorite treat – cake balls and cake pops. It seems like cake balls are all the rage these days. So I couldn't pass up an opportunity to make them patriotic. Since cake pops are more about the cute factor than the taste to me, I made this version from a cake mix. But the great part about it is that you only need one cake to make both the red velvet and the blue velvet. I used the regular bottled red food coloring, but since they don't make blue, I just used some Wilton paste coloring for the blue pops. While these are a little time consuming, they are super easy, and you know everyone will love them!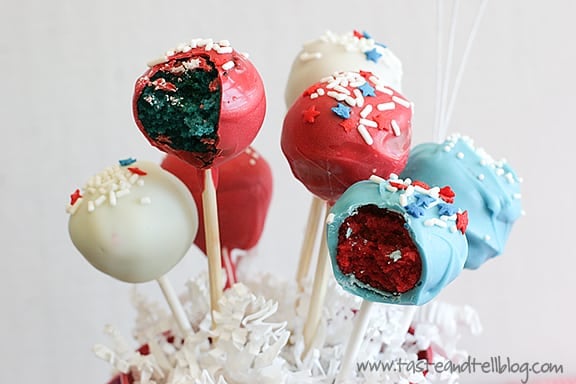 I'm linking up to Add a Pinch's Mingle Monday!