No more boring chicken with this Pretzel Crusted Chicken with Mustard-Cheddar Sauce! The chicken alone is to die for, but the sauce takes it over the top!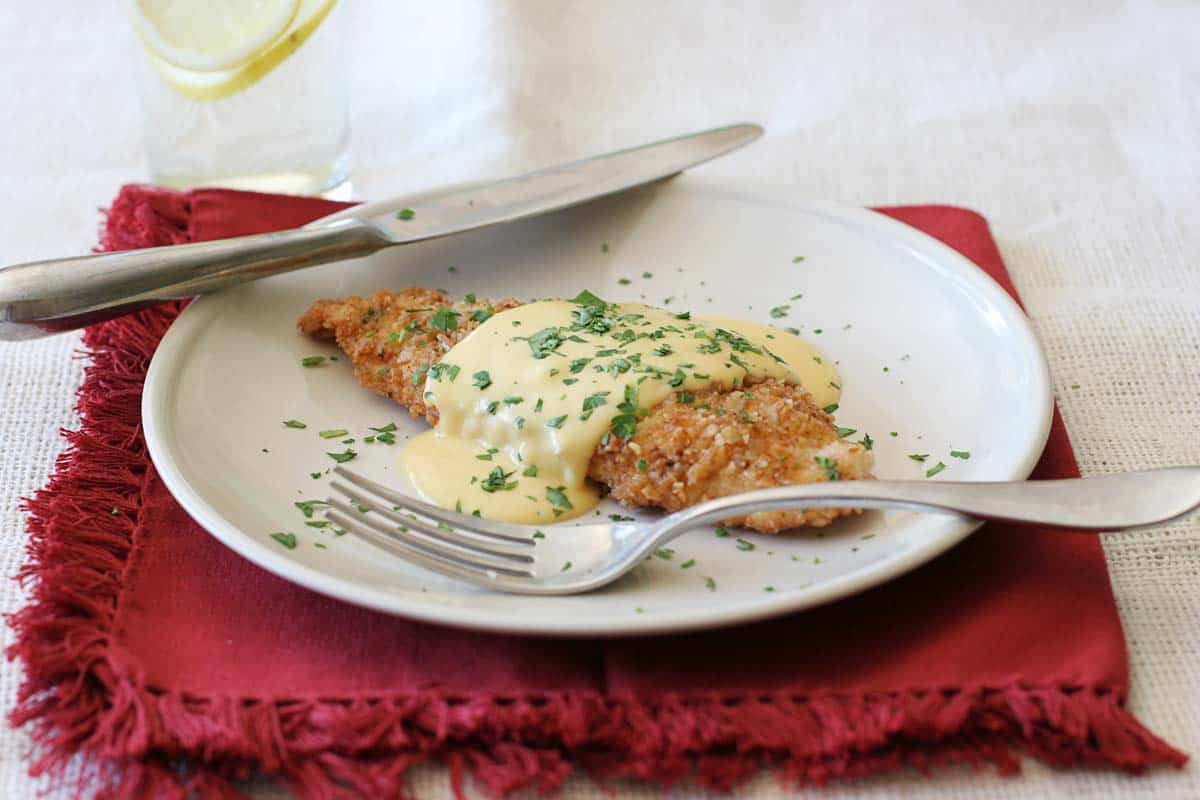 We are in the process of selling our house.  We haven't lived here forever, but it's amazing how much "stuff" you can accumulate in 5 years.  Especially when you have 2 kids come along in those 5 years.  I have been trying to sort through things little by little so that I'm not totally overwhelmed when moving day rolls around.
One thing I've really been trying to get a handle on is cooking through most of the food in the freezer and the pantry.  I hate having to move things from the refrigerator/freezer of one house to the next.  And I really hate having to move packages of things that are already open and half eaten.  So I've been trying to get a little creative in ways to use up these ingredients.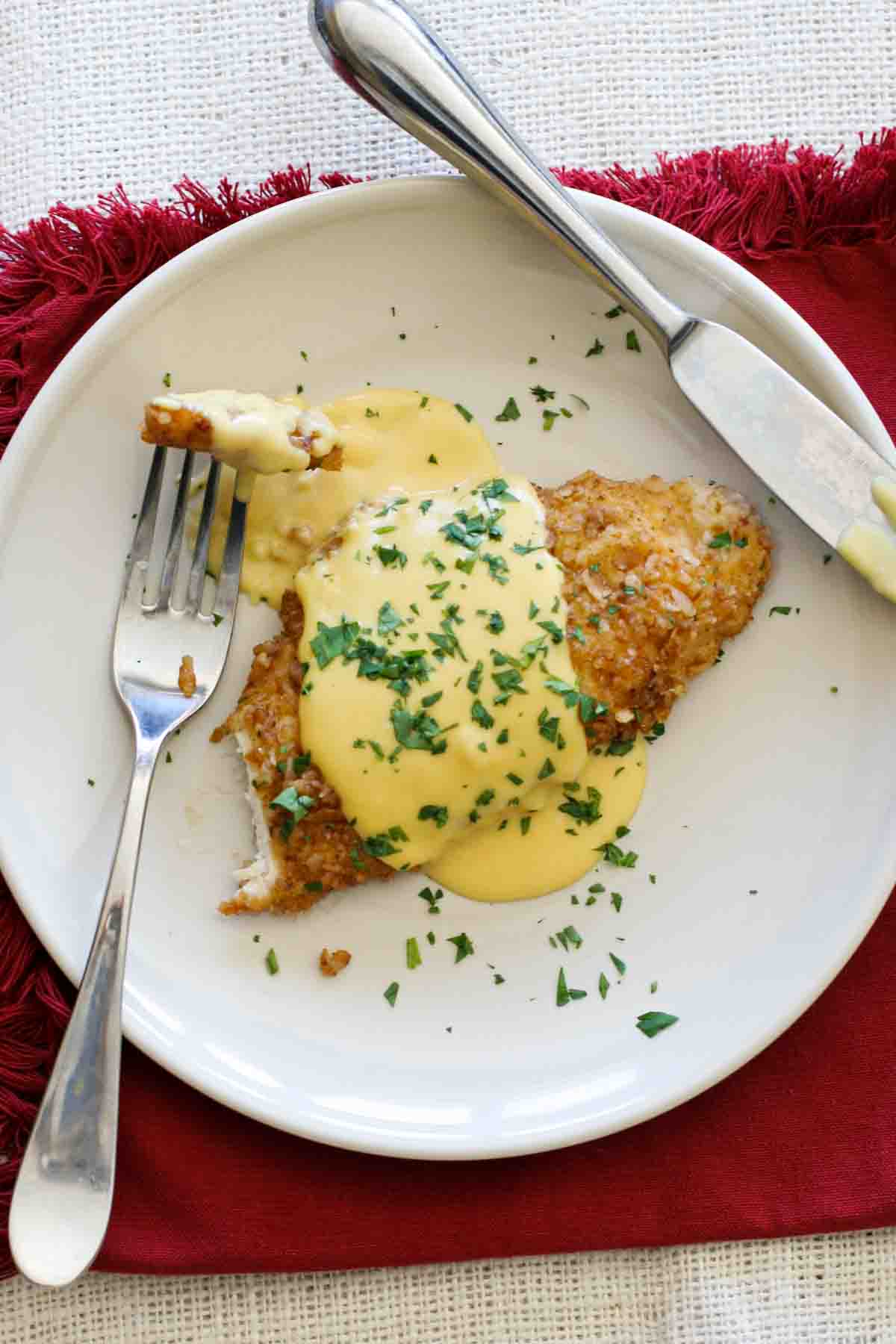 So what do you do when you have a big bag of pretzels in the pantry, but your daughter is over her pretzel phase?  You use them to make dinner!!  This meal was totally inspired by a bag of pretzels.  When I decided to try making pretzel crusted chicken, the first thing that came to my mind was a mustard sauce.  Because who doesn't love pretzels with mustard?  Then I thought of a cheddar sauce.  And I couldn't decide which direction I wanted to go.  So I combined them both, and made a Mustard-Cheddar sauce!!  This recipe was a 100% success, and something that I would totally make again.  And might have to – because there are still some of those pretzels left!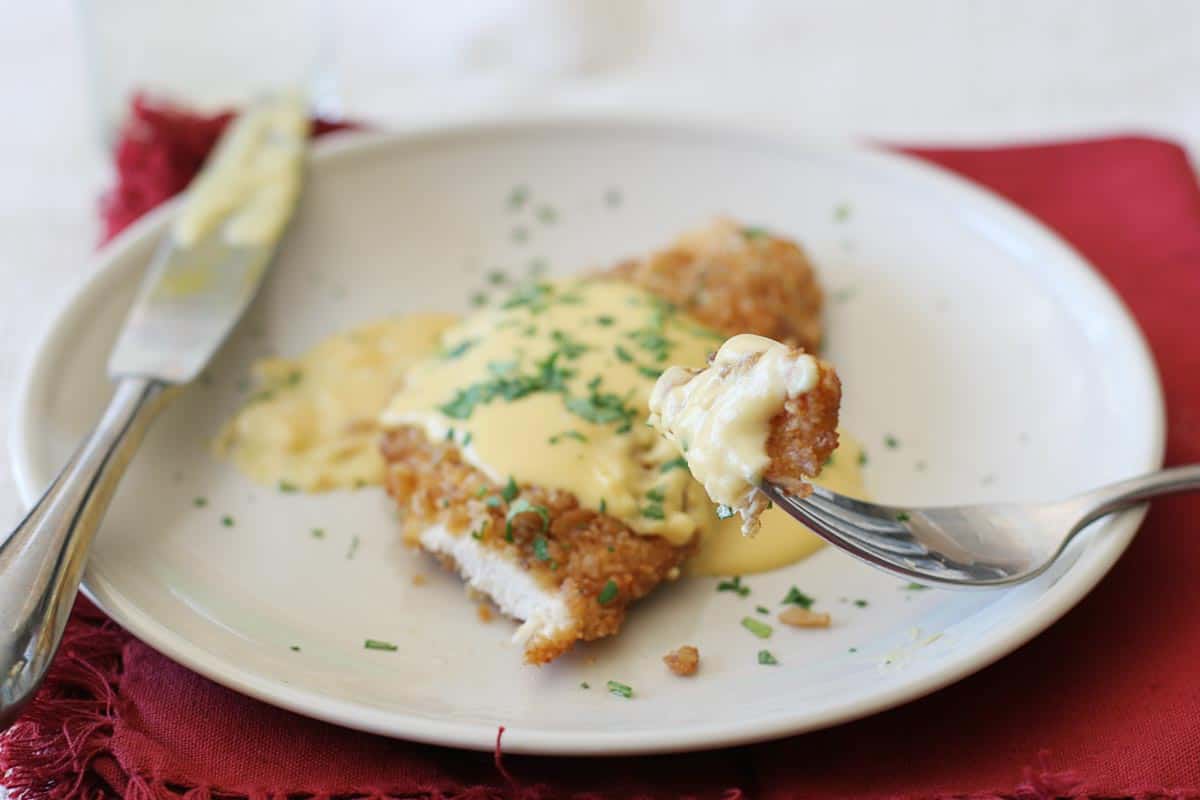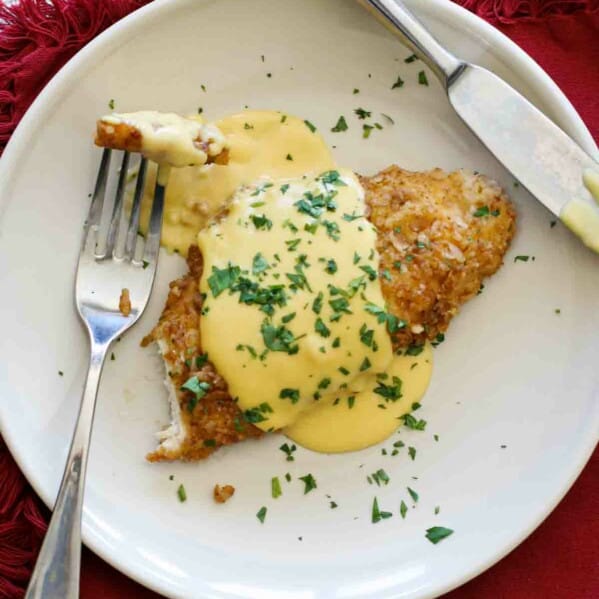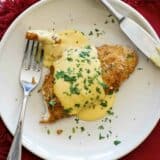 Pretzel Crusted Chicken with Mustard-Cheddar Sauce
---
Author:
Prep Time: 15 minutes
Cook Time: 15 minutes
Total Time: 30 minutes
Yield: 4 servings 1x
Category: Main Dish
Method: Stove Top
Cuisine: American
Description
No more boring chicken with this Pretzel Crusted Chicken with Mustard-Cheddar Sauce! The chicken alone is to die for, but the sauce takes it over the top!
---
Scale
Ingredients
2 boneless, skinless chicken breasts
about 6 ounces of salted pretzels
salt and pepper
2 eggs
vegetable oil
1 tablespoon butter
1 tablespoon flour
1 cup milk
1 tablespoon spicy mustard
2 cups shredded sharp cheddar cheese
fresh flat-leaf parsley, for garnish
---
Instructions
Completely butterfly each of the chicken breasts, making a total of 4 thin chicken breasts. One by one, put the chicken breast in between 2 pieces of plastic wrap and flatten slightly with a mallet.
Put the pretzels in a food processor and process until you have fine crumbs. Put the crumbs in a shallow dish and season with salt and pepper. In another shallow dish, beat the eggs.
In a large saute pan over medium heat, heat up the oil, about 1/8″ deep.
Dip each chicken piece into the pretzels, then into the eggs, then back into the pretzels. Add to the hot oil in the pan. Put the chicken into the hot oil and cook until the pretzels are browned and the chicken is cooked through. This only takes about 3 or 4 minutes on each side.
Meanwhile, make the sauce. In a saucepan, melt the butter. Whisk in the flour and cook for 1 minute. Whisk in the milk and the mustard, and cook until slightly thickened. Stir in the cheese. Season with salt and pepper, if needed.
Keywords: pretzel crusted chicken