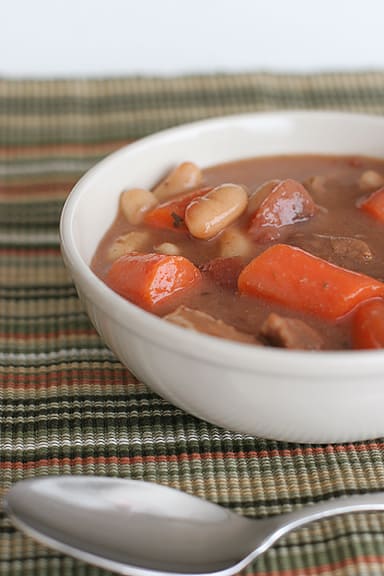 I don't consider myself an expert in the kitchen at all.  Which is funny to me, when I think that I write about food just about every day.  I guess I just have a love for it.  My mom called me the other night with a cooking related question – and honestly, it took me a little by surprise, because it's usually me calling my mom with cooking questions!!
And now, I'm coming to all of you with my cooking dilemma.  On Sundays, our church time rotates each year.  Last year, we started at 11am, getting home at 2pm.  This year, it's my least-favorite time – starting at 1pm and getting home at 4pm.  It's hard for me for a few reasons.  First, Abbi usually naps around 12:30.  So the 1pm church time messes up nap time, and if I can't get her down early, she goes without a nap for the day.  Which makes for a long day.  And the second reason it's not my favorite is because I find that it's hard to get dinner on the table.  Between it being a little later, and having a cranky 2-year old, I have found myself struggling these last few weeks.  I have decided that the slow cooker is my answer.  The problem is that I don't totally love the slow cooker.  Sometimes I do, sometimes I don't.  And I know this is silly, but I like to blog about just about everything I make, and slow cooker food is usually not very pretty.  But even putting pretty aside – I need your help.  I need some tried and true slow cooker recipes that I can cook up over the year.  I think that the slow cooker is the only way I'm going to keep my sanity!!  Please share recipes or links in the comments below – I'll be forever grateful!!
This is one slow cooker recipe that I've made recently that actually turned out better than I had expected.  I think the texture that meat gets after being in the slow cooker is one thing that I don't like, but this was actually quite good.  And it only took minutes to throw it all together before church, which was a definite plus!!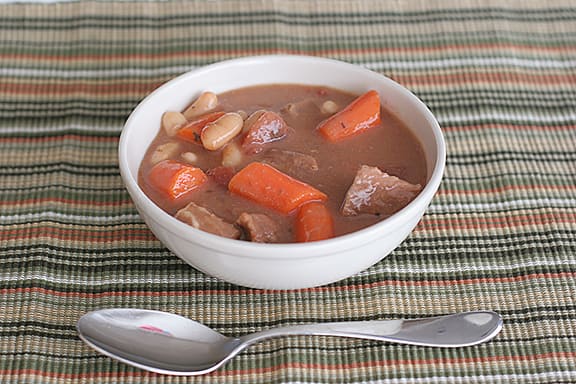 Tuscan Beef Stew
Slightly adapted from Campbell's Recipe Collection
Serves 8
Prep time: 15 minutes
Cook time: 8 hours 10 minutes
1 can (10 ¾ oz) Campbell's condensed tomato soup
1 can (10 ½ oz) beef broth
½ cup dry red wine or water
1 teaspoon dried Italian seasoning, crushed
½ teaspoon garlic powder
1 can (14.5 oz) diced tomatoes with Italian herbs
6 large carrots, cut into 1-inch pieces
2 pounds beef for stew, cut into 1-inch pieces
2 cans (16 oz. each) white kidney beans, rinsed and drained
Stir the soup, broth, wine, Italian seasoning, garlic powder, tomatoes, carrots and beef in a 3 1/2-quart slow cooker.
Cover and cook on LOW for 8 to 9 hours or until beef is tender.
Stir in the beans. Increase the heat to HIGH. Cook for 10 minutes or until the mixture is hot.