Filled with sweet raspberries and topped with gooey caramel, these Raspberry Caramel Sticky Buns are soft, sweet, sticky and delicious. A perfect recipe to bring to Mother's Day brunch.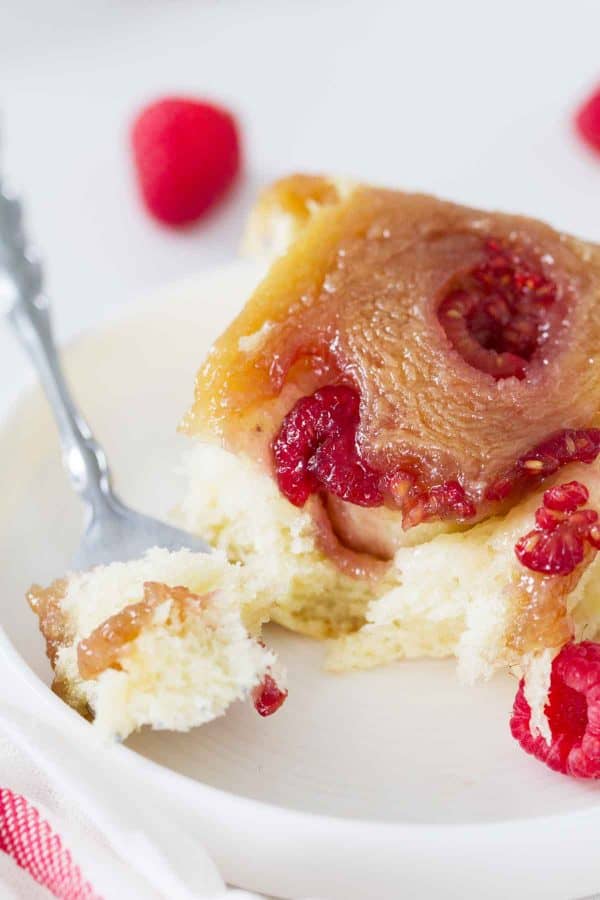 I am a Bake a Little Extra Blog Ambassador and this post is sponsored by Fleishmann's® Yeast. I'm so glad to be able to work with companies and organizations that I truly believe in. Thank you for supporting them, too.
I am really good at menu planning. I like to always have a plan. I make my list, I go to the grocery store, and I stick to my list, for the most part.
But being spontaneous? Not so much.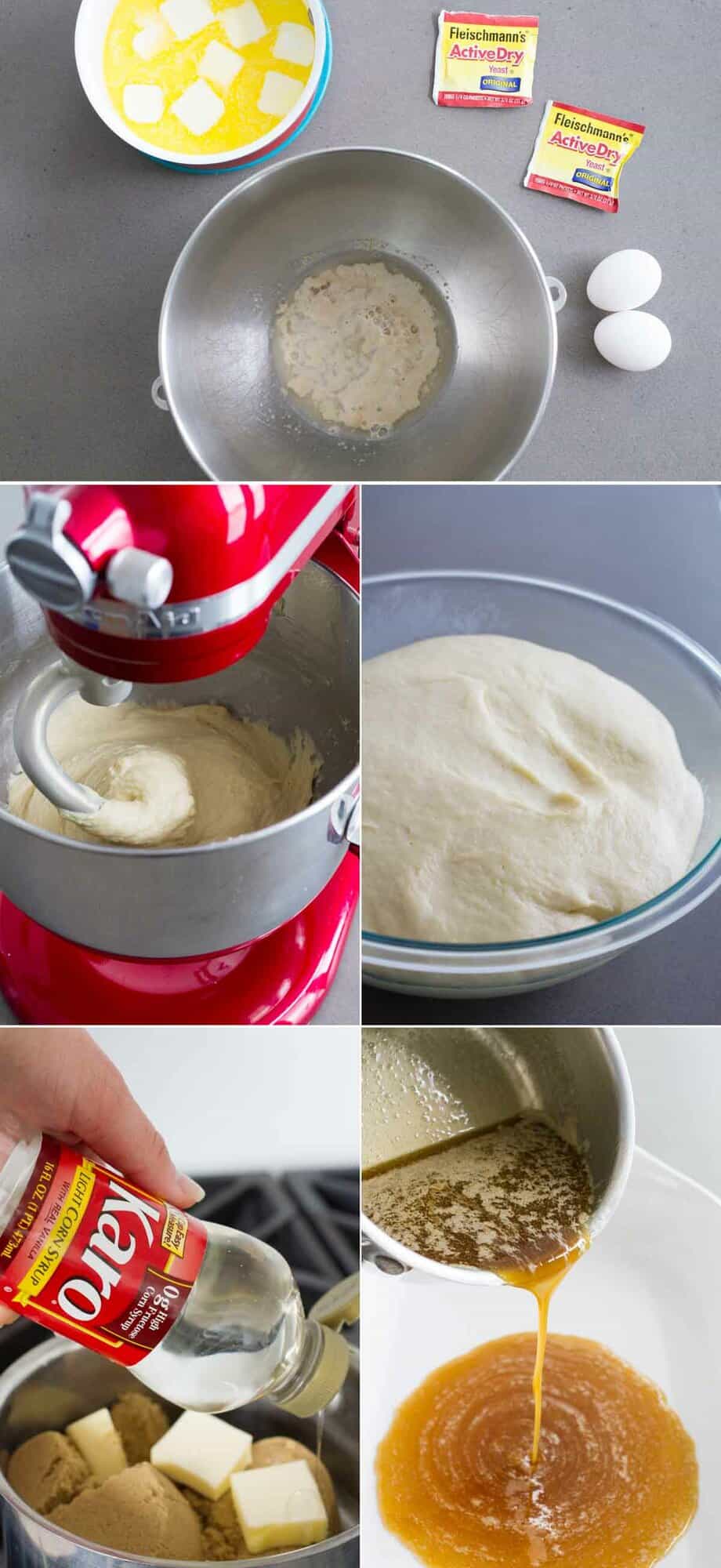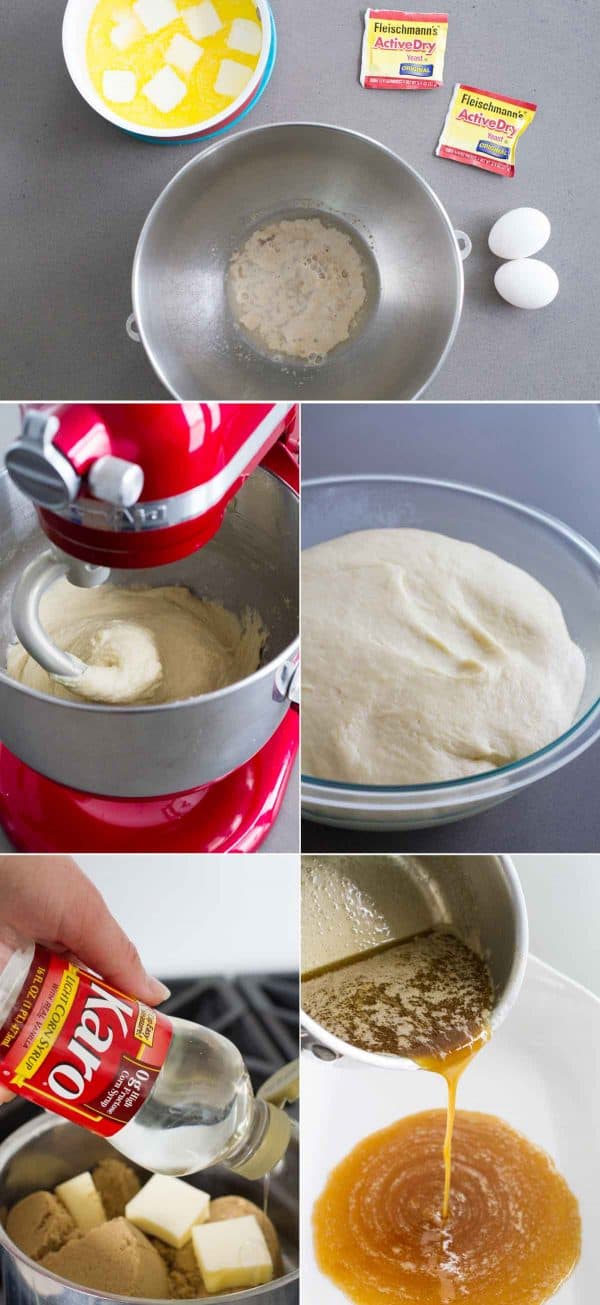 Don't get me wrong – I've come a long way since I started blogging 10 years ago. I've always loved cooking and baking, but I used to be a recipe follower to a T. I didn't have the confidence to change something here or there. These days, it;s equally hard to stick to a recipe just as its written.
So while I am definitely more creative in the kitchen these days, I'm still a slave to that menu plan. If I want to make a pie, I plan it in advance and it goes on the menu plan so that I buy the correct ingredients. It works for me, but I'm sometimes jealous of those people who can go to the store or the farmer's market without an idea of what they are going to make, but they leave with arms full of ingredients and lots of ideas going though their heads. Maybe it's all too much pressure for me, because I seem to blank when I'm faced with trying to come up with an idea while I'm at the store.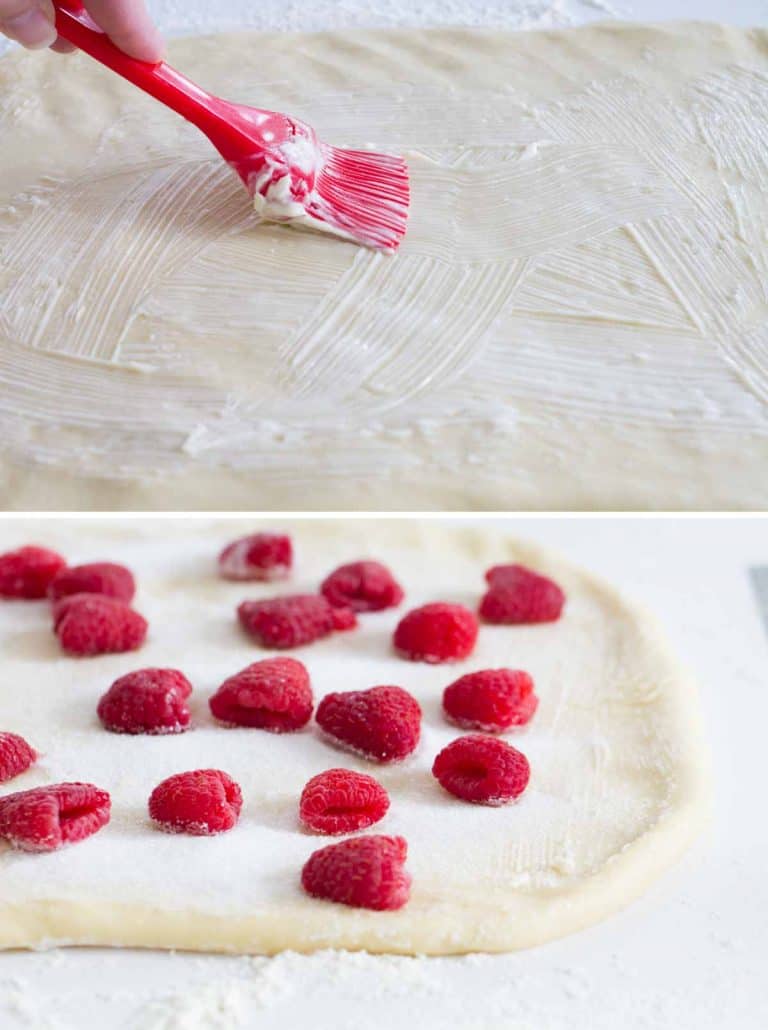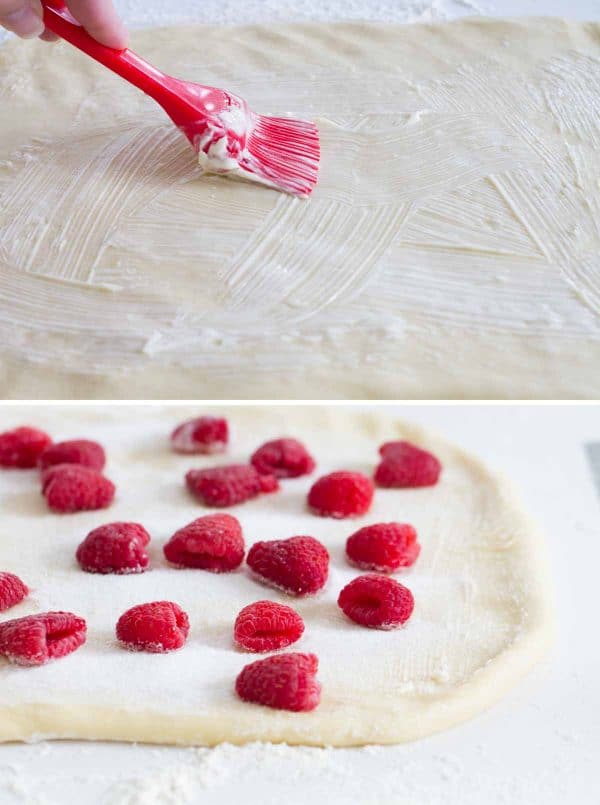 But sometimes, I come home with a bag full of an ingredient, simply because it was on sale, or because it just looked too good to pass up. Those are the times I have to challenge my creativity and come up with a delicious way to use that ingredient. With Mother's Day around the corner, I wanted to find a sweet little ingredient as an add in and this time around, it was raspberries.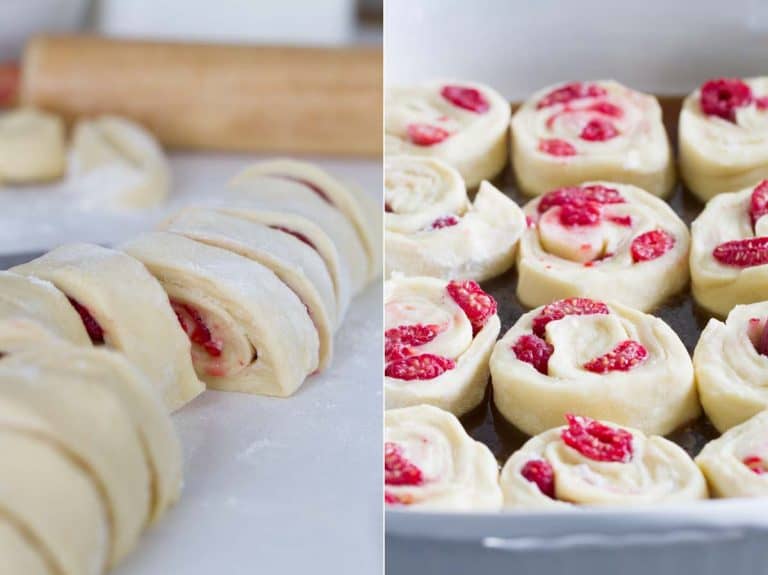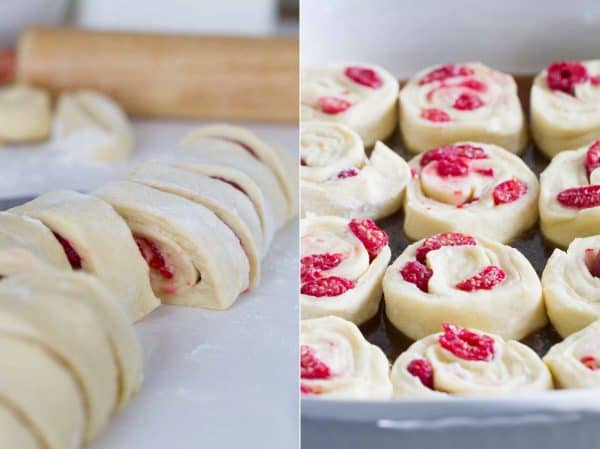 I can't pass up berries when they are sweet and delicious, and especially on sale. The other day, I came home with 4 cartons of the berries and no plan on how I was going to use them.
Luckily, I had a recipe for Pecan Praline Cinnamon Rolls using Fleishmann's® Yeast from breadworld.com that I had printed out to make for Mother's Day. And I knew my raspberries would go perfectly in these rolls.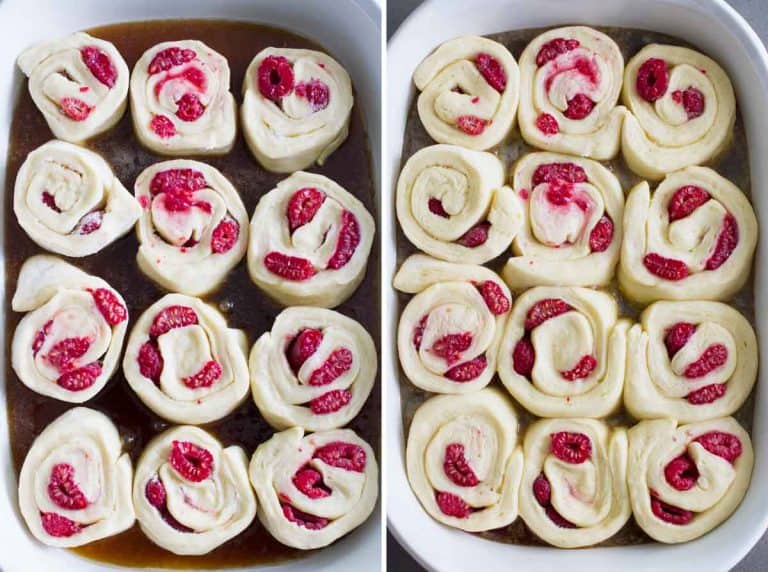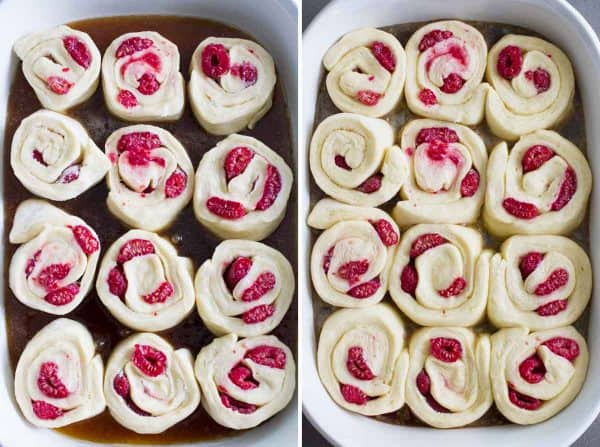 If you've never made sticky buns, they are kind of like cinnamon rolls, but with a twist. Instead of serving them upright, covered in frosting, you bake them in a caramel sauce then turn them upside down. So that gooey caramel bottom becomes the gooey caramel topping to the rolls. I was tempted to add a simple glaze to pretty them up, but they are perfectly sweet as is, and I knew the glaze would just put them over the line. As for using Fleishmann's Yeast, it is so easy to use and saves time because I can make the dough beforehand. Cinnamon rolls or sticky buns, it can be used for both!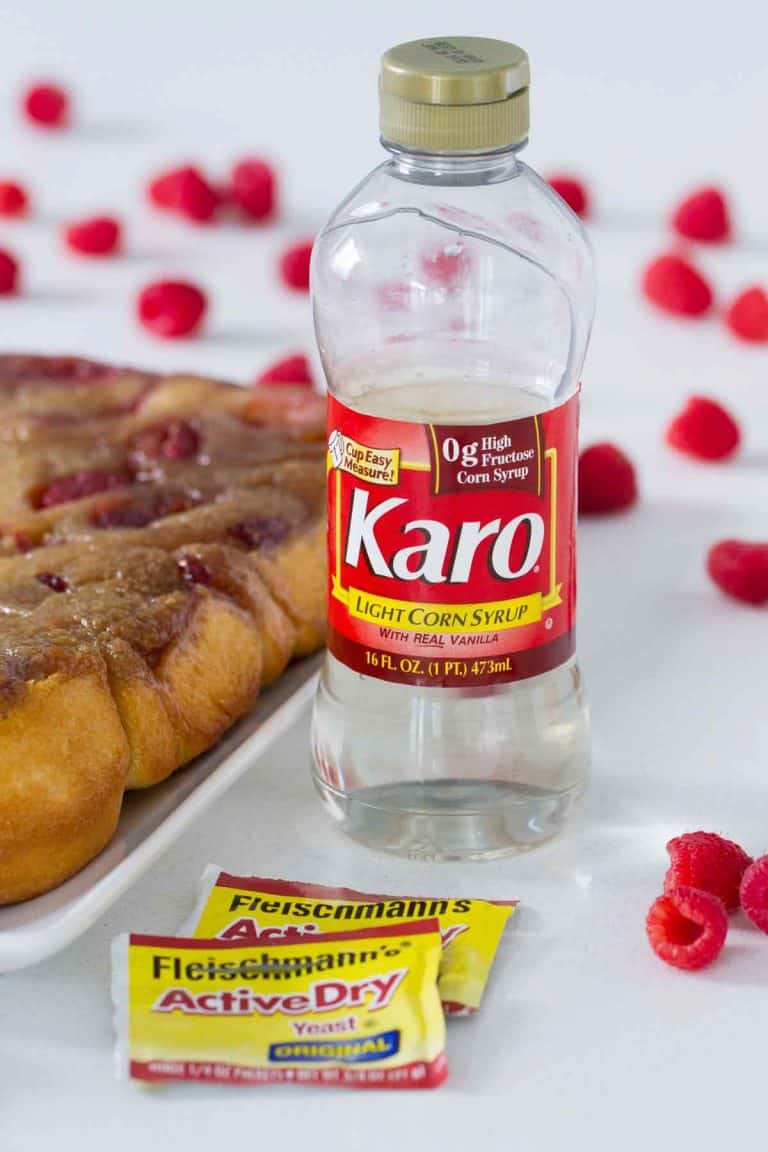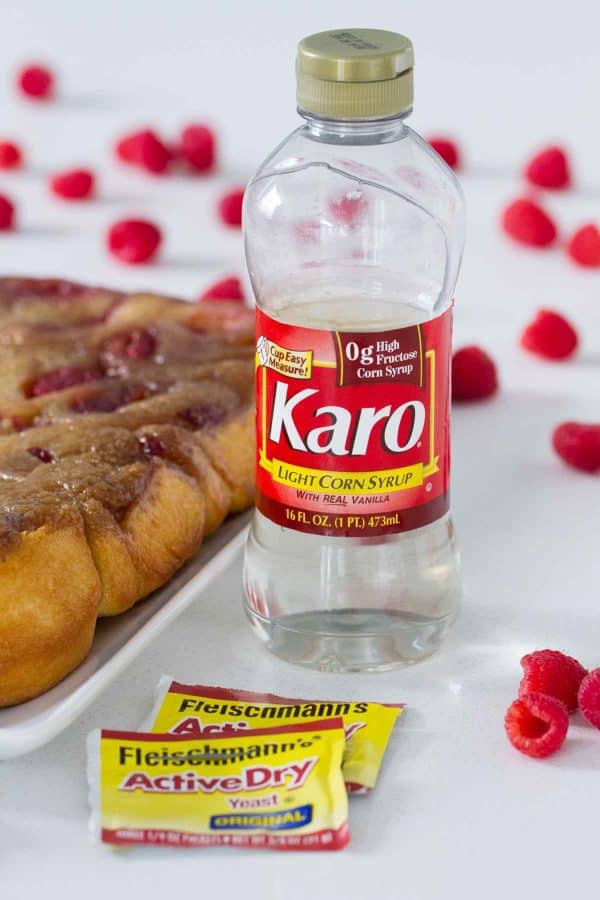 The rolls themselves are perfectly soft because of my favorite Fleishmann's Yeast. The filling is simply butter, sugar and the fresh raspberries. You could probably substitute frozen raspberries as well.
And the caramel? Oh, so good. Sugar, butter, and Karo® Syrup make the caramel the perfect consistency to coat the bottom of the pans. The Karo® Syrup keeps the caramel soft so that it stays on your buns instead of just becoming a hard caramel that only sticks to your pan. When you place the buns on top, some of that caramel soaks into them. It's kind of magical. 🙂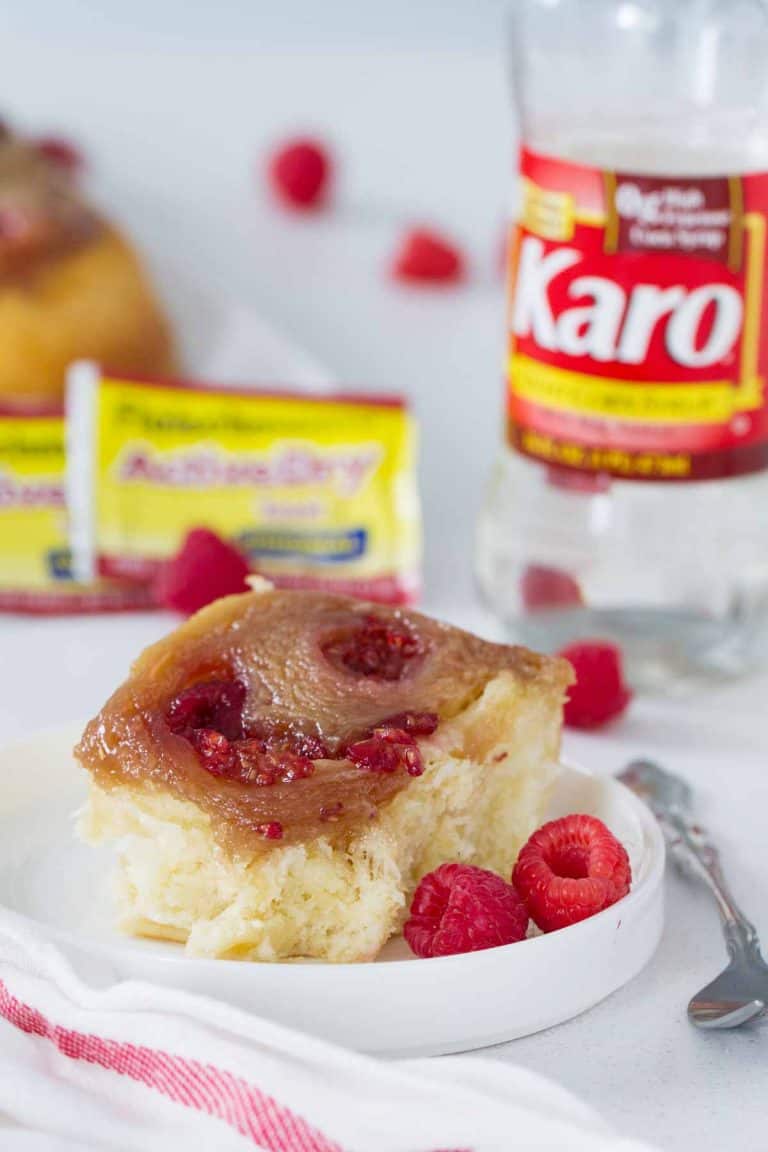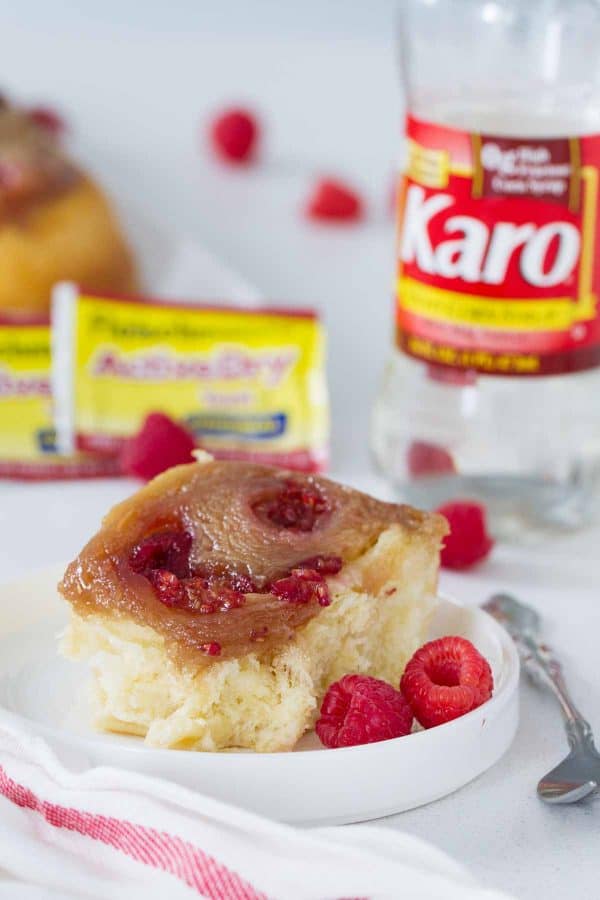 But my favorite part about making these Raspberry Caramel Sticky Buns? The recipe makes 2 pans full – a whole 24 rolls. These are so perfect to make for mom for Mother's Day AND an extra pan for family and friends to show your love! This is the perfect way to bake a little extra, because these are pretty for Mom and a tasty treat.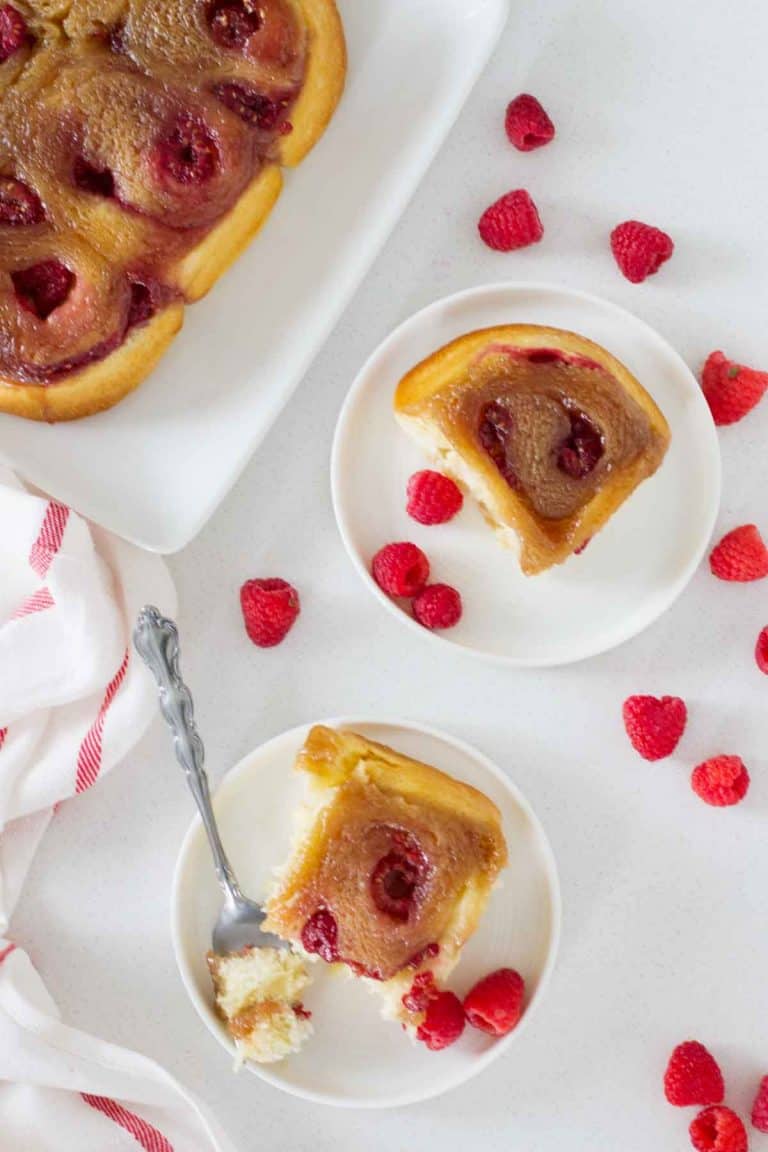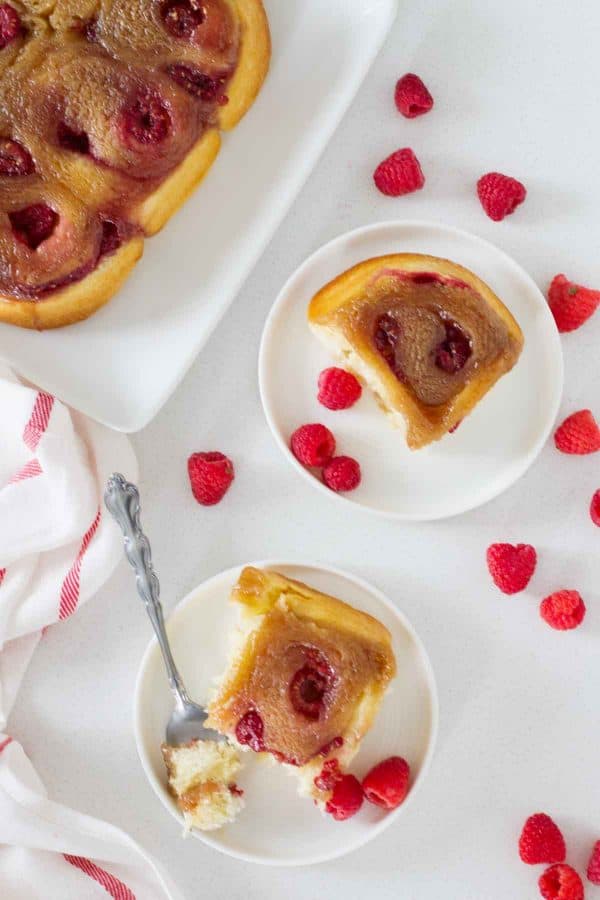 Like what you see here? Make sure you are following Taste and Tell for more recipes and ideas!
Facebook | Pinterest | Instagram | Twitter | Google+ | Weekly Newsletter | Feedly | Bloglovin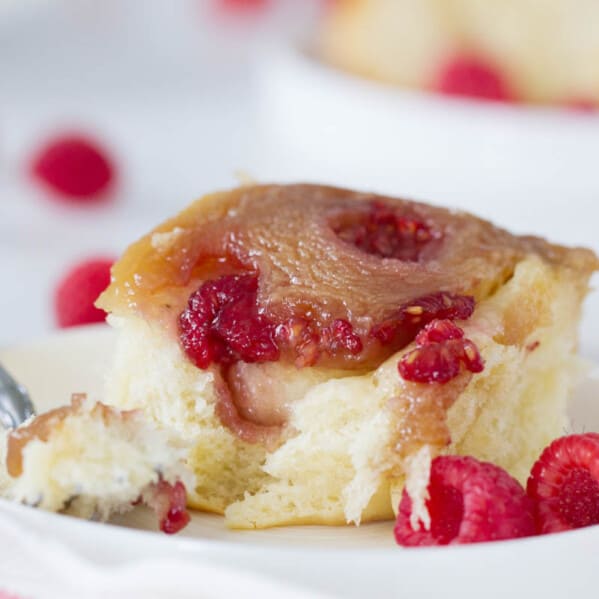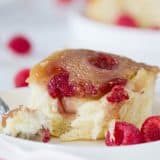 Raspberry Caramel Sticky Buns
---
Author:
Prep Time: 150 mins
Cook Time: 30 mins
Total Time: 3 hours
Yield: 24 buns 1x
Category: Dessert
Description
Filled with sweet raspberries and topped with gooey caramel, these Raspberry Caramel Sticky Buns are soft, sweet, sticky and delicious.
---
Scale
Ingredients
Sticky Buns:
2 envelopes Fleischmann's® Active Dry Yeast
1/2 cup warm water (100º to 110ºF)
1 1/2 cups milk
3/4 cup butter
2/3 cup sugar
2 teaspoons salt
2 eggs
6 1/2 to 7 cups all-purpose flour
Filling:
4 tablespoons butter, softened
1/2 cup sugar
12 oz fresh raspberries
Caramel Topping:
1 1/2 cups brown sugar
6 tablespoons butter
1/3 cup Karo® Syrup
2 tablespoons water
1/8 teaspoon salt
---
Instructions
Combine the yeast with the water in the bowl of a stand mixer. 
Place the milk and butter in a small saucepan over medium heat.  Heat until the milk is 100º to 110ºF. The butter does not need to be completely melted.
Add the milk mixture to the yeast mixture.  Add the sugar, salt, eggs and 3 cups of the flour.  Mix well, and continue adding flour until the mixture comes together into a smooth dough.
Switch to the dough hook and knead until smooth and elastic. Alternately, turn onto a floured surface and knead by hand for 6 to 8 minutes.  Place the dough in a greased bowl then turn once to coat. Cover and let it rise in a warm place until doubled, about 1 hour.
Make the caramel: Combine the brown sugar, butter, corn syrup, water and salt in a heavy saucepan. Bring just to a boil over medium heat. Remove from the heat.  Grease 2 9×13-inch baking dishes.  Divide the caramel between the two pans and spread evenly. (I found it was easiest to just tilt the pan until the bottom was coated.) 
Punch the dough down, then divide in half.  Roll one half into a 15×10-inch rectangle on a lightly floured surface. Spread with half of the butter and sprinkle on half of the sugar. Sprinkle half of the raspberries on top, and lightly press into the dough with your hands.  Roll up tightly, sealing the edges.  Cut into 12 equal slices and place on top of the caramel topping.  Repeat with the second half of the dough.
Cover the rolls and allow to rise until doubled, about 1 hour.
Preheat the oven to 350ºF.  Bake the rolls for 25 to 30 minutes. If the rolls start to get too brown, cover them with foil during the last 10 minutes of baking.  Remove from the oven and cool for 5 minutes before inverting onto a serving platter.
Don't miss a thing! Follow me on Pinterest to see what I'm pinning!