The perfect Sweet Potato Hash – sweet potatoes are combined with bacon, onions and sweet red peppers in this easy stovetop side dish.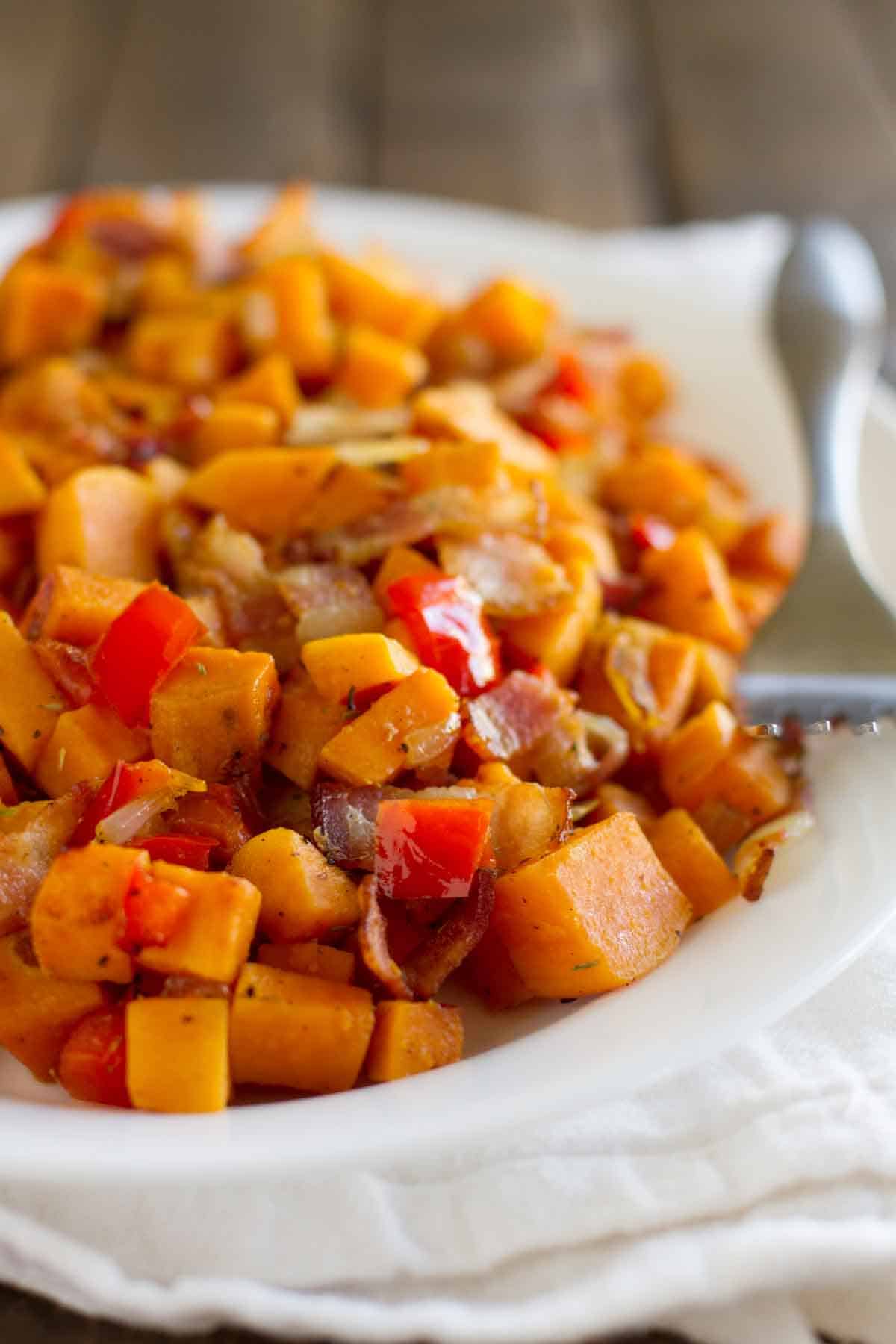 I've said it before, and I'll say it again – I never imagined the opportunities this little blog of mine would bring into my life. When I started this blog nearly 3 years ago, I thought it would mostly be a private place for me to keep track of my recipes and practice photography. Little did I know that I would eventually be published in a magazine and newspaper, that I'd have the opportunity to write for a blog with other wonderful bloggers, be a part of some fantastic communities, and now, I will be making my television debut. I'm super excited, and super scared. Another great blogger – Stephanie at Stephanie's Kitchen was on this local tv program a few weeks ago, and she did a wonderful job. So for any of you Utahns out there, keep a look out on Thursday on Studio 5 – I'll be making one of my favorite recipes – Southwestern Egg Rolls.
But really, as flattering and exciting as all of this is, the friends I've made here are what make it all worth it. Friends and food – what could be better?? So in honor of the blogging friends I've made here, I'm posting today about a recipe from a fellow blogger. I've had this recipe bookmarked for over a year now, and finally got around to making it last month. I don't know why I waited so long – this sweet potato hash was delicious!! Sweet potatoes and bacon – two of my favorite ingredients!! The chicken was just a simple marinated chicken that I grilled, but the real star was this side dish. But then again, my fellow bloggers rarely let me down!!
UPDATE – find the recipe for the Honey Soy Chicken here.
More Sweet Potato Recipes:
The BEST Sweet Potato Casserole
Scalloped Sweet Potatoes
Sweet Potato Tots with Creamy Ketchup
Twice Baked Sweet Potatoes with Cheddar and Canadian Bacon
Sweet Potato Salad with Bacon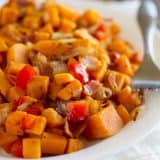 Sweet Potato Hash
---
Author:
Prep Time: 15 minutes
Cook Time: 30 minutes
Total Time: 45 minutes
Yield: 6 side dish servings 1x
Category: Side Dish
Method: Stove Top
Cuisine: American
Description
The perfect Sweet Potato Hash – sweet potatoes are combined with bacon, onions and sweet red peppers in this easy stovetop side dish.
---
Scale
Ingredients
1/2 pound bacon sliced in 1/2 inch strips
1 1/2 cups diced onion
1 large red pepper diced
1/2 teaspoon salt
1/2 teaspoon pepper
2 pounds sweet potatoes, peeled and cut in 1/2 inch cubes
1/2 tsp dried thyme
---
Instructions
Heat a large skillet over medium heat and add the bacon. Cook until crisp. Remove with a slotted spoon to a paper towel lined plate. Discard all but 2 tablespoons of the bacon grease. Return the pan with the 2 tablespoons of grease to the heat.
Add the onion, red pepper, salt and pepper to the skillet. Cook, stirring often, until the vegetables are softened, about 5 minutes. Add in the potatoes, cover the skillet and cook for 10 minutes, stirring halfway through. Remove the cover and cook an additional 5 minutes, allowing any remaining liquid to evaporate and for the potatoes to get lightly brown. Stir in the thyme and the reserved bacon. Taste and add more salt, if needed.
Recipe Notes:
adapted from Bon Appetit
Keywords: sweet potato hash