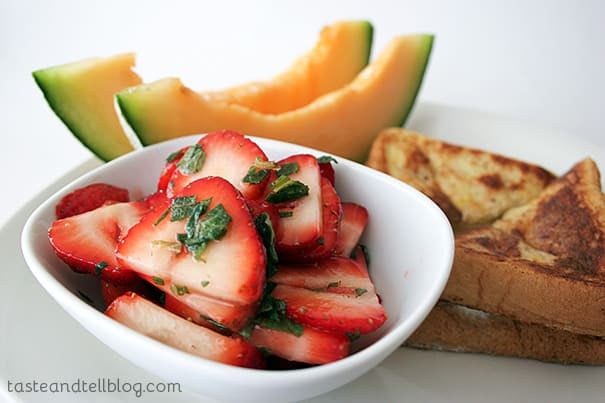 I have come to realize that I trust the opinions and suggestions from bloggers more and more. I went to search for a recipe online last week, and instead of trusting some "random" website, I find myself searching out blogs. I guess I just trust that if someone has taken the time to photograph and write about what they've made, their opinion is a lot easier to trust than a recipe just thrown up on some website somewhere in cyberspace.
This is also why I have loved asking you what you do with your vegetables/herbs. I've found some great recipes and suggestions, and I know I can trust them because they come my fellow blogging friends.
When I asked for suggestions to use up my mint many weeks ago, I got back many great suggestions. But quite a few of you suggested using it in a simple fruit salad. I couldn't get this idea out of my mind, so a few weekends ago, I decided to use the mint for our breakfast.
It doesn't get any easier than this. Cut up some strawberries, add in the mint and the juice of a lime. Delicious!! I did discover that I'm not big on chewing on the actual mint leaves, though. Next time, I think I'll let the leaves soak in the lime juice for awhile beforehand, and then strain the leaves out. Or make a simple syrup like Glamah suggested.
A breakfast of strawberries and mint, cantaloupe from the garden and French toast – you can't go wrong with that!