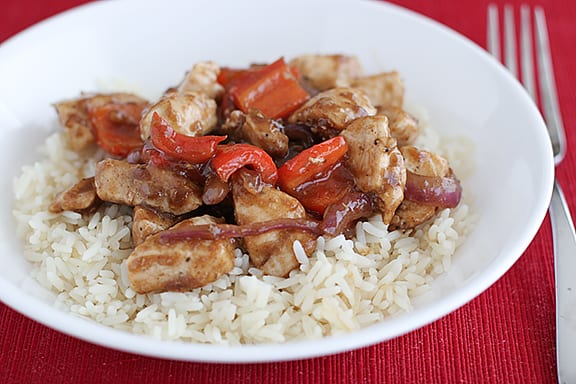 Today is one of those days with little to say. I planned to type this up first thing this morning, but then Abbi woke up at 5:30am. A little too early for me! So I've had a morning of chasing around a toddler, and she's not very happy with me on the computer right now. So I just leave you with this Rachael Ray dish!
I was excited to try this. It was the most downloaded recipe for the week that it was on her show. But I just thought it was ok. I think I added too much 5-spice. I didn't measure, just threw some in, but it was a bit overpowering for me. To me, 5-spice is one of those things that a little bit goes a long way! One thing I do love about this recipe, though, is how adaptable it is. Don't have sweet peppers? Throw in broccoli instead. It calls for chicken thighs, but I had some chicken breasts at home. I think this would be a great base recipe for one of those nights where you are not prepared and just need to throw something together!
Sweet Pepper Chicken with 5 Spice
adapted from the Rachael Ray Show
serves 4
total time: 30 minutes
1 1/2 cups rice, cooked to package directions
2 tablespoons high temperature cooking oil, such as peanut or canola
1 1/2 pounds boneless, skinless chicken, cut into bite sized chunks
salt and pepper
2 sweet bell peppers, seeded and cubed into bite sized pieces
1 onion or 2 large shallots, sliced
1 inch ginger root, grated or minced
3-4 cloves garlic, finely chopped
1 1/2 teaspoons 5 spice powder
3 tablespoons dry sherry
2 tablespoons honey
1/4 cup Tamari
3/4 cup chicken stock
1 rounded tablespoon cornstarch
Start rice and when it's about mid-way through cooking time, start the chicken.
Heat about 1 tablespoon of oil over high heat in nonstick skillet and add chicken seasoned with a little salt and lots of black pepper. Stir-fry chicken until browned and remove to a plate.
Add another tablespoon of oil and allow to heat until it ripples and begins to smoke. Then add peppers, onions or shallot and stir fry 2 minutes. Add ginger, garlic and 5 spice powder and season vegetables with a little more black pepper. Add sherry and shake pan for 30 seconds, then add honey or agave, Tamari and stock. Stir corn starch into a little water to dissolve, then add to sauce and thicken 1 minute. Slide chicken back in heat through a minute more.
Serve chicken with rice.